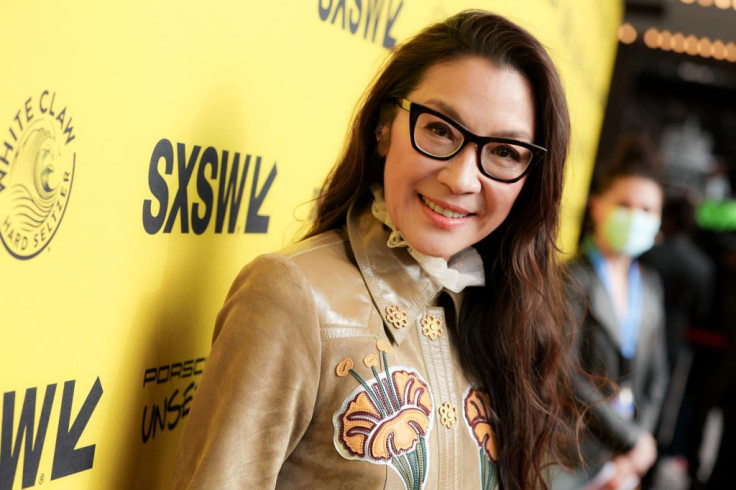 Hollywood welcomed an off-kilter tale about a Chinese-American family resolving their issues across multiple dimensions, and 'Everything Everywhere All at Once' took home the coveted best picture award at the Academy Awards on Sunday (Mar. 12).
Seven awards were given to the film altogether, three of which went to the actors Michelle Yeoh, Ke Huy Quan, and Jamie Lee Curtis, who won three of the four acting Oscars.
Yeoh portrayed the main character, a frazzled laundromat owner who discovers she has superpowers in alternate realities.
"For all the little boys and girls who look like me watching tonight, this is a beacon of hope and possibilities," the 60-year-old Malaysian actress said on stage. "And ladies, don't let anybody ever tell you you are ever past your prime."
'Everything Everywhere' was an unlikely winner as a movie that broke away from conventional storytelling to tell a story about a dysfunctional family.
A chef had a raccoon hidden under his hat, and there were individuals with hot dogs for fingers in the kung fu escapade.
A giant everything bagel and plastic googly eyeballs also had significant effects.
Quan, a former child star who gave up acting for two decades, was recognized for his portrayal of Yeoh's resentful husband in a family dealing with a tax audit that jeopardizes their company and received the award for best-supporting actor.
Vietnam-born Quan kissed his gold Oscar statuette on stage in front of the biggest personalities in entertainment as he sobbed.
"My journey started on a boat," Quan said. "I spent a year in a refugee camp. Somehow I ended up here on Hollywood's biggest stage," reports Reuters.
Quan appeared as a child actor in The Goonies in 1985 and an Indy Jones film in 1984. The 51-year-old actor claimed he had given up performing for years because there weren't many opportunities for Asian actors in mainstream media.
"They say stories like this only happen in the movies," he added. "I cannot believe it's happening to me. This is the American dream."
For her portrayal of the dowdy tax agent Deirdre Beaubeirdre in Halloween, Curtis, who made a name for herself in the horror genre, earned best-supportin actress.
The 64-year-old Curtis acknowledged her late parents, Tony Curtis and Janet Leigh, who were both nominated for Academy Awards. She sobbed, "I just got an Oscar," as she spoke.
Brendan Fraser, who starred in The Whale and has previously appeared in films like The Mummy and Encino Man, received best actor for his portrayal of a morbidly obese man attempting to get back in touch with his daughter.
The best foreign film was a German adaptation of the World War One Epic All Quiet on the Western Front.
The Netflix streaming film shows the horrors of trench warfare as seen through the eyes of a young man who is initially eager to enter the battle.
It came in second place to Everything Everywhere with four Academy wins.
"This was your first movie, and you carried us on your shoulders as if it was nothing," Director Edward Berger said.
The Oscar for best feature documentary went to Navalny, a documentary about Alexei Navalny, the most famous opposition figure in Russia, and the poisoning that almost killed him.
His wife, Ms. Yulia Navalnaya, said on stage, "Alexei, I am dreaming of the day when you will be free and our country will be free. Stay strong my love."
The award for best original music went to Naatu Naatu, a song from the Indian film RRR that became a viral dance sensation.
Independent studio A24, which released Everything Everywhere and The Whale, claimed nine awards, more than any other studio.
"Pinocchio" by Guillermo del Toro won the award for best cartoon film.
The ABC network carried live coverage of the 95th Academy Awards event. The Academy of Motion Picture Arts and Sciences wanted to put the slap behind them and put on a glamorous performance to raise the TV ratings, which had been declining.
Before the ceremony, nominees promoted their films on a champagne carpet rather than the customary red one while clad in designer gowns and tuxedos.
The approximately 10,000 actors, producers, directors, and other film industry professionals who make up the film academy cast votes for the winners.
© 2023 Latin Times. All rights reserved. Do not reproduce without permission.