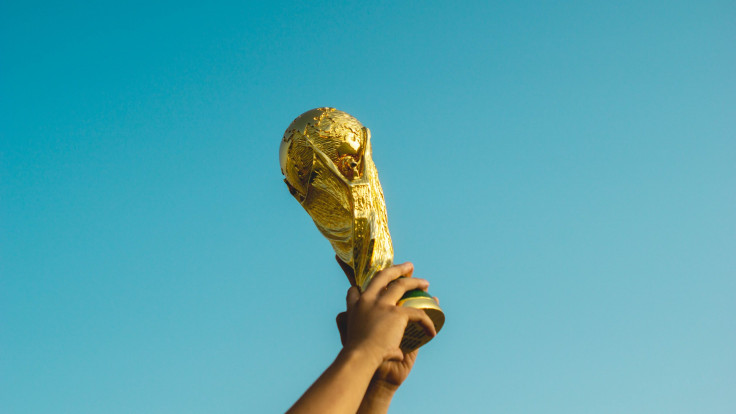 Fans around the world have accused pitch invader Salt Bae of 'stealing' the original World Cup trophy after Lionel Messi lifted a replica in a record-breaking picture.
After winning the World Cup, Lionel Messi posted a series of snaps of himself with the trophy on Instagram. The post went on to become the most liked in the website's history, overtaking the egg and gathering nearly a 75million likes. However, it was recently revealed that Messi was reportedly holding a fake World Cup trophy when he was snapped in Instagram's most-liked picture, the U.S Sun reported.
The replica was created by Argentina fan, Paula Zuzulich. Zuzulich made the trophy hoping that the cup would be signed by the World Cup-winning players at the final. However, there was some confusion over which trophy was the real deal after the real cup was removed from the pitch by Fifa officials.
Fans online have suggested that celeb-chaser chef Salt Bae was to blame for hogging the iconic golden trophy.
"Salt Bae took the original trophy," one fan said online.
While another added: "Salt Bae has been granted exclusive access to the real one."
"I know who has the real one!" a fan tweeted a Salt Bae gif.
Salt Bae, the celebrity chef, whose real name is Nusret Gökçe, sparked a Fifa probe when he somehow got himself in among the winning team and managed to get a selfie with Lionel Messi as he celebrated Argentina's World Cup victory.
He was seen badgering Messi and repeatedly grabbing his arm until the player relented and posed for a picture.
In addition to these, Salt Bae also posted pics on Instagram of him holding the 18-carat gold trophy, worth $20.7 million, a privilege reserved for the winning team and heads of state.
"You shouldn't touch the Cup. You're not a champion," one commented.
Another Instagram user said he was "unfollowing" the Turkish chef after seeing the post.
"You shouldn't have touched that trophy only the players and staff who worked their asses off to become champions have that right. You only want attention," another wrote.
"This is the time for players who have worked hard and not for celebrities to hang around and take selfies for their own promo," another user wrote.
© 2023 Latin Times. All rights reserved. Do not reproduce without permission.