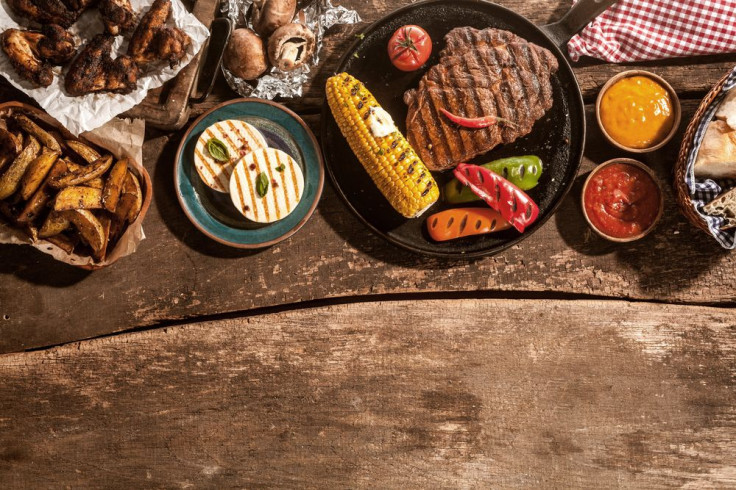 Labor Day weekend is around the corner! It is time to fire up the grill, have some drinks, and enjoy -- of course, always keeping the CDC safety measures.
Say goodbye to the summer with delicious recipes created with high-quality ingredients. From a full and perfect main course to a bubbly cocktail, we got you covered.
Mexican Pasta Pizza: Created by Chef Santiago Gomez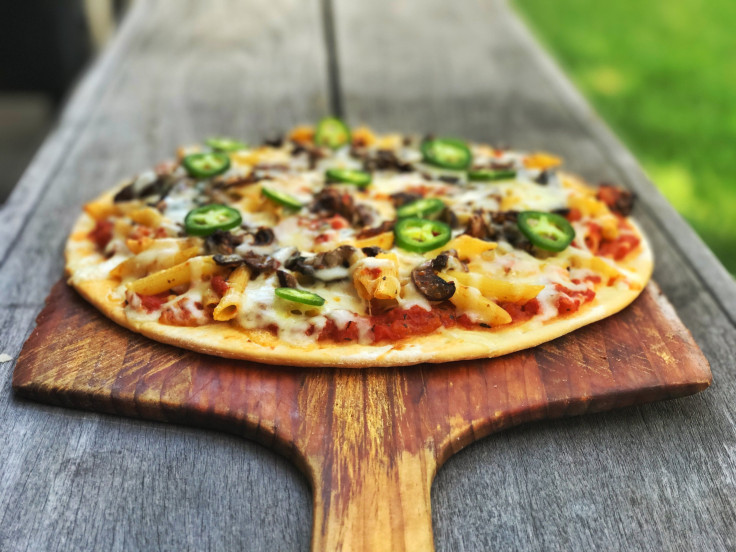 INGREDIENTS
15 pieces whole tomatoes
Three tablespoons extra-virgin olive oil
Two medium onions, chopped
Four cloves garlic, minced
One tablespoon chopped fresh basil
One tablespoon chopped fresh thyme
¾ teaspoon dried oregano
Salt to taste
Freshly ground pepper
2 Cups of shredded queso Oaxaca
Jalapeno slices
DIRECTIONS
Preheat the oven to 450 F.
Bring a large pot of water to a boil. Make a small X in the bottom of each tomato and plunge into the boiling water until the skins are slightly loosened, 30 seconds to 2 minutes. Transfer to a bowl of ice water for 1 minute. Peel with a paring knife, starting at the X. If using frozen tomatoes, run each under warm water and peel or rub the skin off. Thaw in the refrigerator or defrost in the microwave until mostly thawed. Chop the tomatoes, reserving any juice.
Heat oil in a skillet over medium heat. Add onions and cook, stirring, until they start to brown, about 4 to 6 minutes. Add garlic and cook, stirring, for 1 minute. Add the tomatoes (and any juice), basil, thyme, oregano, salt, and pepper. Bring to a boil. Reduce heat to a simmer and cook until the sauce thickens. Set aside. Spread half of the sauce on top of the precooked pizza crust. Mix the other half of the sauce with the pasta and top the crust. Add the shredded queso Oaxaca. Place the pizza in the oven until the cheese is melted, about 8 -10 minutes. Top cooked pizza with the jalapeno slices and serve.
Shrimp & Gaujillo Pepper Aguachile: Created by Chef Carlos Gaytan of Tzuco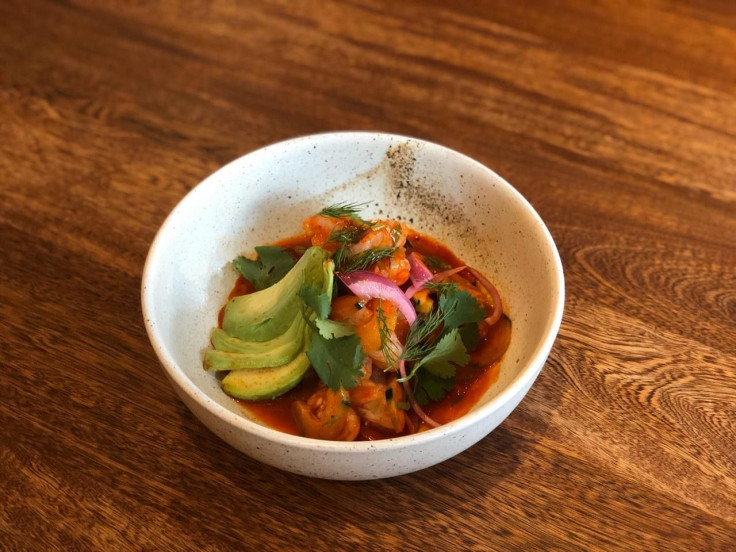 INGREDIENTS
2 lbs. shrimp, peeled and cleaned
10 guajillo peppers
1 qt. brown onion, finely sliced
2 garlic cloves
4 limes, juiced
1 English cucumber, peeled, seedless and diced
1 red onion, finely sliced
2 oz. ginger, peeled
Olive oil
Salt
DIRECTIONS
For aguachile sauce: Put the guajillo peppers in a bowl of lukewarm water
and place a small plate on top to keep them submerged. Leave to soak until
soft and fully rehydrated (this can take as long as 15-30 minutes, depending
on the size). Until they change color.
In a skillet on medium-high heat, add olive oil. Sauté brown onion and
garlic cloves until they are caramelized and softened.
Then, in a blender, mix the guajillo peppers, guajillo pepper's water, brown
onion, ginger, garlic, and lime juice season with salt.
For shrimps: Add the shrimps in boiled water for 5 seconds. Then, rinse the
shrimp in cold water for 15 seconds and pat dry with paper towels and
transfer back to a bowl.
Finally, add red onion, shrimp, cucumber, aguachile sauce and season
with salt.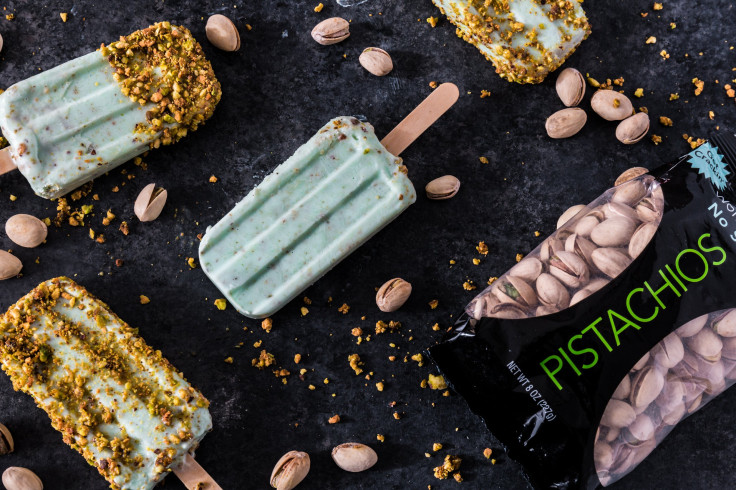 INGREDIENTS
1 cup Greek yogurt
½ cup of coconut milk
Two tablespoons agave or honey, or to taste
2 drops green food coloring, optional
1/3 cup of Wonderful Pistachios No Salt, finely chopped (plus more for crusting the paletas)
DIRECTIONS
In a large bowl, whisk together the yogurt, milk, agave or honey and food coloring (if using) until smooth.
Add the chopped Wonderful Pistachios and stir until incorporated.
Pour the mixture into Popsicle molds and freeze until it begins to set, about 1 hour. Then, insert the sticks and freeze again until solid, about 4 hours. (If using other types of molds, just follow the manufacturer's instructions).
Optional: Once the paletas are frozen, spread some chopped pistachios on a plate, remove popsicles from the mold and roll them in the pistachios.
Serve immediately or keep them in the freezer until ready to eat.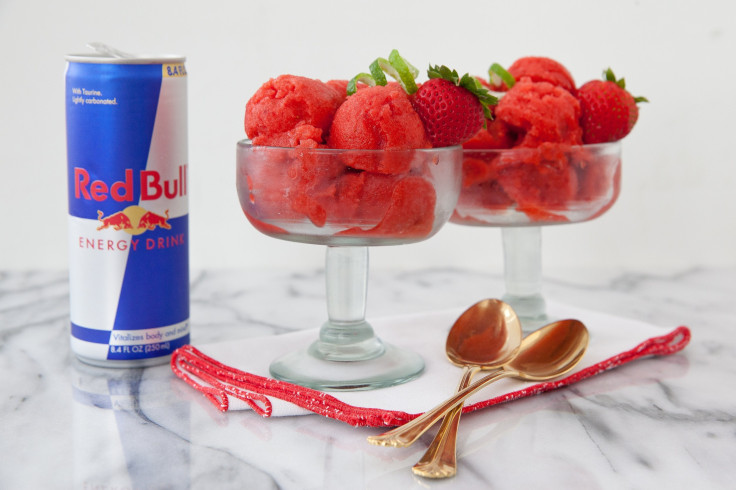 INGREDIENTS
1 pound Whole Frozen Strawberries
1 cup Red Bull or Sugar-Free Red Bull
1/4 cup Freshly Squeezed Lime Juice
GARNISH
Fresh strawberries and lime twist
DIRECTIONS
In the bowl of a food processor, pulse frozen strawberries until roughly chopped. Add Red Bull and lime juice. Process until smooth.
Pour sorbet into a freezer-safe bread loaf pan. Freeze for 3 hours, stirring once each hour. Sorbet is ready to serve when it is soft set and can be scooped. Serve in a chilled glass garnished with a fresh strawberry and lime twist.
Henry's Hard Soda Boozy Popsicles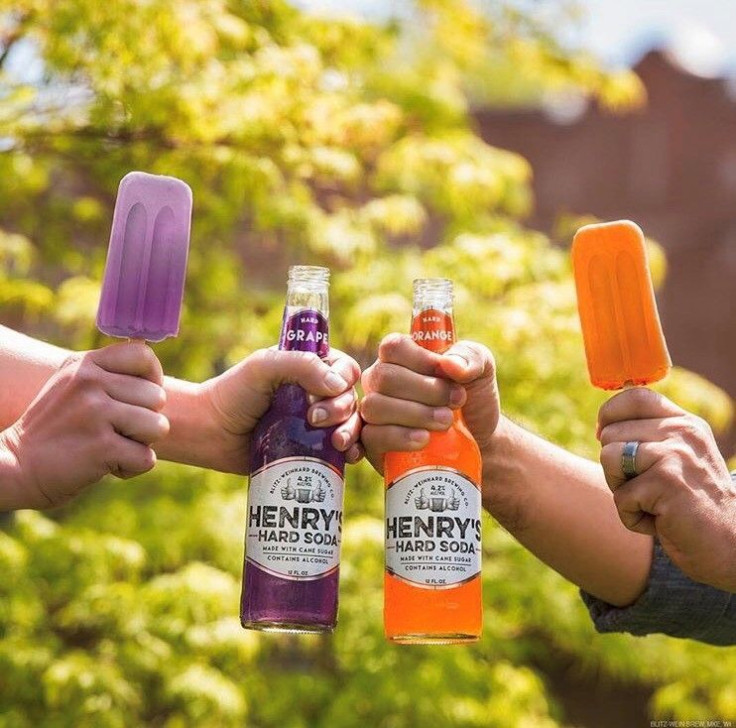 INGREDIENTS
Henry's Hard Soda
DIRECTIONS
Fill each popsicle mold with your favorite flavor of Henry's Hard Soda
Insert popsicle sticks
Freeze for 6 hours, or until frozen.
Before serving, run the molds under warm water to loosen the popsicles
ENJOY!
HUROM Natural Peach Ice Pop & Sherbet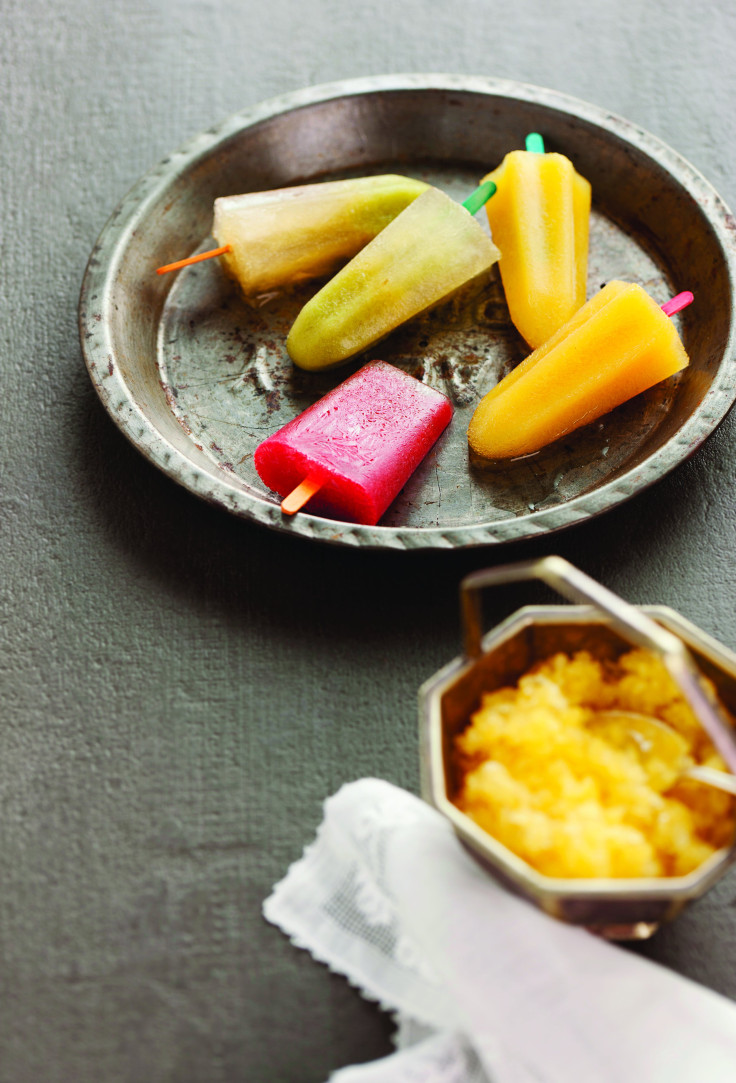 INGREDIENTS
Three large peaches
Honey
DIRECTIONS
Wash the peach thoroughly, and remove seeds. Slice into appropriate sizes. Extract sliced peaches in your juicer. Add a touch of honey to less sweet fruits. For ice pops, freeze the extracted juice in an ice pop container OR for sherbet, freeze in a wide container, and then scratch it with a fork.
Tips
Sherbet is a frozen fruit juice or beverage, and you can adjust the texture of sherbet with milk or gelatin.
Swap out the peaches with your other favorite fruits to make fun flavors!
Santa Margherita Peachy Keen Cocktail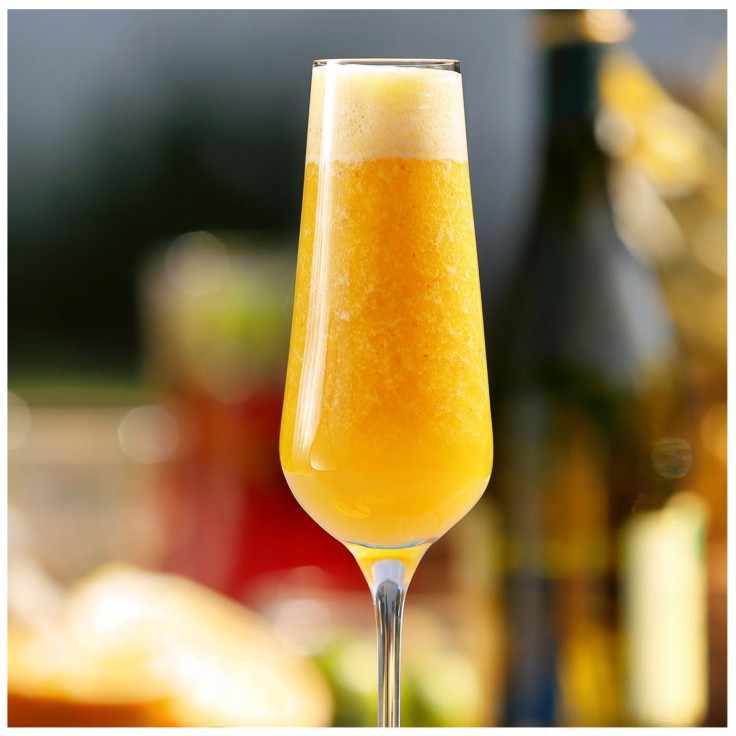 INGREDIENTS
Bottle Santa Margherita Prosecco Superiore DOCG
Three fresh peaches pitted and halved
½ fresh ginger, chopped
Three tablespoons sugar
Two tablespoons fresh lime juice
3 cups crushed ice
DIRECTIONS
Place peaches, sugar, lime juice, ginger, and Santa Margherita Prosecco Superiore DOCG in a blender, blend at medium speed until smooth. Add ice to the blender and process.
Sparkling Ice Peach Nectarine Fizz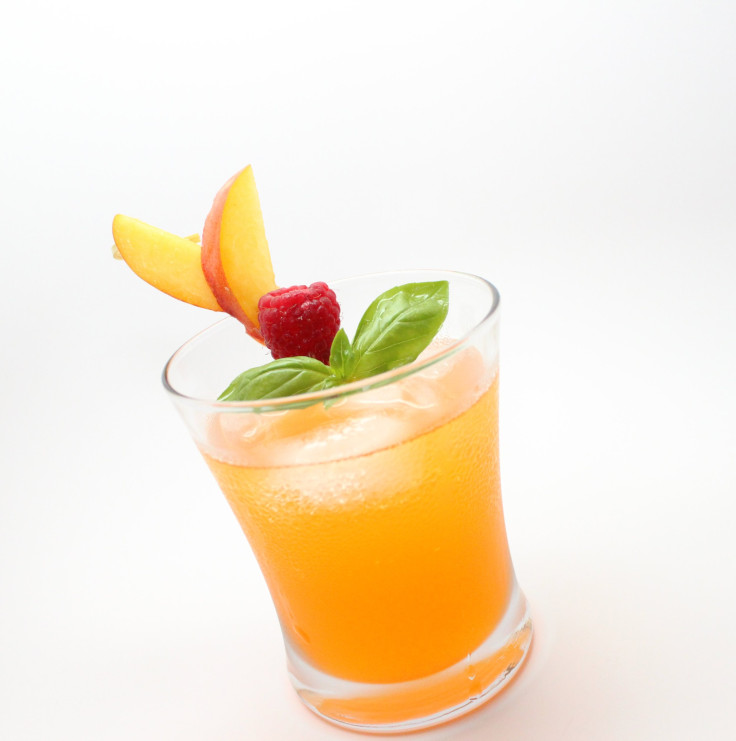 INGREDIENTS
3 oz. Sparkling Ice Peach Nectarine
2 oz. Champagne or Sparkling Wine
Sliced peaches for garnish
DIRECTIONS
Pour champagne, then Sparkling Ice Peach Nectarine over ice. Garnish with sliced peaches.
Sandía Rocas: Created by Mixologist Ben Scorah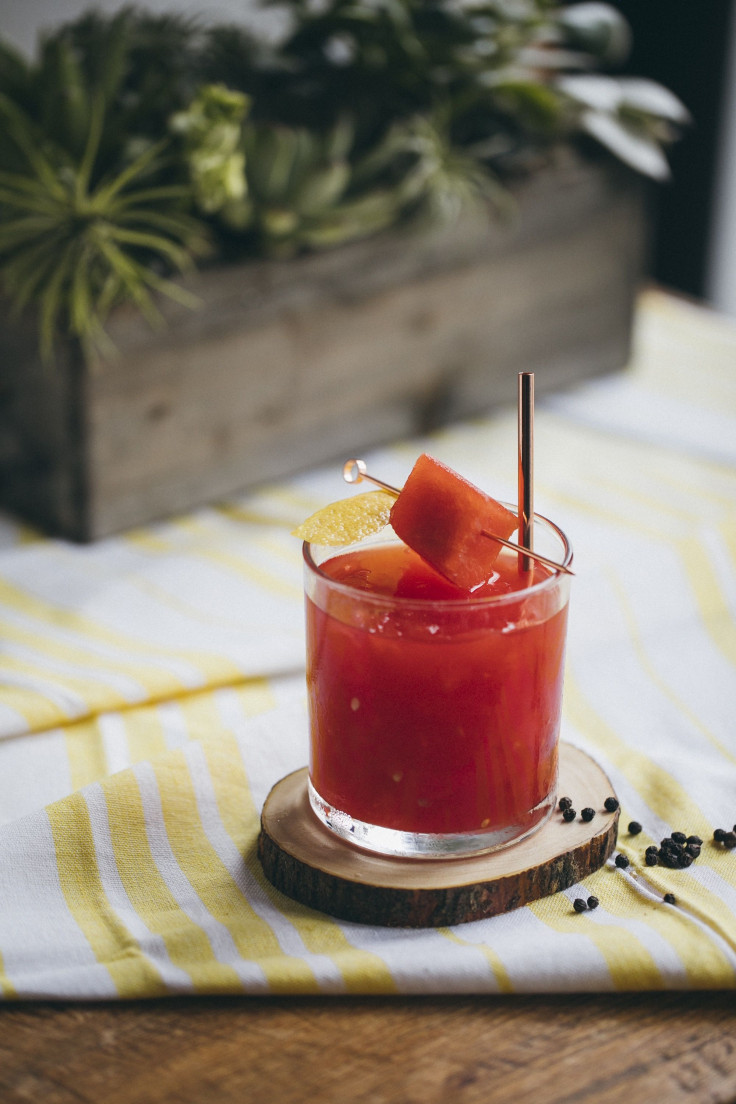 INGREDIENTS
1 1/2 oz Tequila Don Julio Blanco
6 oz Fresh Pressed Watermelon Juice (seasoned with black pepper)
1/2 oz Fresh Lemon Juice
Lemon Zest and Watermelon for Garnish
DIRECTIONS
Combine Tequila Don Julio Blanco, seasoned watermelon juice, and lemon juice in a cocktail shaker with ice. Shake well. Strain liquid over fresh ice in a rocks glass. Garnish with lemon zest and watermelon.
Ideal Serve:
Rocks Glass
Prized Pomelo: Created by Mixologist Ben Scorah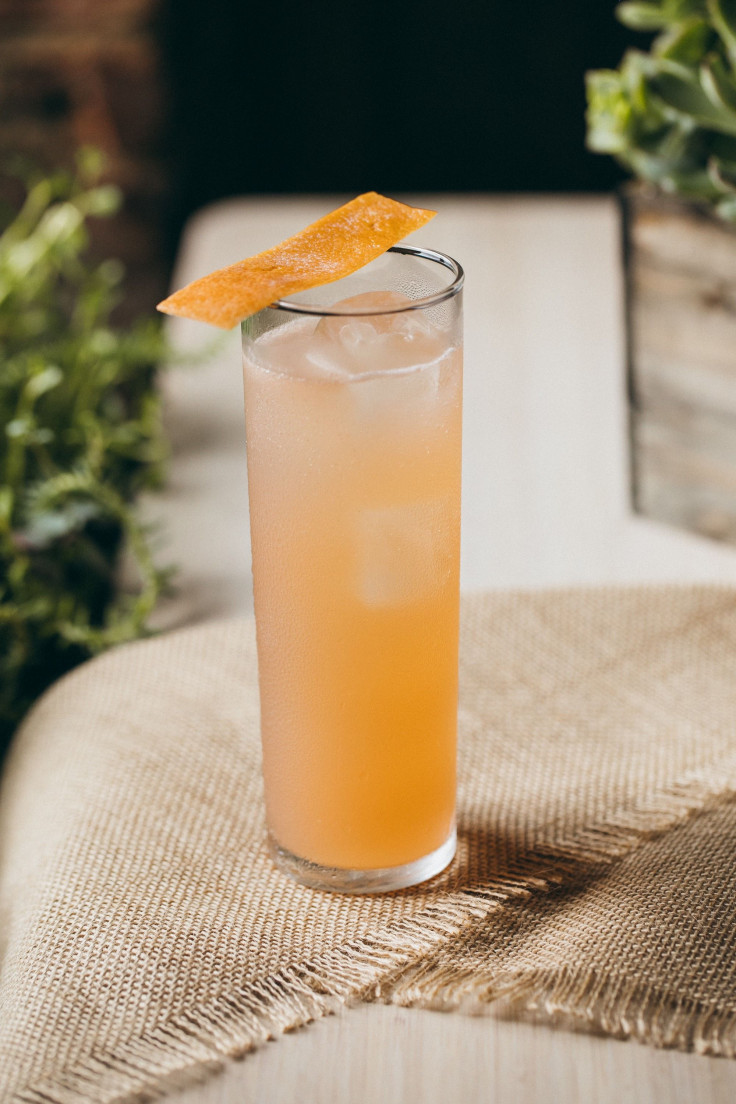 INGREDIENTS
1 1/2 oz Tequila Don Julio Blanco
4 1/2 oz Health-Ade Original Kombucha
1 1/2 oz Fresh Pink Grapefruit Juice
1/2 oz Fresh Lime Juice
1/4 oz Blue Agave Nectar
Pinch Jacobsen Sea Salt and Grapefruit Zest for Garnish
DIRECTIONS
Combine Tequila Don Julio Blanco, fresh pink grapefruit juice, fresh lime juice, and blue agave nectar in a cocktail shaker with ice. Shake well. Strain liquid over fresh ice in a Highball glass.
Top up glass with Health-Ade Original Kombucha. Garnish with grapefruit zest and a small pinch of Jacobsen Sea Salt
Ideal Serve:
Highball Glass
FLOR ADORA: Developed by Erik Adkins, bar manager of The Slanted Door Restaurant for Bruce Cost Ginger Ale.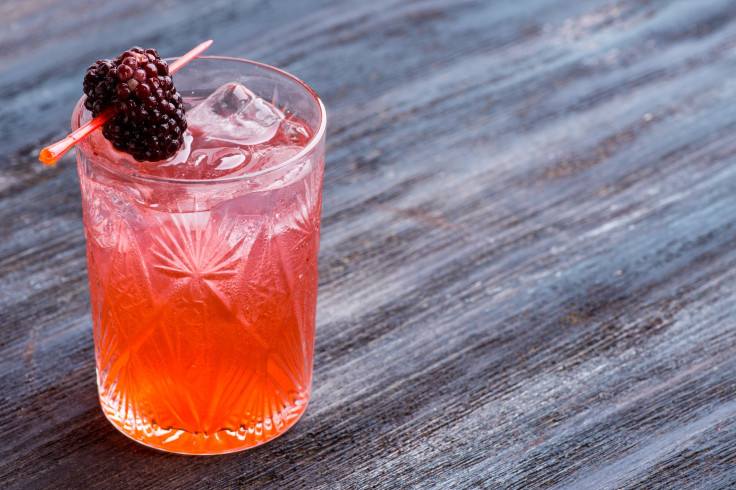 INGREDIENTS
4 oz Bruce Cost Ginger Ale - Original
0.75 oz lemon juice
0.75 oz Small Hand Foods raspberry gum syrup
1.5 oz Plymouth gin
DIRECTIONS
In a glass with ice, combine the listed ingredients. Stir, garnish with blackberries and enjoy!
© 2023 Latin Times. All rights reserved. Do not reproduce without permission.