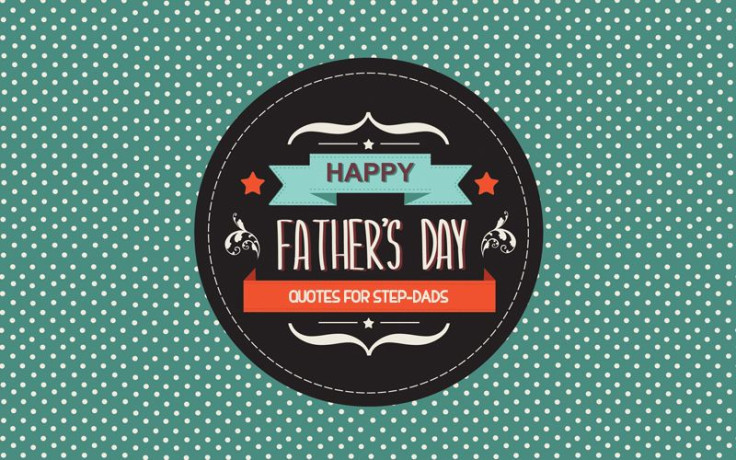 Happy Father's Day! It's that special day to celebrate that special figure in your life who is there to support you unconditionally. There are all types of dads in the world, but there is a really special one, one that isn't biologically tied to their child, but one that is emotionally tied to them. This is a strong sentiment, a bond that is deeper than anything because this individual chose to father and be a dad to someone that is not related by blood, but one that he chooses to raise. Anything "step" has a negative stigma, but there are many stepparents that "step" up to the plate and know how to handle. We salute all those stepfathers on this very special and with these quotes and sayings:
1. "No matter mother or father or either or neither; in the end, we all grow up. Yet because of you, my stepfather, I grew up to become a man."
2. "I never got to choose you. You just became my 'dad.' So I'm grateful to my mother. For the great taste that she had."
3. "Family isn't always blood. It's the people in your life who want you in theirs. The ones who accept you for who you are. The ones who would do anything to see you smile, and who love you no matter what."
4. "Anyone can be a father but it takes someone special to be a step dad."
5. "A man's worth is measured by how he parents his children. What he gives them, what he keeps away from them, the lessons he teaches and the lessons he allows them to learn on their own."
6. "One night a step father overheard his son pray: Dear God, make me the kind of man my daddy is. Later that night, the step father prayed: Dear God, make me the kind of man my son wants me to be."
7. "Step parents are not around to replace a biological parent, rather to augment a child's life experience."
8. "It takes a strong man to accept somebody else's children and step up to the plate another man left on the table...." -Ray Johnson
9. "My step dad is my father in my eyes"
10. "You accepted me as your own, gladly welcoming me as part of our new family when you promised to love forever my mother. Never treating me as anything other than your own, you boldly accepted thechallenges of my upbringing and brought your gentle smile to the task. I may call you stepdad, but in all the ways that matter to me I'm happy to call you Father as I thank you today."
11. "On Father's Day, we celebrate the men who raised us. We may not be related by blood, but I am truly blessed to have been raised by a man I aspire to be like. No card can carry the message I hope to convey to you today, any more than a title could define our relationship. Here's hoping a heartfelt thank you is a good start!"
12. "You didn't know when you first started dating my mom, you were dating me too! I might not have been there for all of the dinners, movies, trips, or romance, but you knew I would be around for most everything else. That you weren't scared amazes me, that you love me too humbles me, and that I get to thank you as my father today excites me beyond measure."
13. "A stepfather is someone who protects you. He shows you how to be loving and strong. He teaches you how to get along with your mom. He shows you how to admit when you're wrong. He does all these things and more because he's always there. Happy Father's Day! I'm glad you care!"
14. "How many Father's Days have we celebrated together? How many birthdays and holidays? How many good days and bad days? How many laughs have we shared? Enough to know even though you're technically my stepfather, you'll always be a real father to me."
15. "To my stepdad, thank you for your courage, humility and patience. I look forward to our newfound relationship. Happy Father's Day!"
16. "I know being my stepdad was quite a journey for you. I hope you've enjoyed it just as much as I've enjoyed becoming your son. Happy Father's Day!"
17. "Father's Day is a special day because I can spend it honoring two great men. I'm thankful to have two fathers who never made me feel like I had to choose between them. I'm thankful to have two families who both made me feel like I belong."
18. "Just in case you were wondering, there's no such thing as a "Stepfather's Day". Father's Day was made for all dads, not just biological dads. Now that you know the facts, Happy Father's Day!"
19. "Stepfathers who stay the course–despite the obstacles and frustration–out of dedication and a sense of duty, are among the world's most frequently overlooked unsung heroes."
20. "A man that was there for me, even though he didn't have to."
21. "A father that didn't give life to me, but that has been there every step of the way."
22. "You may not be my biological father, have the same blood, but you are my dad."
23. "Forget the step father, you are just a father."
24. "A stepdad makes several hard choices over and over again. Even when he doesn't know what to choose or how to choose, he never stops being willing to choose."
25. "It's not about who was there in the beginning, it's about who stays there until the end."
26. "Stepdads are those dads that step up to the plate. Happy Father's Day!"
27. "You're not just my step dad but my friend."
28. "I know I haven't always said, how I appreciate what you do, so I'm saying now, how blessed I feel, to have a step Dad just like you."
29. "A Step Father means so many things... an understanding heart, a source of strength and of support, right from the very start."
30. "The urge to procreate is an animal instinct. The choice to take on somebody else's kids is an act of nobility."
31. "My stepdad once introduced me as his daughter. Afterwards he apologized. He obviously had NO idea of the pride I felt being claimed by him in this way."
32. "Children do not get the luxury of picking their parents; nor are parents afforded the opportunity to pick their children. Except, of course, for stepdads."
© 2023 Latin Times. All rights reserved. Do not reproduce without permission.