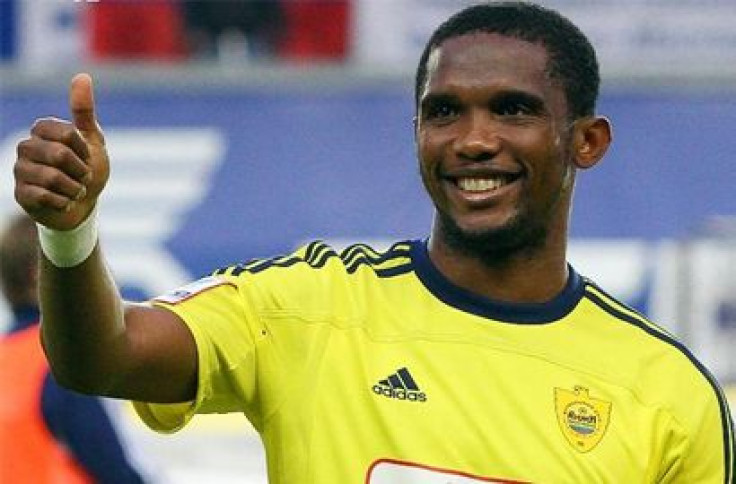 Football legend and current Cameroonian FA president Samuel Eto'o was seen brutally attacking a man outside a stadium at the FIFA World Cup in Qatar.
Shocking footage of the brutal attack has emerged online. In the footage that emerged, Samuel Eto'o, the former Barcelona, ​​Inter Milan, and Chelsea striker, can be seen leaving the 974 Stadium in Doha, after watching Brazil's victory over South Korea in their Round of 16 match, NY Breaking reported.
Initially, Eto'o seems happy to pose for photos with his fans as he walks out of the venue. However, when a man with a video camera approaches him from his right, the pair can be seen exchanging words. The video then cuts out a few seconds later, and Eto'o can be seen returning to the scene to confront the man. It was unclear what was said to irritate Eto'o. However, he reacts furiously and starts shoving the cameraman.
Seeing the confrontation, several bystanders step in to try to quell the interruption. In the footage, Eto'o can be seen giving his phone to a man, before running out of the group to knee him in the face and knock him to the ground.
The brutal blow appears to occur as the man ducks, knocking him out. Meanwhile, Eto'o returns to continue the confrontation. The victim, understandably surprised, is helped to his feet and does not appear to be seriously injured by the shocking blow, the New York Daily Paper reported.
Eto'o is currently president of the Cameroon Football Federation. Eto'o retired from playing in 2019, following a spell in Qatar with Qatar SC. He is known for his stints with Barcelona, ​​Inter Milan, and Chelsea, after coming through Real Madrid's academy in 1997.
Eto'o also played for Chelsea and Everton in the Premier League during his career and has 118 caps for his country, the second most of any player in history.
Similarly, Eto'o made headlines in recent months after he received a 22-month suspended prison sentence in June for £3m tax fraud. Eto'o failed to declare his personal income tax statement between 2006 and 2009 the income derived from the transfer of image rights to Puma and Barcelona.
The former Barcelona and Inter Milan forward admitted the offense. However, he alleged that he was the victim of manipulation by his former agent José María Mesalles.
© 2023 Latin Times. All rights reserved. Do not reproduce without permission.