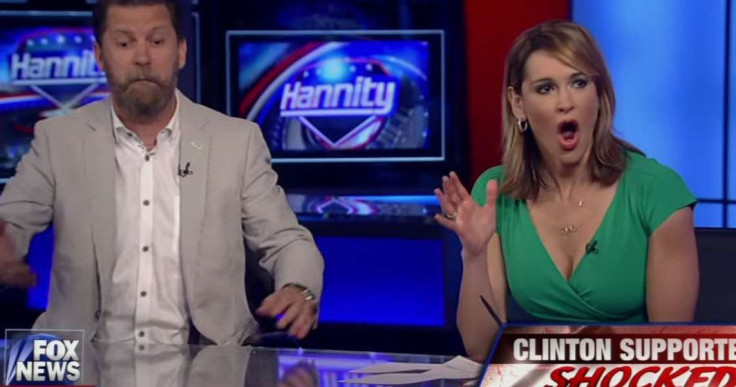 VICE Media founder Gavin McInnes looked like a real-life, modern-day Gaston last week when he told Fox News contributor Tamara Holder that she and other women should stay at home and have children instead of joining the workforce. He also said that women earn less because they are naturally less ambitious and would be happier to stay home and raise children. The exchange occurred on the Fox News show "Hannity," as the two panelists discussed equal pay legislation in the context of the Hillary Clinton campaign.
The segment began with a long-debated claim that Hillary Clinton had paid women of her New York Senate staff significantly less than men. Hannity sparred with Holder on the facts of the rumor (Daily Caller says they proved it with data, Politifact data says they cherry-picked). McInnes admitted that the facts are murky on the Hillary Clinton case, but and transitions into a dismissal of equal pay in general, not just in Clinton's Senate office.
"The big picture is that women earn less in American because they choose to [....] Women are less ambitious. This is God's way, this is Nature's way of saying 'women should be home with the kids; they're happier there,'" McInnes said.
Holder's jaw dropped when she heard the comment, but she responded calmly, telling Hannity that she hoped his viewers didn't take the comments seriously. She invited Hannity to enter the conversation, mentioning that he has a daughter.
"Having a choice does not mean that you're less ambitious, and I think that your comments are absolutely deplorable," Holder says to McInnes. "You've also said that women are better suited for the home.
"That's a fact," McInnes responds. He also told Holder "If you were a real feminist you would see housewives as heroes and women who work as wasting their time [....] Most women like staying at home [...] they are pretending that they like making money but they don't [go the extra mile]."
"Why am I sitting here," Holder asks.
"You're making a mistake," McInnes responds. "You would be happier at home with a husband and Children."
McInnes, a lawyer, news commentator and former expert witness in congressional hearings is unmarried and does not have children.
"Oh boy," said Hannity, who did not address take Holder's invitation to discuss McInnes claims with reference to his daughters. Through the rest of the segment Hannity quietly and steadily laughs.
But Seriously, Doesn't McInnes Sound Like Gaston From Beauty & The Beast?
Gaston (about to propose): This is the day your dreams come true.
Belle: What do you know about my dreams, Gaston?
Gaston: Plenty! Here, picture this: A rustic hunting lodge, my latest kill roasting on the fire, and my little wife massaging my feet, while the little ones play on the floor with the dogs. We'll have six or seven.
Belle: Dogs?
Gaston: No, Belle, strapping boys, like me.
© 2023 Latin Times. All rights reserved. Do not reproduce without permission.