Queen Elizabeth II will reportedly chip in £2 million (US$2.7 million) to her embattled son Prince Andrew's out-of-court settlement with sexual assault accuser Virginia Giuffre, with the undisclosed financial sum believed to be around £12 million (US$16.3 million).
Giuffre alleged that the late sex offender Jeffrey Epstein and his then-girlfriend, British socialite Ghislaine Maxwell, had groomed her for abuse when she was a teenager. Accordingly, the pair reportedly coerced her into sex with powerful men, including the Queen's second son, Andrew, Time reported.
Maxwell is awaiting sentencing on separate sex trafficking charges and denies Giuffre's allegations. Meanwhile, Epstein took his life in a prison cell in 2019 while facing prosecution.
Last year, Giuffre began civil proceedings against Andrew under the 2019 New York's Child Victims Act, a law allowing victims to pursue compensation for abuse, such as sexual assault, that occurred too long ago for criminal charges to be brought.
As claimed by Giuffre's camp, Andrew sexually assaulted her three times in various places, including on Epstein's private island in the U.S. Virgin Islands. The Duke of York denied all allegations against him and in 2019, previously claimed he cannot remember meeting Giuffre.
On Feb. 15, lawyers for Andrew and Giuffre revealed they have agreed for an undisclosed compensation, which would go directly to the alleged victim and her victim support charity.
In a statement, Andrew said he "regrets his association with Epstein and commends the bravery of Ms. Giuffre and other survivors who are standing up for themselves and others." The Prince also agreed not to repeat his claim that he did not sexually assault Giuffre.
Andrew, who has since stepped back from his royal duties, has not had a full-time paid job since he left the Royal Navy in 2002 but receives a £20,000 (US$27,000) annual pension. As a "working royal," he would have received around £250,000 (US$340,000) per year.
To come up with the settlement money, the Duke is currently processing the sale of a chalet he purchased in 2015 for over £8 million (US$10.9 million) but would not be able to sell his residence, the Royal Lodge in Windsor, which is leased from the Crown Estate.
Since his income obviously was not enough to cover the £12 million (US$16.3 million) settlement, his mother agreed to foot a portion worth £2 million (US$2.7 million) on the condition that money would go towards Giuffre's victim support charity, according to Sky News.
On Wednesday, the 95-year-old monarch made her first in-person appearance since Andrew settled the Giuffre case.
Walking with a cane, the frail-looking Queen also admitted she's having trouble moving following last week's COVID-19 scare when she met with incoming Defense Services Secretary Maj. Gen. Eldon Millar at Windsor Castle.
Buckingham Palace did not confirm whether the Queen had tested positive for the coronavirus and stopped short at giving explanations as to why she was having trouble walking, the New York Post noted.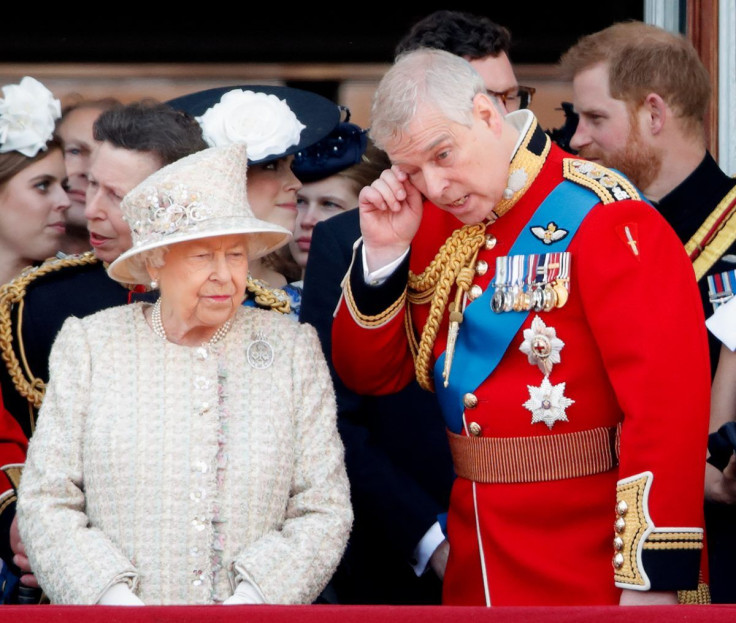 © 2023 Latin Times. All rights reserved. Do not reproduce without permission.