Love is a place where one heart meets another, traversing through the course of life, undeterred and uncompromisingly so, for what can come between two hearts when they beat together as one.
Hector first met Lidia in the Eighth Grade. Their friendship blossomed through high school, where Hector would wait for Lidia every day just so that he could talk to her. Together, they'd walk home as years went by till Lidia graduated high school and life schedules drifted them apart, but only for a bit. A year later, their worlds converged again. And in their friend circle, they spent time watching movies, attending festivals, hanging out at bars, hiking, and doing all the other lovely things that friends do together. Hector then left for Army school and, on graduating, gifted Lidia his first set of pinned wings, a memento she cherishes to this day.
Know where we're getting to? We think you do.
This story is not just any love story. It is one where two friends became more. For when the right time came, Lidia confessed her feelings, and Hector revealed that his love for Lidia had sprouted in high school. And on a bright sunny day, while vacationing in L.A, California. Hector knelt on one knee, asking Lidia to marry him with one of Friendly Diamonds' halo engagement rings.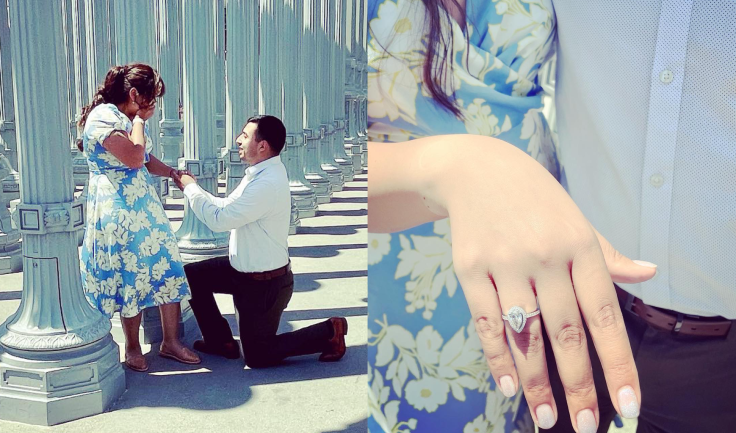 Her go-to person. Her best friend. And now her fianc é . Lidia was awed when Hector slid the ring he had created from scratch, symbolizing their journey together.
Friendly Diamonds, based in New York, is an eco-friendly customer-led online jewelry brand committed to creating a transparent and sustainable jewelry industry. With just one click on their portal, you can scroll through 200+ designs and also create your engagement ring just like Hector did!
The process is simple. You first choose a ring setting, then an eco-friendly lab diamond from a lab created diamond list, and finally, complete your ring precisely the way you want to. And if you still aren't sure about your pick, you can book a virtual appointment with a qualified gemologist and jewelry specialist at no extra cost.
All diamonds available are GIA, IGI certified, grown in state-of-the-art laboratories, making them conflict-free, sustainable gems. They have an absolute sparkle and shine just like mined diamonds and come without the price of environmental damage like mined diamonds do when mined out of the earth.
At Friendly Diamonds, you get jewelry at competitive prices as budgets should never be a constraint when buying your jewelry, especially your engagement ring. The diamonds cost 20 to 40 percent less than diamonds available on competitor portals. You can also avail a price match if you find a diamond similar to a competitor after meeting specific criteria.
With a range of styles, settings, and diamond options available on the portal, the possibilities are endless when looking to design engagement rings at Friendly Diamonds.