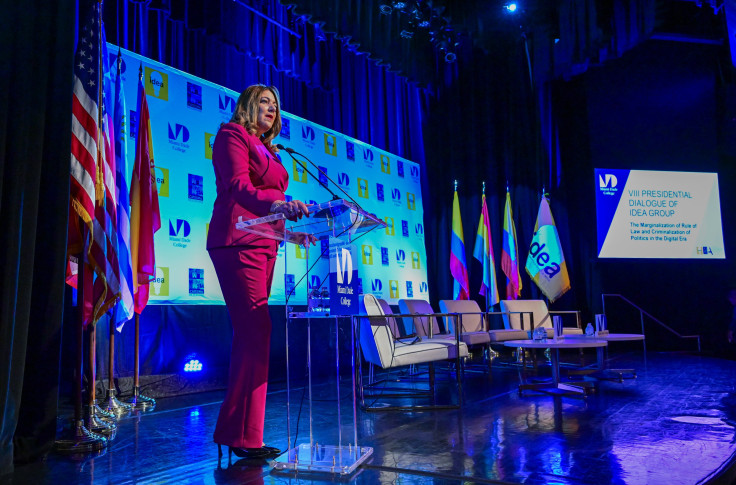 Miami Dade College President Madeline Pumariega spoke with The Latin Times following the announcement made by county Mayor Daniella Levine Cava' regarding the creation of a $3 million dollar scholarship fund that will benefit two thousand students in the area.
The interview has been edited for extension and clarity purposes:
LT: What is the scholarship program recently announced by the Mayor of Miami in partnership with Miami Dade College?
Future Ready is a scholarship for students graduating from high school in Dade County that allows them to earn an associate's degree for free. Everyone is eligible. We know there are federal programs like the Pell Grant for low-income students and the state offers Bright Futures for outstanding students. This is a program for the middle class ones, which are always left out.
LT: What facilities or advantages does MDC offer Latino students that might motivate them to choose this educational institution?
We have 125,000 students from 168 countries, and Hispanic students make up 75% of them. We are a diverse institution and we make a tremendous difference for the Hispanic community because we offer not only these scholarships but also special programs to support our Hispanic students.
LT: You held the VIII IDEA Dialogue, a program that brings together several former Latin American presidents. How did this come to be?
As the name suggests, it was a good idea, thanks in part to Dr. Nelson Mezerhane, who supports it not only financially but also with his leadership, being a champion of the promotion of democracy and freedom. Thanks also to Professor Asdrubal Aguiar, who heads this foundation for students to have direct contact with those who have been presidents of their countries. It is an agreement that allows our students to complement what they learn in the classroom with real-life lessons on topics such as the influence of technology and social networks in elections and the entire democratic process.
LT: What other programs does MDC offer Latino students and students in general?
We were the first college in the state to create a program in Artificial Intelligence that not only allows the student to get a certificate, but we also offer a bachelor's degree. This is the future, not because I think artificial intelligence is going to surpass humans, but because the combination of the human element, science and technology is going to be the foundation of future work.
MDC has the Miami Animation & Gaming International Complex, the Miami Fashion Institute, the Eight-Watson School of Aviation, the Idea Center, the Cybersecurity Center of the Americas, the Cloud Computing Center, the Center for Learning, Innovation and Simulation, the School for Advanced Studies and the New World School of the Arts, to name a few of its most innovative programs.
LT: Former President Miguel Angel Rodriguez pointed out at the IDEA Forum that the crisis we are experiencing is largely due to the uprooting of the family. What are your thoughts on this?
I grew up in a family where faith and family came first, and when I talk to young students, I see that they share the same values. I don't believe that the sense of family has been completely lost, but I do believe that it is important to strengthen these values because they are the ones that complete a person and a society.
© 2023 Latin Times. All rights reserved. Do not reproduce without permission.