After a suspicious package was discovered in the grounds of the Falmouth Hotel, in the United Kingdom, close to the Group of Seven (G7) nations summit venue, Devon and Cornwall Police detained a 20-year-old man on suspicion of a bomb hoax, Thursday.
Police were alerted at around 3.15am on Thursday, raising fears of a suspicious parcel being found on the grounds outside of the Falmouth Hotel, Devon & Cornwall Police stated in an earlier statement, Mirror reported. The hotel's residents were awoken at 4.30am by police and hotel personnel with aggressive banging on doors. The guests were asked to exit the building and take refuge in a car park that was a couple of yards from the hotel.
Following the bomb scare the day before the meeting, about 100 guests and hotel personnel were evacuated from a G7 hotel. The suspicious package was later deemed unviable by a Royal Navy bomb disposal team.
The Carbis Bay Hotel, where leaders from the world's most powerful democracies will convene for the G7 summit beginning Friday, is just 40 minutes away by car from Falmouth, where the bomb scare occurred. The G7 summit is being covered by the world's media, and Falmouth is serving as their major headquarters, Express reported.
Carbis Bay, the small seaside resort hosting the conference, has been closed off to traffic and beach walkways, and a steel fence has been built around the area, with armed cops on watch.
The 20-year-old Falmouth man arrested on suspicion of the bomb hoax is currently in custody, according to police.
Boris Johnson, the Prime Minister of the United Kingdom, will leverage the UK's G7 Presidency to bringing together the world's top democracies to help the world fight coronavirus, and then rebuild a healthier and economically sound future. On Friday, leaders of the G7 wealthy nations convene in Cornwall, England, for a three-day meeting to discuss subjects ranging from COVID-19 vaccinations and economic recovery to climate change and geopolitics, reported Reuters.
US President Joe Biden arrived in the UK earlier this week ahead of the G7 summit, bringing with him a warning to the UK not to endanger peace in Northern Ireland. Before traveling to Newquay for the summit, the POTUS stopped by RAF Mildenhall in Suffolk to pay a visit to US troops stationed there.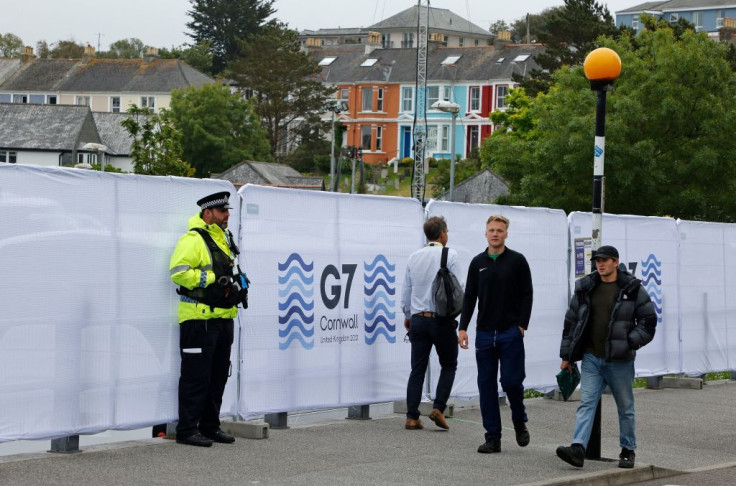 © 2023 Latin Times. All rights reserved. Do not reproduce without permission.