Missing man Brian Laundrie, a person of interest in the mysterious disappearance and death of his then-fiancé Gabby Petito during a cross-country trip, had reportedly fled with his family for a "long weekend camping trip" following his return, according to their neighbors in North Port.
Fox News reported that the would-be in-laws of the slain 22-year-old Petito, a Long Island native, packed their bags about a week after their son Brian returned from the Mountain West, heading out with a new "attached camper," residents Charlene and William Guthrie claimed.
According to the Guthries, who live across from the Laundries, their first months in the neighborhood have been a nightmare since the van-life couple went missing on their West adventure. Charlene and William just recently moved to the community in early summer.
"We didn't know it was Gabby's, we just assumed it was [Brian's] van," Charlene said following Brian's return earlier this month. "We didn't know they were on a trip. We assumed they went back to their house or wherever they got a house. We didn't know much about them at all."
When the police came knocking on the doors of the Laundries, the neighbors said they informed the cops that they saw the family go off for the weekend.
Two days before Petito's last reported message to her mother, Brian allegedly lashed out and got so "aggressive" with staff at the Merry Piglets restaurant in Jackson Hole, Wyoming. Witnesses said that Petito had to apologize to the restaurant's manager for her beau's behavior, the New York Post noted.
The blow-up, which stemmed from an issue with the couple's bill, came after the victim last spoke to her mother, who claimed she got an "odd text" from her daughter's phone on Aug. 27. The matriarch said Gabby addressed her grandfather as "Stan," something she never used to refer to him.
On Sept. 1, Laundrie returned home to the couple's house in Florida without Petito, quick to shut police out and refused to cooperate with investigations about Gabby's disappearance. It made authorities more suspicious of him and identified him as a person of interest in the case.
The man in question, however, has since fled and is now the subject of a massive police manhunt.
Meanwhile, the media also took notice of the cryptic Pinterest account @blaundrie1197, which is believed to be owned by Laundrie, after online users found the account shares some albums with a page belonging to his slain girlfriend and his mother Roberta.
In a disturbing post titled, "The Opposite of Lost," Laundrie captioned an image of a missing dog flier with, "Don't try to find me. I have finally escaped my master's wicked clutches." Then about five weeks ago, a post in a folder titled "Bleak" referred to the book "Burnt Out: How to Cope with Autistic Burnout."
Another cryptic post shows the words "My Baby" inscribed on a headstone followed by the chilling message, "She'll never find a sweet man like me. Let her go, let her go, GOD BLESS HER, wherever she may be."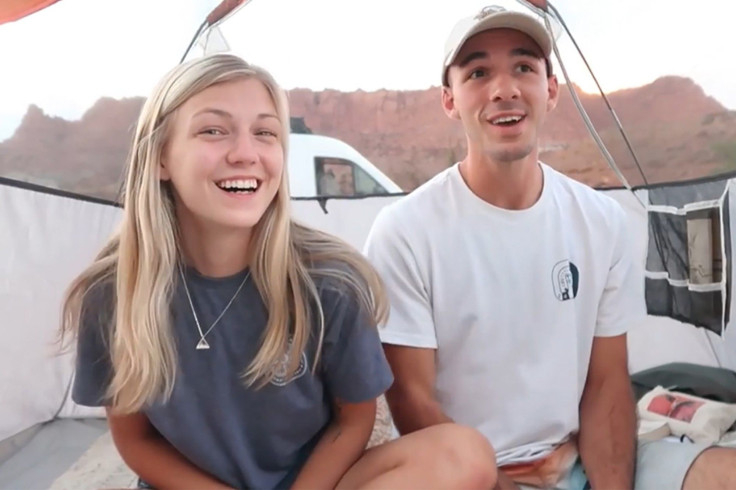 © 2023 Latin Times. All rights reserved. Do not reproduce without permission.