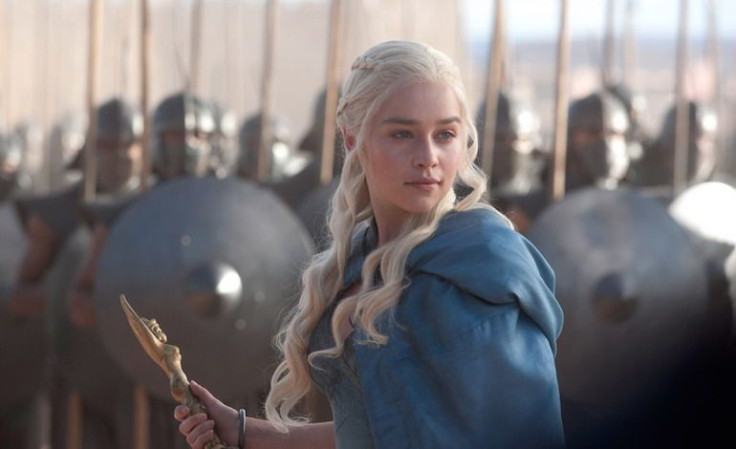 "Game of Thrones" seasons five came to a shocking and brutal end only a week ago and already fans are anxious to know what will happen in seasons six. We already know the HBO series is seeking fresh faces to introduce several unseen characters from George R.R. Martin's novels rumored to be making their introduction next year.
One new character was discovered by "GoT" fansite Watchers on the Wall and is described as a "beautiful, intense and magnetic" young priestess in her 20s or 30s. Furthermore an audition video leaked online showing British actress Tehmina Sunny reading for the part of the red priestess named Kinvara, who visits Tyrion Lannister and Varys in Meeren.
Meanwhile part of the script from season six of "Game of Thrones has reportedly leaked online and gives us some insight into Daenerys Targaryen's future. In season five we seen her fly off into the city on her Dragon, Drogan and now we know she never made it back. As The Independent reports this could suggest two things. The first is that she may be gone for a little while or the Lord of Light R'hllor has singled her out for glory.
Check out the scripts snippet of dialog below courtesy of i09:
Kinvara: "Her dragons are fire made flesh. A gift from the Lord of Light. But you've heard all of this before, haven't you? On the Long Bridge of Volantis? The dragons purify nonbelievers by the thousands, burning their sins and flesh away."
Tyrion/Varys: "Ideally, we'd avoid purifying many non-believers. The Mother of the Dragon has followers from many different faiths."
Kinvara: "You want your queen to be worshiped and obeyed. And while she's gone, you want her advisors to be worshiped and obeyed."
Tyrion: "I'd settle for obeyed."
Kinvara: "I will summon mummers and appoint priests. They will spread the word. Daenerys has been sent to lead the people against the darkness ... for this war, and the Great War yet to come."
Varys: "That sounds excellent. A man named Stannis Baratheon was appointed as the Chosen One by one of your priestesses. He too had a glorious destiny. He attacked King's Landing, and was soundly defeated by the man standing beside me. Last I heard, he'd been defeated again. This time at Winterfell ... and this time for good."
The validity of this info has yet to be determined. We won't know if it's true or not until next year when season six arrives or when George R.R. Martin's next novel, "The Winds of Winter," is released. Details are limited at this point but we are expected to see the next book before the next season as the TV show has finally caught up with his novels.
© 2023 Latin Times. All rights reserved. Do not reproduce without permission.