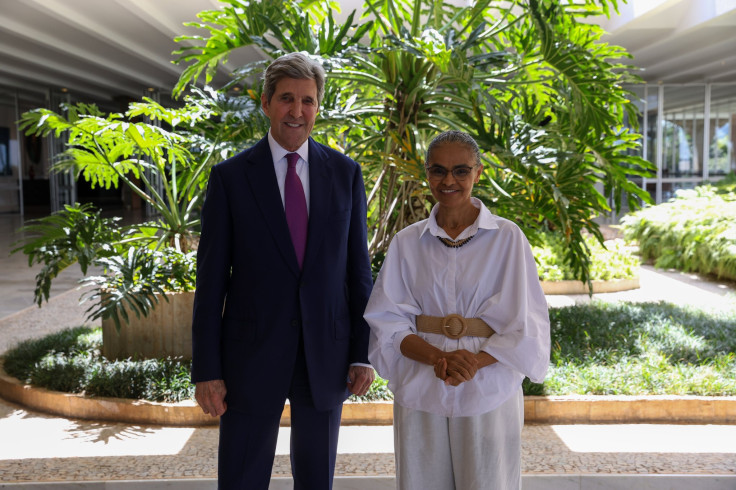 John Kerry, the U.S. climate envoy, said on Tuesday in Brazil as he discussed potential U.S. funding for jungle conservation that the world cannot achieve its climate objective to limit global temperature rise to 1.5 degrees Celsius unless it protects the Amazon rainforest.
After taking the office on Jan. 1 Brazil's new President Luiz Inacio Lula da Silva immediately reopened negotiations with the United States on climate change and deforestation after tense relations under his right-wing predecessor Jair Bolsonaro. Deforestation hit a 15-year high under Bolsonaro, who rolled back environmental protections.
In a meeting at the White House earlier this month, Lula and President Joe Biden agreed to collaborate on combating climate change. Regarding the issue of deforestation, Washington declared it intended to make a donation to Brazil's Amazon Fund, which supports conservation initiatives in the jungle region, Reuters reported.
"The truth is that unless the Amazon is protected from those who would deforest it and who abuse it, we cannot keep the temperature to 1.5 degrees (Celsius)," Kerry said, referring to the climate target in the Paris Agreement.
"The reality is that the Amazon is the test of all of our humanity," Kerry added.
Because the Amazon absorbs a significant amount of greenhouse gases through its trees, preserving it is essential to halting climate change.
Appearing alongside Brazil Environment Minister Marina Silva, Kerry told reporters in Brasilia that he traveled to Brazil to work out the details of what Lula and Biden agreed to.
He claimed that the US was still debating how much money to contribute to the Amazon Fund.
According to Kerry, the House of Representatives is researching a $9 billion proposal, while the U.S. Senate is considering a bill that would fund forest protection with $4.5 billion.
However, Kerry said the administration "will have to fight" to get those proposals through Congress.
Kerry and Silva stated that the bilateral working group established in 2015 to explore climate and environmental cooperation between the United States and Brazil had been revived after it had stalled under Bolsonaro.
Silva claimed that she spoke with Kerry about the potential for allowing more sustainably sourced Brazilian goods into the American market.
The Amazon Rainforest is a large tropical rainforest occupying the drainage basin of the Amazon River and its tributaries in northern South America and covering an area of 2,300,000 square miles (6,000,000 square km).
Comprising about 40 percent of Brazil's total area, it is bounded by the Guiana Highlands to the north, the Andes Mountains to the west, the Brazilian central plateau to the south, and the Atlantic Ocean to the east.
© 2023 Latin Times. All rights reserved. Do not reproduce without permission.