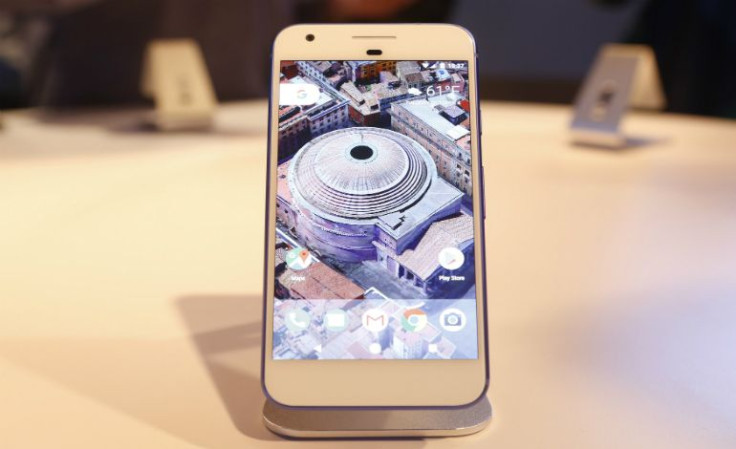 Pixel by Google is the search engine empire's answer to the Apple's iPhone 7. Pixel looks strikingly similar to the iPhone 6/6s and iPhone 7 and also features a virtual AI bot, Google Assistant much like Apple's Siri. Despite being manufactured by HTC, the first Made by Google smartphone is very much Google's baby, solely branded with the letter "G". Out of the gate, Pixel is a suitable contender to the iPhone 7 and could potentially become the Apple phone's arch nemesis. As Digital Trends reports, Google's motion to axe the Nexus flagship start on a clean slate with Pixel is a major strategy shift.
So how does the first generation Google Pixel phone stack up against the 10th generation Apple iPhone 7? Anyone who is the market for a new smartphone is likely considering these latest high-end mobile devices. Read on for a toe to toe specifications comparison of the Pixel Phone by Google and the iPhone 7.
Design and Build: Both phones feature an aluminum construction, the Pixel includes fancy glass accenting on the back to give it a bold look and ensure a comfortable feel. The iPhone 7 is the thinner and lighter phone of the pair, with dimensions of 5.44 x 2.64 x 0.28-inches and a weight of 4.87 ounce. Its new rival is just a tad heftier, with overall measurements of 5.66 x 2.74 x 0.34-inches, giving it a weight of 5.04 ounces. For the accident prone, the iPhone 7 might be the better choice since it's certified with a rating of IP67 for water and dust resistance. According to CNET, Pixel is rated IP53, making it somewhat splash and dust resistant.
Display: The touch displays of both the Pixel and the iPhone 7 are nearly identical in size, at 5-inches and 4.7-inches respectively. Pixel bests the iPhone 7 in the screen resolution category, offering a vibrant Full HD 1080p Super AMOLED display while the iPhone 7 features a 750 HD IPS LCD screen that's just as vibrant. Despite the difference in pixel density, the difference is barely noticeable to the naked eye, images and video would look nearly identical when held side by side at a distance of about 10-inches. The Pixel and iPhone 7 are both loaded with display features that minimize the appearance of fingerprints, resist scratches and sense ambient light for optimal viewing.
Camera: As Google boasted at its Made by Google event, its new Pixel flagship is rated by DXOMark as having the best camera on the market with a mobile score of 89. It sports a 12.3MP dual LED flash primary camera with an aperture size of f/2.3 so it does a great job at gathering light. In comparison, the iPhone 7's main shooter yields 12MP images, features an aperture size of f/1.8 and scored and 86 on DXOMark's mobile camera rating list. To maximize your image capture and video recording when you're on the go, both the Pixel and the iPhone 7 feature High Dynamic Range, Burst Mode continuous shooting and image stabilization. State of the art video recording technology on both phones lets you shoot is 4K Ultra HD Format at 30fps. The two smartphones also support video calling and selfie photo taking via front facing cameras, an 8MP snapper on the Pixel and a 7MP on the iPhone 7. Mobile photographers can capture RAW imaged on both the Pixel and iPhone 7, perfect for editing later on.
Processing Power: Just like Mac and PC computers, smartphones are only as good as the processor and RAM underneath the hood. Pixel sports the latest Qualcomm Snapdragon 821 quad-core processor, clocked at 2.2 GHz, running alongside 4GB of RAM. iPhone 7 employs a 2.3 GHz Apple A10 Fusion quad-core chip with 2GB RAM, half the size of its new Goolge contender device. Although it may lack in RAM, the iPhone 7 makes up for it with top notch processing speed. According to Benchmark performance test results at TechGrapple, where higher is better, the multi-core A10 chip scored 5708 compared to the multi-core Snapdragon 821 chip's final number of 4380. However slight the difference may be, Apple takes the crown in not only speed but also in graphic performance. Apple's six-core A10 GPU blows the Pixel's Adreno 530 GPU out of the water.
Storage Capacity: The 5-inch display base model Pixel phone by Google comes in two storage options, 32GB and 128GB, there's no in between. There's also no built-in storage as initially rumored, however, Google Drive offers ample Cloud storage space to accommodate an abundance of personal files. As a bonus, Google is giving Pixel owners unlimited free cloud storage, ideal for housing 4K max resolution images and videos. Apple isn't as generous, alotting just 5GB of iCloud storage to Phone 7 owners who have either the 32GB, 64GB or 128GB models of the microsd slot-less phone. iDevice owners who need more wiggle room for their files can purchase additional iCloud space from Apple. In the U.S., it costs $0.99 for 50GB, $2.99 for 200GB, $9.99 for 1TB and $19.99 for 2TB.
Battery Life: Finally, onto the most crucial part of the Pixel versus the iPhone 7, the battery life. Apple and Google have pledged that battery life and efficiency were enhanced in iOS 10 and Android Nougat 7, respectively. With that being said, it's fair to mention that battery life really depends on individual usage so predictions on uptime may vary. Also, there are a number of tips and tricks that can be applied to iOS and Android phone settings that may increase battery life significantly. System tweaks such as turning off phone vibrations, lowering the screen's brightness, managing app data usage all play a significant role in preserving power throughout the day. To get an idea of battery power, we turn to talk, standby, internet use and video and audio playback according to the phone's specifications list. The iPhone 7 features a 1960 mAh built-in battery that promises up to 14 hours of talk time in 3G mode, up to 10 days of standby and 12 (3G/LTE) to 14 (Wi-Fi) hours of internet use. On a full charge, you can get up to 13 hours of video playback and up to 40 hours of to playback audio. Fitted with a larger 2770 mAh battery, Pixel trumps iPhone 7's up time, promising up to 26 hours of talk time and 19 days of standby time. Whether in LTE or Wi-Fi mode, Pixel will give you a good 13 hours with 110 hours of music playback and 13 hours of video.
© 2023 Latin Times. All rights reserved. Do not reproduce without permission.