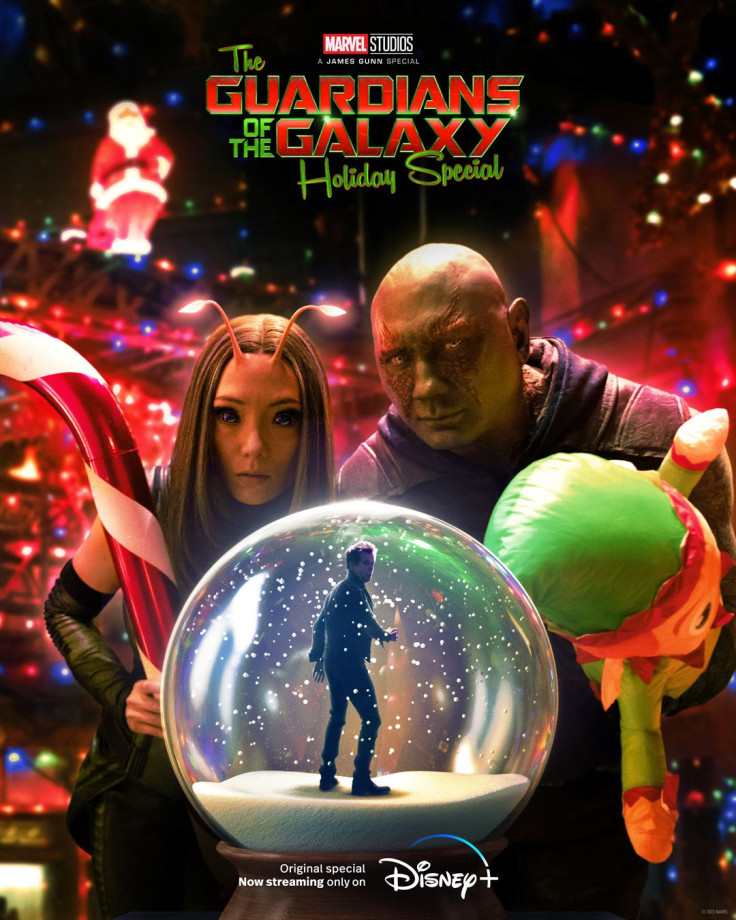 Just in time for the holidays, Marvel Studios released the The Guardians of the Galaxy Holiday Special, streaming now only on @Disney+. Star-Lord, Drax, Rocket, Mantis, and Groot engage in some spirited shenanigans in an all-new original special created for Disney+. Marvel may be onto something with its Marvel Special Presentations.
Following the success of Michael Giacchino's Werewolf by Night one-off in October, the 45-minute Christmas special delivers as one of the stronger releases from Phase 4. The Guardians of the Galaxy Holiday Special, written and directed by James Gunn, once again highlights the success of standalone specials, allowing viewers to solely enjoy entries without worrying about tie-ins and its connection to the larger MCU.
Fans will definitely enjoy this fantastic, bittersweet and hilarious classic holiday special, that is the ultimate fan service. Get in the holiday spirit with fan favorites Drax and Mantis as they try to save the Earth holiday for their half-human friend Peter Quill aka Starlord (Chris Pratt). Set between the events of Thor: Love and Thunder (2022) and Guardians of the Galaxy Vol. 3 (2023), the short brings back our favorite crew of misfits sans Gamora (RIP our fav green assassin).
We see the return of Starlord, Drax the Destroyer, Mantis, Rocket Racoon, Groot, Nebula, Yondu and Kraglin as they celebrate the human holiday. The special starts of with a comical Santa Claus musical opening that gets Christmas all wrong - "he is a master burglar, a pro at picking locks, if you don't leave milk and cookies out, he will put dung in your socks."
The holiday special focuses primarily on Drax (Dave Bautista) and Mantis (Pom Klementieff), who typically have been comedic supporting characters in the movies. It's great to see these two in the spotlight and get some much needed screentime and development. Their comedic banter feels so natural and fans love spending time with these characters. This time around we see more of their personalities and it works for the short run-time. Anything longer would be over kill, and not nearly as charming if it were the focus of a 6 episode series. Otherwise it was extremely amusing seeing this duo interact with their innocent take on other worlds. They are both extremely naive and playful despite their deadly strengths and abilities which makes it all the more hysterical.
There's some animated scenes that add a little context to the story, and a few musical numbers that are sure to put viewers in the holiday spirit. We see a bunch of familiar faces from the world of Guardians, and did we mention Kevin Bacon? Yes, Kevin Bacon is a guest-star and gives a killer performance as himself with not only showing off his acting chops but his musical talents.
This Christmas special is exactly what fans expected and more: a short, bittersweet, mostly sweet celebration with traditional Gunn humor. It perfectly captures the holiday spirit, while exploring family, friendship, generosity and selflessness. It is a perfect stand-alone separate from the MCU so you don't have to piece together every little detail although there are some fun easter eggs like "Kingo's Christmas". The story has little to do with Kang, the multiverse, Secret Invasion or whatever else is brewing so just sit back and enjoy the cheerful musical numbers, sentimental and laugh out loud moments. Also don't forget to watch the short end credit!
Marvel Studios' Special Presentation: The Guardians of the Galaxy Holiday Special is now streaming on Disney+.
© 2023 Latin Times. All rights reserved. Do not reproduce without permission.