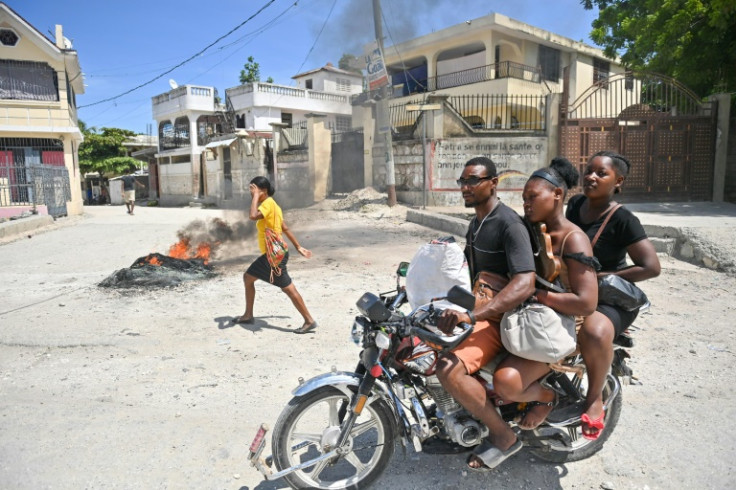 A hospital in Haiti was evacuated Wednesday after gang violence broke out at its gates, as the country witnessed an increase in clashes.
A gang had surrounded Fontaine Hospital Center until the police rescued the trapped women, children and newborns, after the director of the medical center pleaded for help on social media.
Haiti's capital, Port-au-Prince, saw an increase in gang violence following the death of a powerful leader. On Wednesday, the heavily armed gang burned down houses around the hospital and stopped people from exiting the medical center.
While initially the director and founder of the hospital, Jose Ulysse, said that some gang members entered the facility, he later denied the claims, Reuters reported.
Ulysse revealed that after making an appeal for help, Haiti's National Police force arrived at the facility in three armored trucks and successfully evacuated 40 children and 70 patients to a private home.
According to the director, some of the evacuated children were still on oxygen during the rescue process.
"Gangs are in total control of the area," he noted, identifying the gang's name, Brooklyn gang, which was led by Gabriel Jean-Pierre, also known as Ti Gabriel.
According to a United Nations report, the gang consists of around 200 members and controls various communities living in Cite Soleil. This metropolitan area has witnessed increasingly violent attacks by the gang, including rape and murder.
Jean-Pierre is also the leader of one of the rival coalitions in Haiti, known as G-Pep.
"The G-Pep coalition and its allies strongly reinforced cooperation and diversified their revenues, in particular by committing kidnapping for ransom, which has enabled them to strengthen their fighting capacity," the report mentioned.
In July, 20 armed men entered the Tabarre hospital in the capital of Port-au-Prince after a patient was admitted with gunshot wounds.
The armed men gained access to the hospital after faking a life-threatening emergency and then stormed into the operating room and kidnapped the patient.
"The medical staff, who fight daily to save lives, are shocked by this violence and the contempt shown by these armed groups toward them," Doctors Without Borders, an organization that ran the hospital, said at that time.
Last month, U.S. President Joe Biden stressed the need to authorize the deployment of a multilateral force to Haiti, where more than 2,400 people have so far been killed due to gang violence.
© 2023 Latin Times. All rights reserved. Do not reproduce without permission.