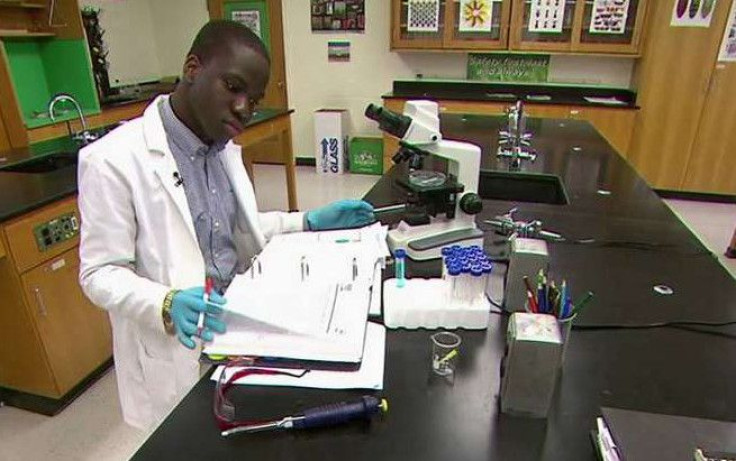 Harold Ekeh felt "humbled" this week after he was accepted to 13 thirteen top U.S. schools, including the coveted Ivy League institutions: Brown, Columbia, Cornell, Dartmouth, Pennsylvania, Princeton, Johns Hopkins, NYU, MIT, Vanderbilt, and SUNY Stony Brook. Ekeh was 8 when his family moved from Nigeria to the U.S. He says that they left a "comfortable life" in their West African homeland primarily so that he could have more educational opportunities. For his parents Paul and Roselin, the gamble appears to have paid off. Ekeh says that much of his success in college applications was due to an essay he wrote about his family's immigrant experience.
"[When we left Nigeria] I was worried as a kid about speaking with an American accent, but they had to worried about actually finding jobs," he told the Daily Mail. Despite the challenges, his parents gave him attention and structure, making sure his did he studied hard "no matter how hard times got," according to the NY Post. "No matter how many times they would get knocked down, they were always positive."
His first language is Igbo, and he reportedly speaks Spanish. "It was very difficult to adjust," to English in America, he told the Post. "I spoke English but with a very heavy accent. It was like, 'What is this kid saying?' " So, he joined the Model U.N. and spoke in public at every opportunity. He had a similar struggle with American history, so he signed up for an AP class as a junior. "I just worked hard and took every opportunity that was afforded to me," he said.
Ekeh's support and hard work paid off. He applied to colleges with 100.5 percent GPA, as well as numerous leadership positions on his transcripts. He is head of his school newspaper, and has directed a youth choir, among other accomplishments. He was 2015 Intel Science Talent Search semifinalist in recognition of a research project on how certain acids can slow Alzheimer's disease.
After years of overcoming challenges, Ekeh is faced with an enviable struggle: deciding which school offer to accept.
"I am leaning toward Yale," he told CNNMoney.
© 2023 Latin Times. All rights reserved. Do not reproduce without permission.