With a nation still divided, newly-seated United States President Joe Biden wasted no time buckling down to work. His first order of business was to look into several executive orders from the previous Donald Trump administration and there were at least 15 overturned as of this writing.
Tired, the 78-year-old signed three orders in front of reporters. He would sign another 12 later in the evening according to press secretary Jen Psaki, the New York Post reported.
The first three orders were tied to the Paris Climate Accord. It covered racial equality in healthcare as well as other areas and concerned the wearing of COVID-19 masks in federal buildings.
Aside from those, there were also orders tied to the 2017 travel ban that Trump had ordered. This covered the ban on predominantly Muslim countries which Trump said was done due to security purposes.
Psaki added that orders overturned included the halt construction of Trump's US-Mexico border wall the World Health Organization, resurrecting a White House global health team, extending a pandemic ban on evictions and foreclosures, halt student loan payments, reverse Trump environmental deregulation and affirm the Deferred Action for Childhood Arrivals program. The last one covers the protection from deportation of people brought illegally to the US as children.
Also, a Human Rights Campaign advocacy said that Biden was expected to sign more orders covering sexual orientation and gender identity that prohibits discrimination. Biden is expected to sign about 17 executive orders and more are set to be overturned in the coming weeks.
"I'm going to start by keeping the promises I made to the American people. There's a long way to go, these are just executive actions. They are important, but we're going to need legislation for other things we're going to do," Biden said to reporters.
Curiously, Trump had allegedly left Biden a "very generous letter" which the new US President preferred to keep private. There were no calls made between the two and the letter was no indication that one would be coming soon.
Aware of the growing COVID-19 crisis, Biden wasted no time addressing the pandemic. He hopes it alters the coronavirus situation as well as other prime concerns such as racial equality and climate change. They are starting points in what appears to be a lot of work ahead for the 46th president of the United States.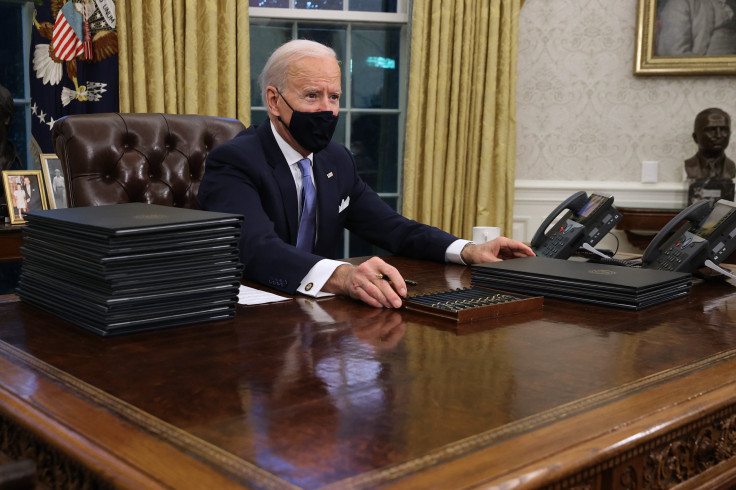 © 2023 Latin Times. All rights reserved. Do not reproduce without permission.