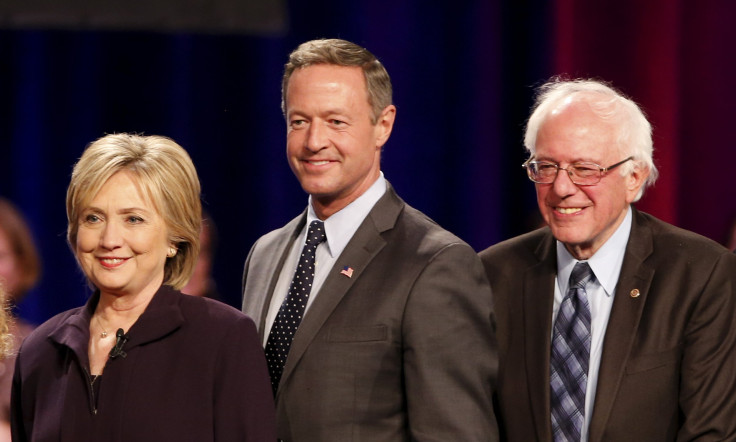 Former Maryland Gov. Martin O'Malley's campaign denounced Hillary Clinton on Monday over comments she made in a New Hampshire Town Hall that highlighted her support of a U.S.-Mexico border as a tool to deter Latin American immigrants from entering the country illegally. The comments came after O'Malley himself blasted Clinton over her immigration record on Sunday at an immigration forum in Nevada which she did attend, a fact that the former Gov. was happy to underscore. Clinton's border wall comments came in response to a question from an audience member who asked "What you think about securing the border with some of the illegal immigrants that come in?"
"I voted numerous times when I was a senator to spend money to build a barrier to try to prevent illegal immigrants from coming in," Clinton said "and I do think that you have to control your borders."
O'Malley for President Spokeswoman Gabi Domenzain called the comments "bragging," "outdated," and "intolerant thinking that the Democratic Party cannot represent."
"It is flat-out wrong," she said "to hear Secretary Clinton echo failed policy and sentiments that are more at home in the Republican Party, especially when their field is fueled by intolerance and false hysteria toward immigration.
"The Democratic Party must be the Party that embraces New American Immigrants, and that's just the kind of principled leadership Governor O'Malley has always shown. He understands that the enduring symbol of our nation isn't the barbed wire fence--it's the Statue of Liberty."
Gov. O'Malley has been reluctant in the past to say what classes of immigrants he wouldn't support or what limits, if any, he would put on immigrants not already in the country. With a detailed and progressive policy statement on immigration reform, he's become the darling of pro-immigrant pundits and journalists like Latino Rebels to Jorge Ramos.
But it fair to compare Clinton to her rivals in the Republican field (or, for that matter, paint Republicans with the same anti-immigrant brush)? Clinton's response was actually much longer than the hawkish quote at the top of this article.
Part of her response went after rival candidates like Donald Trump, who have focused on a border wall as the symbol of their immigration policy.
"But I think that it's also true that we need to do more to try to number one, deal with the people who are already here, many of whom have been here for decades," Clinton added. "It is just never going to happen that we're going to round up and deport 11 or 12 million people.
"I don't care how tall the wall is or how big the door is, that is never going to happen. And I think that's an unnecessarily provocative thing to say."
Clinton also used Mexico as an example of how economic development might stem immigration flows. She suggested that development and aid in Central American countries
"We need to do more to try and put some resources into those countries to try to deal with some of the conditions particularly the violence, the drug dealers and the like," Clinton said.
On one hand, Clinton isn't using the enforcement-first rhetoric of Republican immigration hawks like Trump of Marco Rubio. On the other hand, even Clinton's dovish solutions to immigration take a hawkish tone.
"When my husband was president, as you remember, there was a war going on in Colombia by drug traffickers and insurgent rebels," Clinton said. "And we did something called Plan Colombia, where we helped the government figure out how to secure their country from drug traffickers and rebels [and] it was a success story."
Plan Colombia may have improved security in the country, but it also created negative repercussions in terms of state-sponsored terrorism, environmental destruction, and displacement of rural colombians. Like U.S. border enforcement, Plan Colombia caused ongoing concern for human rights advocates.
"Critics of U.S. policy argue that respect for human rights by the Colombian security forces is still a problem, and that counternarcotics programs have negative consequences for the civilian population, and for the promotion of democracy in general," a FAS report wrote in a review of Plan Colombia in 2006.
Also like U.S. border enforcement, an assessment of Plan Colombia can't fit into a single three-line quote.
"To talk about just one piece of it I think is misleading and doesn't help us get to where we can solve the problems that we face," Clinton said of border security at the conclusion of her answer.
You can read the entire 2006 FAS Plan Colombia report here , and hear Clinton's uncut response in the video below. Is Clinton bragging about border security, and do her comments undercut her purported commitment to immigrants?
Let us know what you think in the comments below.

© 2023 Latin Times. All rights reserved. Do not reproduce without permission.