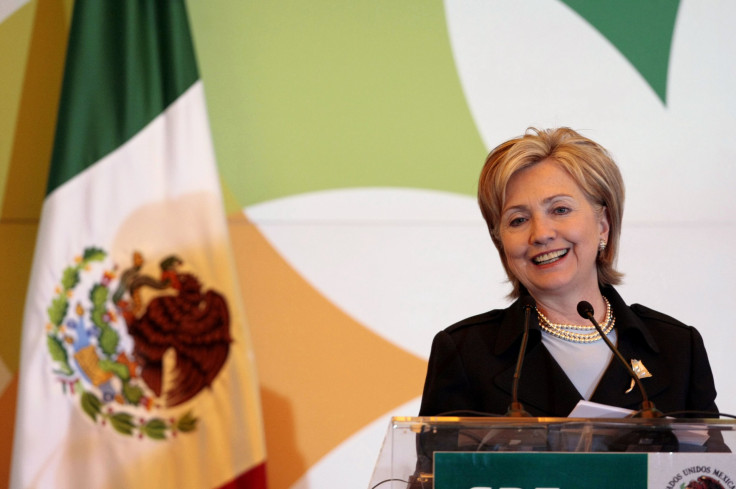 Formally entering the 2016 Presidential race on Sunday, Hillary Clinton is the favorite (and only official) candidate in the Democratic field. She's got broad support among women and other traditional Democratic voters. Yet immigrant advocates are skeptical about her politics. If elected president, would Hillary continue Obama's deferred action programs? Would she prioritize comprehensive immigration reform? What exactly is Hillary Clinton's stance on immigration reform, and what steps must she take in the coming months to win the pro-immigrant vote?
"We're not going to simply coronate any Democratic candidate just because they're popular," Cesar Vargas, co-director of the Dream Act Coalition, told the National Journal.
Immigration advocate groups have made good on that threat in the past, even disrupting Democrats during campaigns. In Barack Obama's 2012 reelection campaign, immigrant advocates punished him for delaying his 2008 promises to reform the immigration system. Dozens protested outside his campaign offices in swing states, including a hunger strike in Colorado. In 2016, pro immigrant votes will look back at two Obamas, the the first-term president who set records for deportation, and the second-term president who implemented aggressive measures to help millions of undocumented residents.
"[Obama] has deported more undocumented immigrants than any other president and the Morton Memo is a failure," said DREAM Activist Javier Hernandez in 2012. "President Obama is going after the Latino vote, but he must show that he cares about our community and the issues that are most important to us."
Latinos overwhelmingly support immigration reform, and pathway to citizenship for undocumented immigrants, and deportation relief. If Hillary wants to win the Latino vote overwhelmingly, she'll have to identify closer with the 2015 Obama than the 2012 Obama. With potential competition from Hispanic or pro-immigration republicans, what won't be a guarantee. As a New York Senator, Hillary voted with the Democratic center. She voted for a border fence, but against English as an official language, for the DREAM Act, but also against visas for immigrant laborers. Drawing a clear line between herself and Republican presidential hopeful Marco Rubio, she voted to increase family-based immigration visas. Rubio has said in speeches that he supports immigration that is based on "merit." However, others in the Republican field might match or exceed her commitment to immigration reform. Jeb Bush for example, supports immigration reform that give legal status to undocumented immigrants.
"It would be a mistake to say that Hillary Clinton is the Latino candidate," Arturo Carmona, executive director of Presente.org told the National Journal. "She has a lot to prove, and frankly, there's a long list of concerns that she has to address, and it starts with her stances on ending the massive deportation program that continues in this country."
Hillary Clinton hasn't made many strong statements on immigration in recent years, and she certainly hasn't hinted at ending America's deportation program. That extreme immigration position --essentially scrapping ICE-- is unlikely to make it's way into Hillary's platform. However, she could win over immigration advocates by stating her position on other aspects of immigration even more clearly. She supported comprehensive immigration reform in 2007, just like then-Senator Barack Obama. What immigration advocates want to know is sif she would put immigration on the backburner, or elevate it on her agenda. Until a couple of months ago, it wasn't even clear if she supported executive action on immigration. But clear "yeses" will help rally the Democratic Latino base.
"I support the president's decision to begin fixing our broken immigration system and focus finite resources on deporting felons rather than families," she said in a statement in November of 2014.
Aside from stating her positions more clearly, she may want to revisit older positions that she held as a senator. For example, as a presidential candidate in 2007, Hillary tended to tergiversate on or outrightly oppose driver's licenses for undocumented immigrants. (She argued that the IDs would put immigrants "at risk, because that is clear evidence that they are not here legally.") Those licenses are available in half a dozen states, and embraced by the pro-immigrant community. "Evolving" on small issues like licences might signal to immigration advocates that she's worth their time, not just at the polls, but on the rolls of her volunteer staff, rallying their communities and turning out voters.
© 2023 Latin Times. All rights reserved. Do not reproduce without permission.