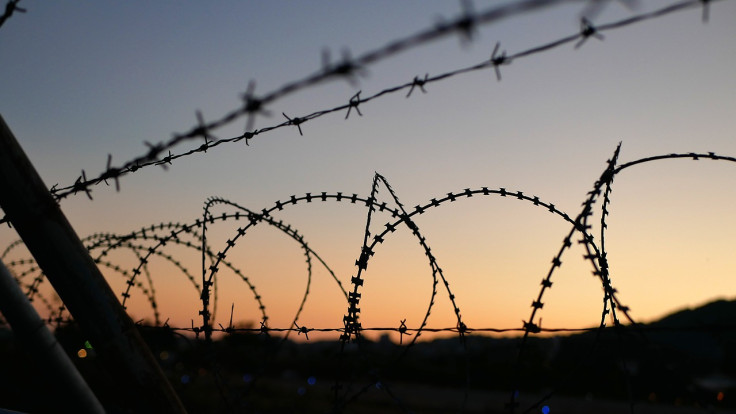 Twenty-eight Hispanic Democratic lawmakers have asked the Biden administration to investigate the separation of migrant fathers from their children and wives by a Texas state agency while seeking asylum along the Rio Grande sector of the U.S.-Mexico border.
The Congressional Hispanic Caucus (CHC) members wrote a letter to the Justice Department and Department of Homeland Security on Tuesday, urging them to "immediately launch an investigation" into the Texas Department of Public Safety for separating migrant fathers from their families.
The lawmakers also requested that Homeland Security Secretary Alejandro Mayorkas and Attorney General Merrick Garland quickly reunite the fathers with their families.
Citing the state Department of Public Safety, AP News reported earlier this month that Texas state police officers separated migrant families along the U.S.-Mexico border by detaining fathers on trespassing charges. It also said the officers turned over mothers and children to federal officials.
The number of families being separated may be closer to 40 or more, said Amrutha Jindal, chief defender for Operation Lone Star Indigent Defense.
Operation Lone Star was launched by Texas Republican Governor Greg Abbott under a state disaster declaration two years ago. It is a border initiative that is designed to block migration between ports of entry.
Jindal also shared that no exact data was available at the time and that their estimates were based on cases encountered by their legal team.
The lawmakers asked the Justice Department to expedite any ongoing investigation into how federal dollars are being used by Texas "in ways that violate civil rights and anti-discrimination laws."
Representative Joaquin Castro, D-Texas, who signed onto the letter, told the PBS NewsHour, "The Biden administration should at a minimum make sure that no federal dollars are being used for these nefarious purposes of separating families (and) human rights violations."
Now, Texas officials are using tactics that have "escalated to human rights violations" by deploying huge floating barriers on the Rio Grande, said Castro.
The Biden administration has already filed a lawsuit against Texas over the floating barriers that are meant to either discourage or prevent migrants from reaching Texas.
The letter by the Hispanic Democrats said based on news reports and confirmed by CHC members during a recent Congressional Delegation visit to the Rio Grande sector of the U.S.-Mexico border, "Texas DPS troopers have broken up at least 26 families by arresting the fathers for criminal trespass and incarcerating them in state prison since July 10."
The lawmakers also shared a report from immigration and civil rights advocates on the ground who told them that migrants jailed by the Texas officials are "living in horrendous prison conditions."
Hispanic Caucus Chair Nanette Barragán, D-Calif., said in a statement that the Department of Justice (DOJ) and the Department of Homeland Security (DHS) must conduct a "thorough and transparent investigation into this troubling situation."
A DHS spokesperson also said the situation "should be thoroughly investigated," calling the reports of family separations "troubling." But while the said spokesperson noted that they could enforce laws and also "treat human beings with dignity," they did not confirm if Homeland Security was investigating the matter.
© 2023 Latin Times. All rights reserved. Do not reproduce without permission.