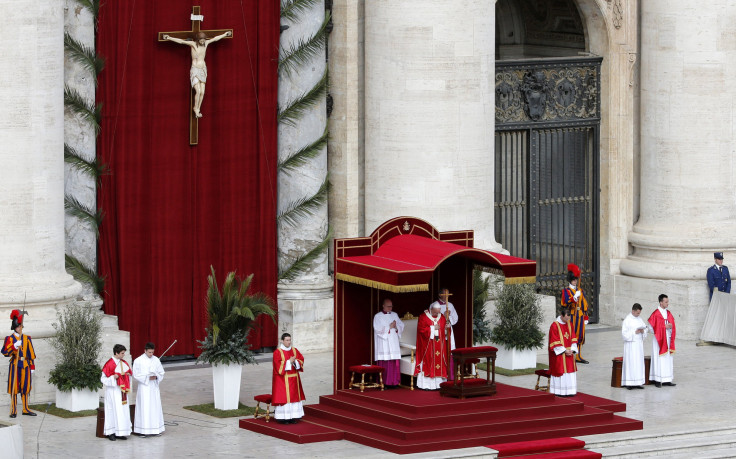 While Easter Sunday remains one of the most celebrated Christian holidays across the globe, the week leading up to the annual event sits as highly important time as well. With the arrival of Palm Sunday falling on April 5, 2020, Holy Week officially starts. A period that includes the aforementioned Palm Sunday -- a day where Christians celebrate the arrival of Jesus Christ in Jerusalem prior to his crucifixion -- Holy Week also includes Maundy Thursday, Good Friday and Easter Sunday, keynote dates in the Christian calendar since each hold unique patterns of celebration and worship.
Maundy Thursday -- also referred to as Holy Thursday-- helps Christians honor the Last Supper before Jesus' crucifixion. Various churches celebrating Holy Thursday offer special communion services for those interested as well, a practice that many follows on a yearly basis leading into Good Friday. A day of mourning and penance, Good Friday comes two days before Easter and is celebrated as the day Jesus died on the cross. In Matthew 27:32-61, the accounts of Jesus' crucifixion, death and burial are laid out in scripture, giving many the opportunity to honor Christ's life by attending church services.
As they were going out, they met a man from Cyrene, named Simon, and they forced him to carry the cross. They came to a place called Golgotha (which means "the place of the skull"). There they offered Jesus wine to drink, mixed with gall; but after tasting it, he refused to drink it. When they had crucified him, they divided up his clothes by casting lots. And sitting down, they kept watching over him there. Above his head they placed the written charge against him: this is Jesus, the king of the Jews …
With Holy Week upon us and Easter Sunday nearing, here are 10 quotes to help honor this special season and the last week of Lent.
"Eternal God, rock, and refuge ... we wait for revival and release. Abide with us until we come alive in the sunrise of your glory. Amen." -- Unknown
"Merciful God, release us from the time of trial and oppression that we may witness to the eternal hope of grief becoming joy and life rising from death. Amen." -- Unknown
"Whoever has my commandments and keeps them, He who loves me. And he who loves me will be loved by my Father, and I will love him and manifest myself to him." Judas (not Iscariot) said to him, "Lord, how is it that you will manifest yourself to us, and not to the world?" Jesus answered him, "If anyone loves me, he will keep my word, and my Father will love him, and we will come to him and make our home with him." -- John 14:21-23
"By the word of the Lord the heavens were made, and by the breath of His mouth all their host." -- Psalm 33:6
"Now before the Feast of the Passover, when Jesus knew that his hour had come to depart out of this world to the Father, having loved his own who were in the world, he loved them to the end. During supper, when the devil had already put it into the heart of Judas Iscariot, Simon's son, to betray him, Jesus, knowing that the Father had given all things into his hands and that he had come from God and was going back to God, rose from supper. He laid aside his outer garments, and taking a towel, tied it around his waist. Then he poured water into a basin and began to wash the disciples' feet and to wipe them with the towel that was wrapped around him." -- John 13:1-15
"They show that the work of the law is written on their hearts, while their conscience also bears witness, and their conflicting thoughts accuse or even excuse them." -- Romans 2:15
"Come to me, all who labor and are heavily laden, and I will give you rest. Take my yoke upon you, and learn from me, for I am gentle and lowly in heart, and you will find rest for your souls. For my yoke is easy, and my burden is light." -- Matthew 11:28-30
"In the days of his flesh, Jesus offered up prayers and supplications, with loud cries and tears, to him who was able to save him from death, and he was heard because of his reverence." -- Hebrews 11:1
"For by grace you have been saved through faith. And this is not your own doing; it is the gift of God." -- Ephesians 2:8
"And this is eternal life, that they know you the only true God, and Jesus Christ whom you have sent." -- John 17:3
© 2023 Latin Times. All rights reserved. Do not reproduce without permission.