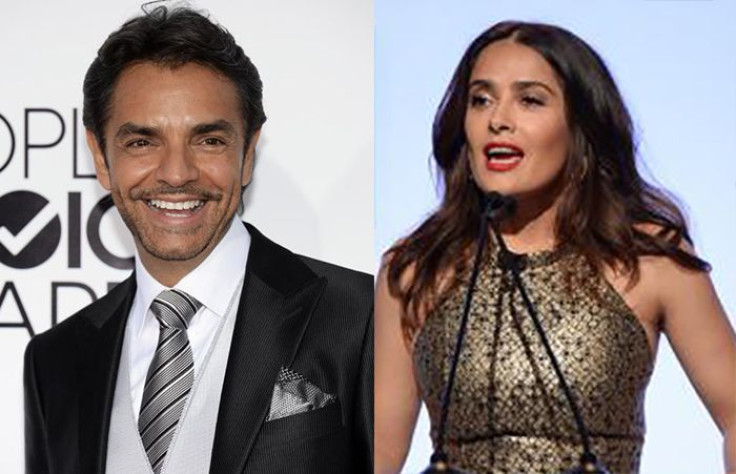 Actress Salma Hayek has joined fellow Mexican Eugenio Derbez in the making of the upcoming comedy film from Lionsgate Pantaleon, "How to Be a Latin Lover" as Deadline reports. This will be the first all-English project Derbez works on.
The rest of the cast also includes Kristen Bell, McKenna Grace, Rob Lowe, Raquel Welch, Rob Riggle, Renee Taylor, Rob Huebel, Michaela Watkins and Linda Lavin, all of whom will follow a script written by Chris Spain and Jon Zack.
The story follows a womanizer and Latin lover who's past his prime and is forced to go back to live with his estranged sister, and her seemingly problematic young son, after being dumped by his cougar girlfriend and sugar mama.
Derbez will also be a producer for the film along with Ben Odell through the company 3Pas Studios, and Mike Upton will be executive producing the film.
Derbez's previous collaboration with Pantaleon Films, "Instructions Not Included," was a huge hit; it not only "shattered box office records" but became the highest-grossing Spanish-language film to open in North American.
"We are thrilled to take our longstanding relationship with Eugenio to the next level," Pantelion Films CEO Paul Presburger said at the time. "He is a true auteur in every sense of the word, and he has an amazing ability to tap into the shared passions of Latino and American audiences. Teaming up with such an enormous talent cements Pantelion's status as a leader in producing world-class, quality entertainment for a booming and often underserved Latino community. We look forward to working with Eugenio and our friend and colleague Ben Odell who was instrumental in helping us launch Pantelion."
Hayek has also been extremely busy; the filmmaker and actress just did a promotion tour for her film "Tale of Tales," and recently finished filming "Hitman's Bodyguard" starring Samuel L. Jackson, Ryan Reynolds and Gary Oldman.
© 2023 Latin Times. All rights reserved. Do not reproduce without permission.