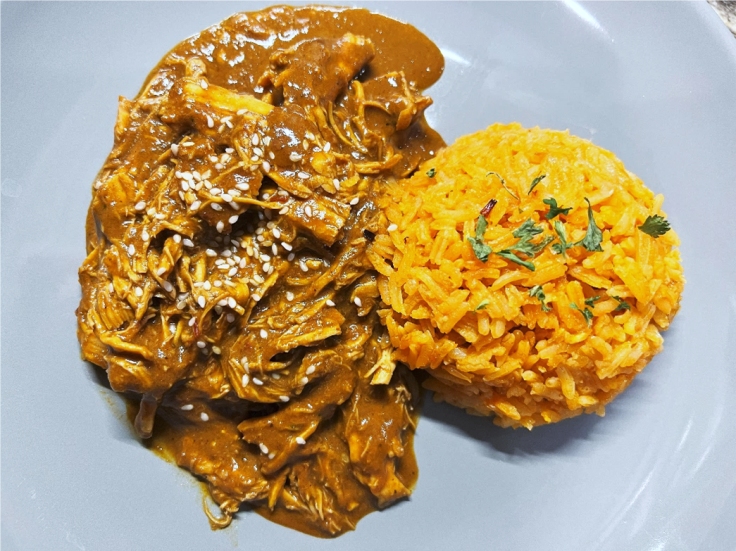 Mole is a delicious traditional Mexican dish that is made often in Hispanic homes as a lunch or dinner and for special occasions such as weddings, and quinceaneras.
Mole originates from Mexico in the state of Puebla, and it is made of chicken bathed in a special dark sauce. The special thing about this dish is that its flavor is complex because it is a combination of sweet, tangy, spicy, and bitter. The sauce itself has different ingredients that make its special flavor possible.
A little background story behind Mole is that growing up my mom used to make it a lot. I was not a big fan of it because the color of it did not look appealing, but then one day I saw my mom preparing it and she used one ingredient that changed my thoughts on it. The ingredient she used was chocolate. I was confused to see my mom mixing chocolate, peppers, and chicken but I was curious to taste the sauce. When mom finished making the mole and asked me to try the sauce to see if it needed anything I hesitated because I didn't think I would like the combination, but I still decided to give it a try. The perfect sweet and spicy flavor of the mole sauce just melted in my mouth, and I knew I had to have a plate, and maybe seconds too.It is crazy how such and odd combination could be so delicious. Ever since mole has become one of my comfort foods and I make it every chance I get.
There are many ways to make mole, but I want to share the easy version of this recipe because we work smart and on a budget especially when we have a family to feed. You will only need 8 key ingredients, and this recipe can feed up to eight people. Most of these ingredients are found in the Hispanic aisle at your nearest local grocery store. Feel free to modify this recipe as you learn. Feel free to check the link below for a video version of this recipe and follow me on TIKTOK at www.tiktok.com/@cocinadoconchabelita
Don't forget to give us a like on TIKTOK!
https://www.tiktok.com/@cocinadoconchabelita/video/7071175622957239598
Prep time: 1 hour
Servings: 8
To make this dish you will need:
3lbs of chicken

(chicken breast or chicken thighs): in this recipe, I used shredded chicken breast.

A jar of Mole Dona Maria

(Found in the Hispanic food aisle of your local grocery store)

Knorr de pollo seasoning

(also found in the Hispanic food aisle) don't forget to measure with your heart.

1 tablespoon of peanut butter

½ of a Hershey's chocolate bar with almonds

6 garlic cloves

1 onion

Bay leaves

Honey (optional)
Chipotle pepper (optional)
Cinnamon stick (optional)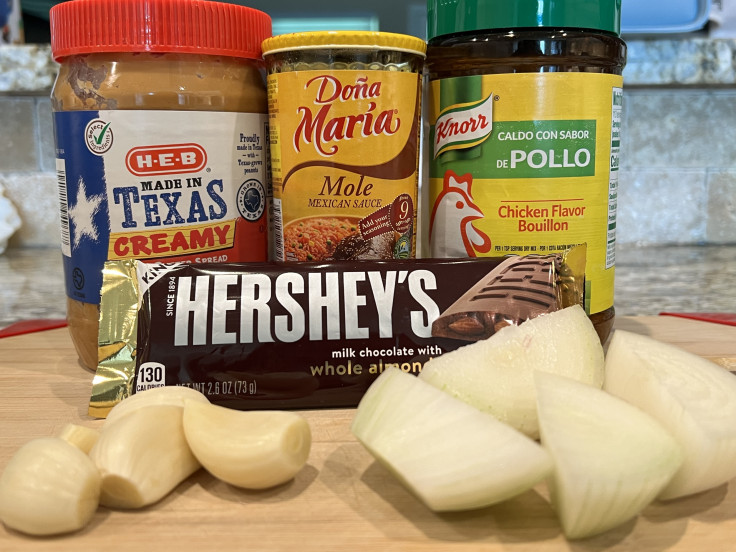 Note: the optional ingredients will enhance the flavor of the mole sauce
- Chipotle will add a spicy kick to the sauce.
- Cinnamon sticks will also add a spicy and slightly bitter taste to the sauce.
- Honey will add a sweet kick to the sauce.
*Also i would like to add that The Glass container of Mole Dona Maria can be washed and reused !! It will make a great addition to your glassware cabinet.
First, we begin by boiling our water and adding half an onion, 2 smashed garlic cloves, and 1 bay leaf. Once the water has come to a boil, add your chicken. While the chicken cooks we can prepare the sauce. Usually, the chicken takes about 20-25 minutes to cook. After the chicken is fully cooked, set the chicken broth aside because we are using it in step 3.
On a separate pan, we're going to pour a teaspoon of cooking oil and we're going to fry the other half of the onion and the rest of the garlic cloves until golden and set aside to use in the next step.
In a blender mix the Jar of mole Dona Maria, with the chocolate, peanut butter, fried onion, garlic, Knorr de pollo, and the remaining optional ingredients.
Now that we have mixed our sauce, we're going to heat a medium saucepan on medium heat and Pour in our sauce. If the sauce is too thick you can add some more chicken broth or water. Let it boil for 10 minutes.
Add cut-up or shredded chicken and simmer for 15 minutes and your mole is ready.
*You can accompany Mole with sides such as red Spanish rice, White rice, mashed potatoes, and tortillas. (In a separate article I will share my easy to make Red Rice)
*As mentioned earlier, this recipe can feed about 8 people, and after serving you may have left over sauce that is recommended for you to reuse for other recipes such as "Enmoladas", which are enchiladas that are made with chicken and leftover mole sauce. (recipe coming soon, so stay tuned)
Thank you all for reading this article. I hope this becomes your new favorite dish and I hope you enjoy it. I am looking forward to sharing many more recipes with you all and I hope that this gives you a new and modern perspective on Hispanic soul foods.
© 2023 Latin Times. All rights reserved. Do not reproduce without permission.