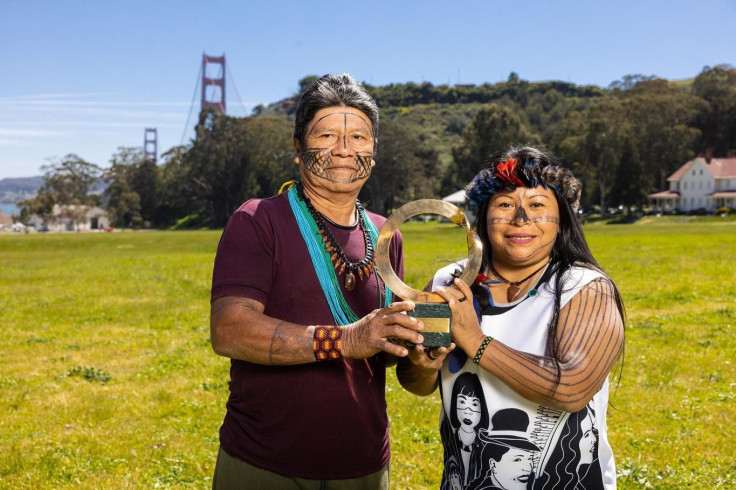 Alessandra Korap, who is a Munduruku Indigenous woman from Brazil, has been working on grassroots efforts to help the environment. And on Monday, she was honored with a 2023 Goldman Environmental Prize.
The award recognizes the work of six activists from six continents in connection with the environment. Established in 1989, the Goldman Prize defines grassroots leaders as people who are involved in local efforts. Positive changes are made through a community or the involvement of citizens.
Throughout the 1980s, Korap, who is a member of the Munduruku people of the Amazon rain forest, saw farms, roads and cities getting closer to her village, reported VOA.
Around 14,000 Munduruku people resided along the Tapajos River, and the miners, settlers and loggers posed a threat to them.
Korap and other women joined hands to organize protests against the outsiders. They approached the Brazilian government and shared information about the illegal agreements that allowed outsiders to get access to native land. Their efforts led to the country's government creating a protected area in the rainforest.
Due to Korap's work, she was given the Goldman Prize, which comes with a monetary award. She said that it will "draw attention" to the protected rainforest area. It is her group's "top priority, along with the expulsion of illegal miners."
Korap said that she first became active in defending Indigenous territories in 2014. That was after she had seen how gold mining was affecting her community, reported BBC.
She shared that where she lives in the Brazilian state of Pará, along the Tapajós river, there are "more and more settlements springing up." Her people depend on fishing to feed themselves, but there are already places where "gold mining has contaminated the water and killed off the fish," she noted.
She recalled that when she was a child, she had a lot of freedom. She and the others used to fish in the rivers and the lakes, they collected fruits and the seeds were used to make their handicrafts. But she said that starting in 2014, she saw that these areas turned into "deserts by diggers and other big machines."
It was these changes that turned her into an activist.
According to Al Jazeera, studies have shown that forests controlled by the Indigenous people are the best-preserved ones in the Brazilian Amazon.
Nearly half of the country's climate pollution comes from deforestation, and the destruction is vast now. Even the eastern Amazon has stopped to be a carbon sink. It is a net absorber of gas.
© 2023 Latin Times. All rights reserved. Do not reproduce without permission.