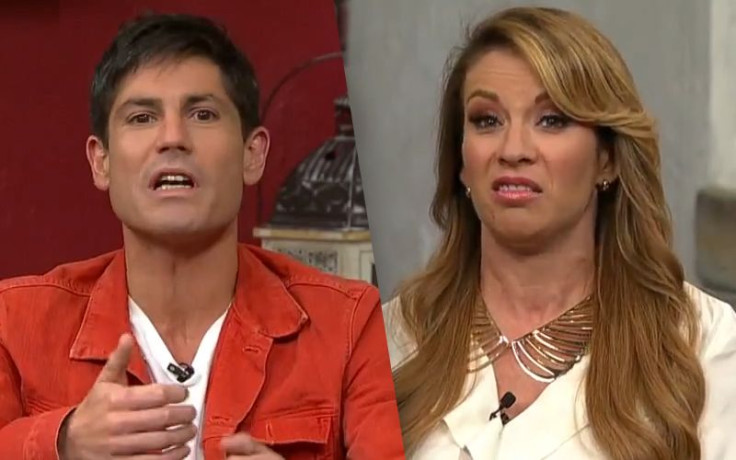 Ingrid Coronado and Poncho De Anda are clearing up the rumors that surged yesterday that they were having an affair. The "Venga La Alegría" hosts went on to do damage control on gossip show "Ventaneando" to deny they are romantically linked. "We are here to say that everything is a lie," Poncho said. Ingrid weighed in and said: "I think it's unfair because Poncho has a beautiful family, luckily I am friends with Lina [Poncho's wife], I am friends with his children. Evidently I don't have anything to hide and that is why I have the courage of standing here in this program and telling it like it is. I have always told the truth. The funny thing is that, the more they talk about me, the more the 'Venga La Alegria' ratings go up." Watch the complete interview down below and tell us what you think!
Mexican tabloid magazine reported that the reason for the split between Del Solar and Coronado was due to a third person. The publication is accusing the "Venga La Alegria" host of having an affair with her co-host Poncho De Anda. They claim they have been together for five months and this was another one of the reasons Coronado left Del Solar. Ironically, it was the same morning show where Ingrid and Fernando first started their relationship. De Anda, is married to Lina Amashta, and they have been together for 12 years. We remember Poncho from his Telemundo days, his family still resides in the U.S. while he works in Mexico. The magazine also published that Ingrid flew to Mexico to put a stop to things and tell Ingrid to stop breaking up her family. Could this be true? It would be unfortunate if it is.
During the interview, one of the hosts touched up on the Fernando Del Solar subject and Coronado said she has not revealed the whole truth as she doesn't want to talk bad about the father of her children. "I have never liked to talk bad about anybody, and you guys know that throughout my career I am not that type of person," she said. "When I have to say a truth where I would have to say things that are not nice about other people, I prefer to keep silence. The truth will come to the light sooner or later and I prefer that life puts everything in its place."
© 2023 Latin Times. All rights reserved. Do not reproduce without permission.