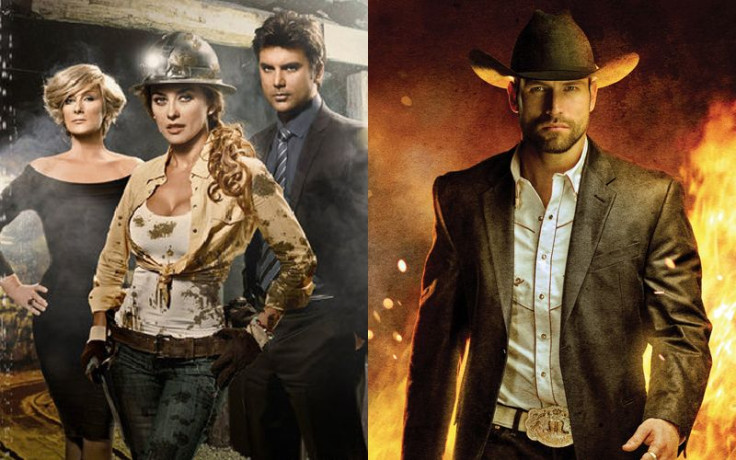 The nominations for the 2014 International Emmy Awards are in spanning work from 18 countries including Argentina, Brazil, Chile, and for the first time non-English programming developed for the U.S. market. "In these troubled times in many places around the world, it is gratifying to see so many countries and organizations still striving and competing for excellence in television programming," Bruce L. Paisner, President & CEO of the International Academy of Television Arts & Sciences, said during the announcement of nominations. "That is part of the magic of television and of the Emmy." The winners of the accolades will be announced during a gala scheduled for November 24 at the Hilton New York Hotel. During the event Matt Weiner, creator of "Mad Men," will receive the 2014 International Emmy Founders Award. At the gala Marinho Irineu, CEO & President of Globo, will be honored with the Directorate Award for his achievements.
In a brand new category titled Non-English Language US Primetime Program, many of our favorite telenovelas have been nominated and will compete for an award. Telemundo programming "Pasión Prohibida," "La Patrona" and "El Señor De Los Cielos" will duke it out for the Emmy. The International Emmys also have a category for Best Telenovela, with the only Latin entry in the category stemming from Projac Studios in Brazil from Rede Globo, "Joia Rara." In the Drama Series category the Chilean production "Prófugos," that was developed for HBO Latin America, scored a nod. In the Best Performance by an Actor and Actress, "Televisión Por La Justicia" Argentina actors received a nominations in each category for Pablo Rago and Romina Gaetani, respectively. See the complete list of nominations down below and tell us who you want to win in each category!
Arts Programming

El Informe Kliksberg II – El otro me importa
Mulata Films for Canal Encuentro
Argentina

The Exhibition
Jove Pictures
Canada

Nonfiction W: Picture Book Touch, Feel, and Fragility
WOWOW INC. Ortus Japan Co.,Ltd.
Japan

Wagnerwahn – Mythos und Machenschaften des Richard Wagner (The Wagner Files)
ARTE / SWR / Gebrueder Beetz, Berlin
Germany

Best Performance by an Actor

Stephen Dillane, "The Tunnel"
Kudos, Shine France Films for Sky Atlantic HD and CANAL+
United Kingdom

Claude Legault, "19-2"
Sphere Media Plus / Echo Media
Canada

Pablo Rago, "Televisión por la Justicia"
On Tv- Llorente y Villarruel Contenidos SA / CIN (Consejo Interuniversitario Internacional)
Argentina

Xiubo Wu, "The Orphan of Zhao"
China Television Media, Ltd. / TV Series Management Center of China Central Television Beijing / Teamhard TV&Movie Investment Co. Ltd.
People's Republic of China

Best Performance by an Actress

Tuba Büyüküstün, "20 Dakika" (20 Minutes)
Ay Yapim and Star Tv
Turkey

Olivia Colman, "Broadchurch"
Kudos
United Kingdom

Romina Gaetani, "Televisión por la Justicia"
On Tv- Llorente y Villarruel Contenidos SA / CIN (Consejo Interuniversitario Internacional)
Argentina

Bianca Krijgsman, "De Nieuwe Wereld" (The New World)
IJswater Films/NTR Television
Netherlands

Comedy

"Please Like Me"
Pigeon Fancier Productions / John & Josh International / Australian Broadcasting Corporation
Australia

"Late Nite News with Loyiso Gola"
Diprente Films / eNCA
South Africa

"The Mayor's Wife"
Globo TV
Brazil

"Wat als 2?" (What if? season 2)
Shelter
Belgium

Documentary

"De Volta" (Going Back)
Canal Futura / COOPAS
Brazil

"Frihet bakom galler" (No Burqas Behind Bars)
Nima Film / SVT / NHK / Ikon / DRTV / NRK / Swedish Film Institute / Konstnärsnämnden / Nordic Film & TV fund / APSA Academy Film Fund
Sweden

"No Fire Zone: The Killing Fields of Sri Lanka"
Outsider Films in association with Channel 4 and ITN productions
United Kingdom

"Phantoms of the Border"
The Chosunilbo / TV CHOSUN / Solferino Images / Quartier Latin Media
South Korea

Drama Series

"Prófugos"
HBO Latin America
Chile

"The Tunnel"
CANAL+ Original Programming / SKY Atlantic HD / Kudos / Shine France Films
France

"Utopia"
Kudos
United Kingdom

"Yae's Sakura"
NHK (Japan Broadcasting Corporation)
Japan

Non-Scripted Entertainment

"Educating Yorkshire"
Twofour
United Kingdom

"Master Chef China"
Shanghai Dragon TV
People's Republic of China

"Missie Mosango"
Geronimo Productions
Belgium

"O Infiltrado"
The History Channel Latin America
Brazil

Telenovela

"30 Lives: Maxim Bouchard" (30 Vies)
Aetios Productions
Canada

"Belmonte"
Plural Entertainment Portugal
Portugal

"My Husband's Lover"
GMA Network, Inc.
Philippines

"Joia Rara" ("Precious Pearl")
Globo TV
Brazil

TV Movie / Mini-Series

"Alexander and Other Heroes"
Globo TV
Brazil

"An Adventure in Space and Time"
BBC Wales / BBC America
United Kingdom

"Radio"
TV Man Union for NHK in association with NHK Enterprises Inc.
Japan

"Unsere Mütter, Unsere Väter," (Generation War – The Motion Comic)
teamWorx Television & Film GmbH / ZDF in co-operation with Beta Film and ZDF Enterprises
Germany

Non-English Language US Primetime Program

"Pasión Prohibida" (Forbidden Love)
Telemundo Studios / Telemundo Internacional
USA

"La Patrona" (The Return)
Telemundo Internacional
USA

"El Señor de los Cielos"
Telemundo Internacional
USA

"Temple de Acero" (Unbreakable)
Rock and Roll Films US for Nat Geo Mundo
USA
© 2023 Latin Times. All rights reserved. Do not reproduce without permission.