The leader of a jihadist group Islamic State died along with his family on Thursday after reportedly setting off a bomb during a U.S. special forces raid in northern Syria on Thursday, Feb. 3.
In a report from Reuters, Abu Ibrahim al-Hashemi al-Quraishi led the said group since the death of founder Abu Bakr al-Baghdadi. Ironically, the founder was also killed when he also detonated a bomb in a similar U.S. raid in 2019.
"Thanks to the skill and bravery of our armed forces, we have taken off the battlefield...the leader of ISIS. All Americans have returned safely from the operation," U.S. President Joe Biden said in a statement.
Quraishi has been silently leading the group since the death of Baghdadi at the height of its self-declared caliphate when it controlled swathes of Syria and Iraq and ruled over millions of people.
The group suffered a defeat three years ago and they have since been waging attacks in Iraq and Syria. His death was confirmed by a senior U.S. administration official.
"At the beginning of the operation the terrorist target exploded a bomb that killed him and members of his own family, including women and children," the official stated.
At least 13 people were killed in clashes and explosions according to rescue workers. The list included six children and four women after the raid began, targeting a house in the Atmeh area near the Turkish border.
It remains to be seen if the casualties will once again put the U.S. military under the radar. They were placed under heavy scrutiny following a high-profile mistaken drone strike in Afghanistan that reportedly failed to guard against civilian casualties.
Helicopters roared suddenly early Thursday over Atmeh, according to one resident who described an hours-long overnight standoff at a residential building that was subsequently reduced to rubble, NBC News reported.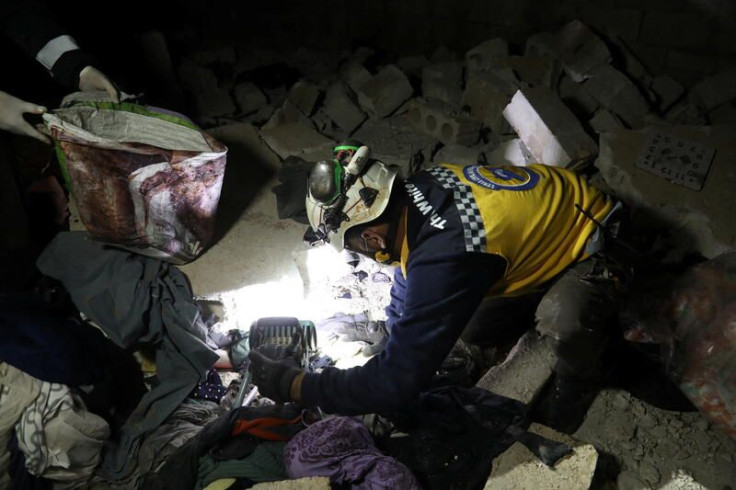 © 2023 Latin Times. All rights reserved. Do not reproduce without permission.