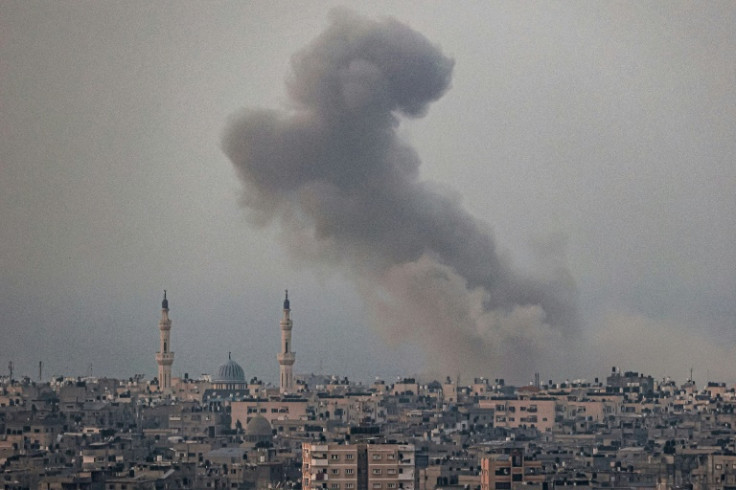 Israel pounded Hamas-ruled Gaza with more air and ground attacks Sunday in an escalating military campaign as the UN warned civil order was "starting to break down" in the besieged Palestinian territory.
Israeli Prime Minister Benjamin Netanyahu steeled the nation for a "long and difficult war" ahead in a late-night televised address as the Red Cross voiced shock at the "intolerable level of human suffering" inside Gaza.
More than three weeks on from the October 7 attacks, Israel has intensified the war despite UN calls for a humanitarian ceasefire, outrage across the Muslim world and desperate pleas from families of the 230 hostages to "bring them home".
The ground operations have heightened fears that Israel's other enemies -- the Iran-allied "axis of resistance" forces in Lebanon as well as Syria, Iraq and Yemen -- could get involved in the conflict.
After weeks of heavy bombardment of Gaza, which the Hamas-ruled health ministry said has claimed over 8,000 lives, the army said "stage two" of the war started with ground incursions since late Friday.
Israel's military said early Sunday that it had struck another 450 Hamas targets within the past 24 hours, and that it was increasing the number of ground forces in Gaza.
"As part of the expansion of ground activities, combined combat forces struck terrorist cells that attempted to attack the forces," it added, reporting that two Israeli soldiers were wounded, one severely by a mortar shell.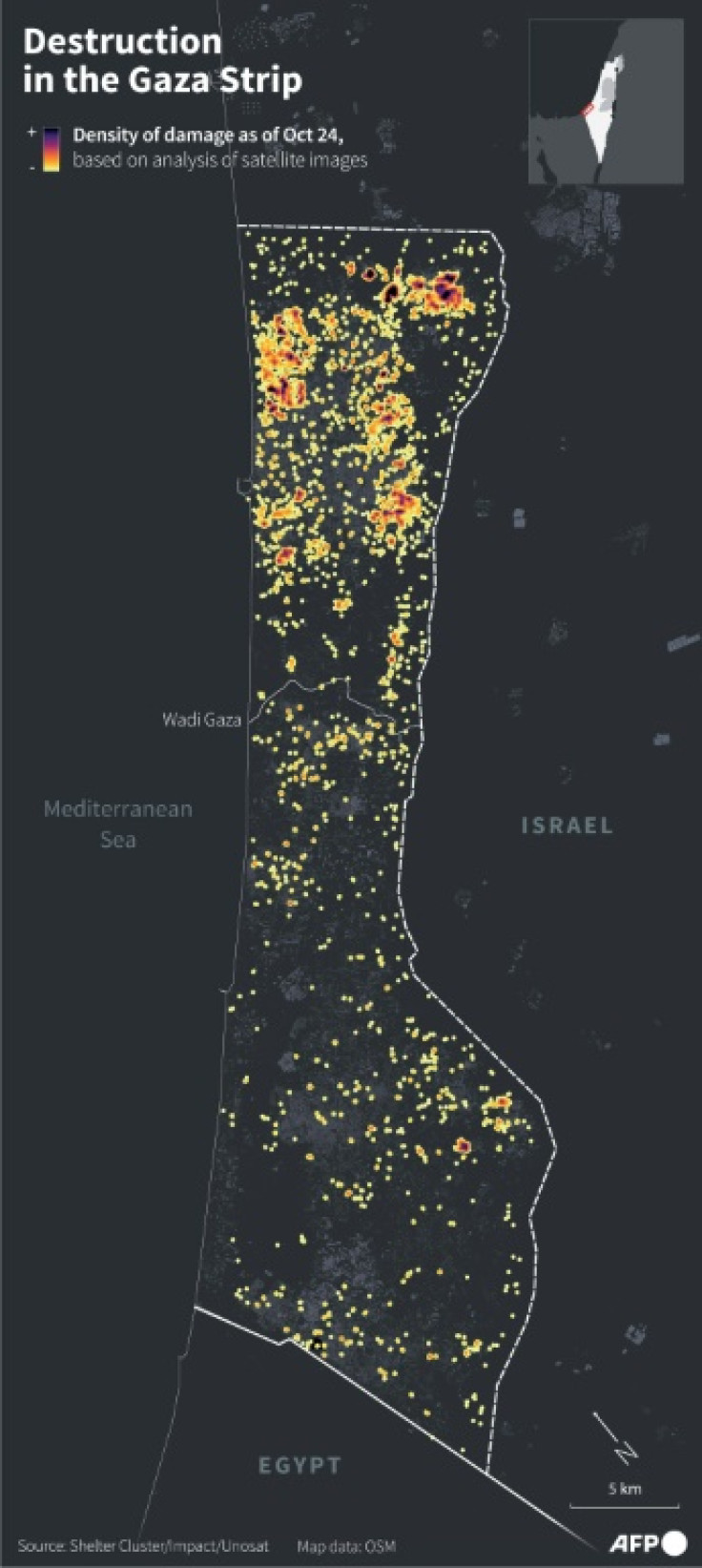 Map of Gaza Strip showing the density of damage as of October 24, based on analysis of satellite images
AFP
Israel unleashed its massive retaliation on October 7 after Hamas gunmen stormed across the border, killing 1,400 people, mostly civilians, according to Israeli officials.
Netanyahu said Saturday that "this is the second stage of the war whose goals are clear: Destroying the military and leadership capabilities of Hamas, and bringing the hostages back home."
He vowed to "eradicate" Hamas "for the sake of our existence".
Panic and fear have surged inside Gaza, where over one million people are displaced, and where communications went dark for days after Israel cut internet lines, although connectivity had gradually returned early Sunday.
Inside Gaza, where petrol and diesel have virtually run out, donkey cart driver Raafat Najjar told AFP that "there are no cars, we transport (people) on carts as there's no fuel."
The UN agency for Palestinian refugees said Sunday that "thousands of people broke into several UNRWA warehouses and distribution centres in the middle and southern areas of the Gaza Strip, taking wheat flour and other basic survival items like hygiene supplies.
"This is a worrying sign that civil order is starting to break down after three weeks of war and a tight siege on Gaza. People are scared, frustrated and desperate."
Mirjana Spoljaric, president of the International Committee of the Red Cross, voiced shock at the "intolerable level of human suffering" in Gaza and urged all sides to de-escalate the conflict.
"This is a catastrophic failing that the world must not tolerate."
Hamas authorities reported Sunday that a "large number" of people were killed overnight in strikes on two refugee camps in northern Gaza.
Defence Minister Yoav Gallant has said Israel was attacking "above the ground and below", alluding to Hamas's sprawling tunnel network.
Israeli fighter jets again dropped leaflets over Gaza City on Saturday, warning residents that the northern area was now a "battlefield" and they should "evacuate immediately".
Israeli military spokesman Daniel Hagari reiterated that Palestinian civilians should go south "to a safer area where they can receive water, food and medicine".
He vowed -- after 84 aid truck were allowed to enter the territory in recent days -- that "the humanitarian efforts to Gaza, led by Egypt and the United States, will be expanding".
"There was a terrible failure here, and it will be thoroughly examined," he said.
While Israel has mourned its dead, there has also been intense sympathy with the families whose loved ones are still inside Gaza and at heightened risk as the war intensifies.
Hamas has released four of them but this week also claimed that "almost 50" had been killed by air strikes, a claim that was impossible to verify.
"Bring them home," shouted relatives at a rally on Saturday.
"We demanded that no action be taken that endangers the fate of our family members, and any step considered should take into account the safety of our loved ones," said Meirav Leshem Gonen, the mother of hostage Romi Gonen.
Hamas's armed wing the Ezzedine al-Qassam Brigades said it was ready to release the hostages if Israel freed all the Palestinian prisoners it was holding.
Hamas's leader in Gaza, Yahya Sinwar, said the group stood ready to make an "immediate" exchange.
Netanyahu met representatives of hostage relatives on Saturday. He made no commitment to any exchange deal but assured the families Israel would "exhaust every option to bring them home".
Ifat Kalderon, whose cousin Ofer Kalderon is believed to be held in Gaza along with members of his family, told AFP she supported the idea of a prisoner release in exchange for the hostages.
"Take them, we don't need them here," she said. "I want my family and all the hostages to come back home."
As Israel sends troops and tanks further into Gaza, analysts caution of possible fallout threatening the entire Middle East, with Iran-backed Hezbollah opening a new front on the Lebanese border.
Israel's ally the United States has sternly warned Israel's enemies not to get involved, a warning underscored by two aircraft carrier battle groups it has moved to the eastern Mediterranean off Israel and Lebanon.
b, the mission's spokesman said, hours after reporting a hit at its headquarters as Israel-Lebanon border skirmishes intensify.
Iran's President Ebrahim Raisi warned Sunday in a message on X, formerly Twitter, that Israel's "crimes have crossed the red lines, which may force everyone to take action.
"Washington asks us to not do anything, but they keep giving widespread support to Israel. The US sent messages to the Axis of Resistance but received a clear response on the battlefield."
Anger has flared across the region against Israel and its Western allies, including in countries Israel has diplomatic relations with.
Turkish President Recep Tayyip Erdogan, addressing hundreds of thousands of pro-Palestinian demonstrators in Istanbul on Saturday, charged that "the main culprit behind the massacre unfolding in Gaza is the West".