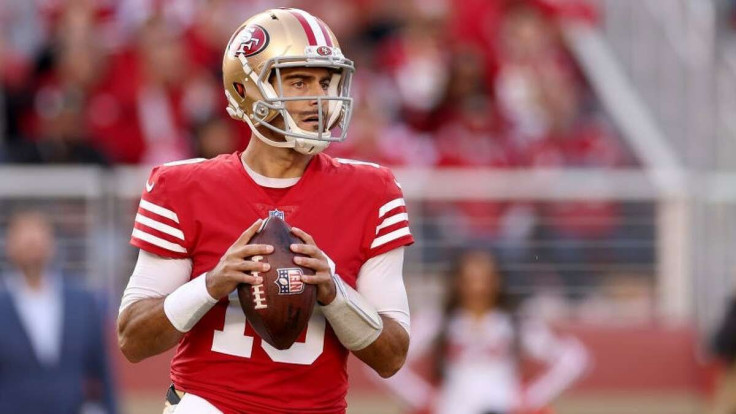 San Francisco 49ers quarterback Jimmy Garoppolo suffered a foot injury during a Week 13 contest with the Miami Dolphins. Garoppolo was carted off the field to the locker room where he would remain for the rest of the game. Rookie quarterback and Mr. Irrelevant, Brock Purdy would lead the 49ers to a 33-17 victory. After the game head coach Kyle Shanahan announced Garoppolo would be out for the season with a broken foot.
On Tuesday, ESPN's Adam Schefter reported that Garoppolo won't need season ending surgery and could return in seven to eight weeks. If rehab goes smoothly for the 31-year-old, he would be scheduled to return at the start of the Wild Card round in mid-January. The 49ers are 8-4 and hold the third seed in the NFC playoff picture.
San Francisco will ride with Prudy as their starter for the remainder of the season. Though he is a rookie, he has the support of his team.
"I have the most respect and confidence in him because I see him every single day on the scout team," said 49ers captain Fred Warner. "The way he comes out and prepares and competes, the confidence he has, the swag he has, I've got all the confidence in the world in Purdy." In his first NFL action, Purdy threw for 210 yards and two touchdowns against Miami.
The 49ers made Prudy their starter going forward however that didn't stop them from adding to some quarterback insurance in the form of Josh Jackson. Jackson was signed off of the Denver Broncos practice squad and does have some familiarity with the Shanahan offense. Jackson had a cup of coffee with San Francisco in 2020 before being released.
San Francisco has five games remaining on their schedule including two division matchups against the Seahawks and Cardinals.
© 2023 Latin Times. All rights reserved. Do not reproduce without permission.