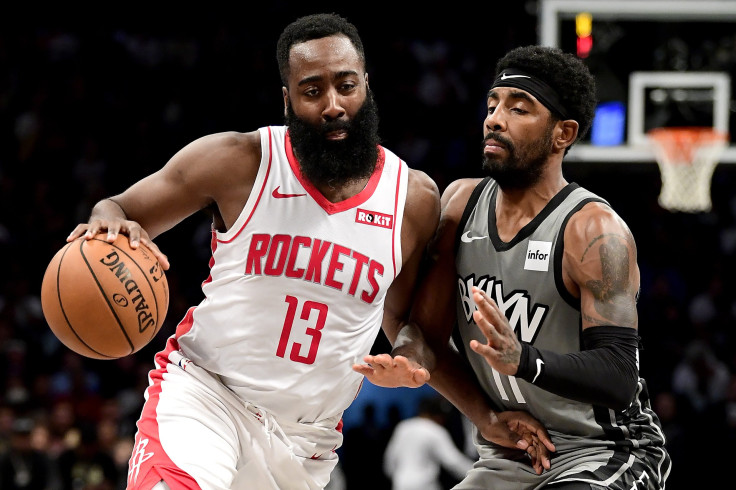 Philadelphia 76ers guard James Harden could be interested in returning to the Houston Rockets next offseason. According to ESPN's Adrian Wojnarowski sources close to Harden say that the All-Star would seriously entertain a reunion with the Rockets if a deal with the 76ers can't be agreed upon. Last offseason the 33-year-old signed a two year, $68.6 million contract with Philadelphia that included a player option after the first year, potentially making him a free agent at the end of the season.
Harden didn't confirm nor deny the allegation after Sunday's 119-112 win against the New York Knicks, but simply stated, "I don't know where that report came from."
Harden demanded a trade from the Rockets last season after the franchise seemed to be entering a rebuilding phase. He was shipped off to the Brooklyn Nets to join All-Star Kyrie Irving and former Oklahoma City Thunder teammate Kevin Durant. His tenure in the Big Apple was short lived as he requested to be traded again and was dealt to Philadelphia at the trade deadline.
Since joining the 76ers, Harden and All-NBA center Joel Embiid have been one of the best duos in the league. In 36 games together Embiid has averaged 32.9 points, 11.4 rebounds, and shot 53% from the field while Harden has averaged 21.6 points, 10.8 assists, and 6.9 rebounds. Philadelphia is 20-12 on the season thus far and currently sit as the fifth seed in Eastern Conference, only three games out of first place.
Harden spent eight full seasons with the Rockets from 2013-2020 where he averaged 29.6 points, 7.7 assists, six rebounds, and shot 44% from the field. In 2018 Harden won the MVP Award as a member of Houston.
© 2023 Latin Times. All rights reserved. Do not reproduce without permission.