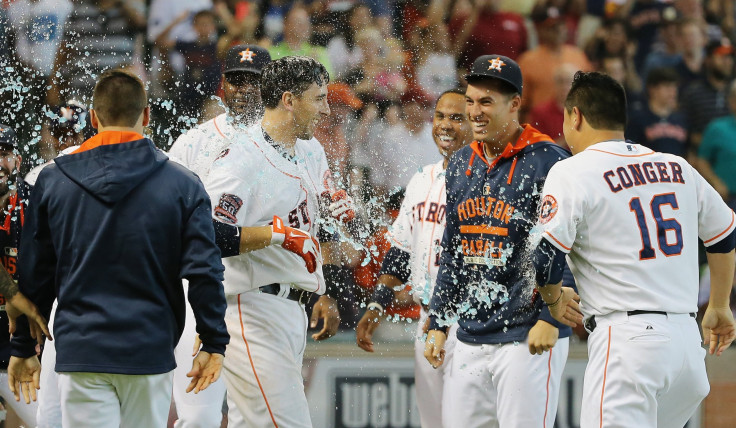 HOUSTON – A no-hitter, pitchers' duel and a walk-off, that's how the Houston Astros swept the three-game series from the Los Angeles Dodgers with a dramatic 3-2 comeback victory on Sunday at Minute Maid Park.
For the fourth time in eight days, Houston won with a walk-off hit and this time it was catcher Jason Castro who provided the fireworks. Castro sent a 96MPH fastball from Dodgers' reliever Chris Hatcher into the front row of the left field pavilion capping off a climatic final couple innings for the Astros.
"We've been in so many of them this year it's just that mentality that we're comfortable playing from behind late," Castro said of the Astros in extra innings games. "I think that's an attribute that's going to serve us well going forward in the playoffs…we don't give up."
Also for the fourth time in their last eight games, the Dodgers bullpen blew a late lead, and on Sunday, wasted a dominant performance by Clayton Kershaw.
The reigning National League MVP did everything he could to right the ship for Los Angeles – losers of their last four games and six overall on the road – Kershaw threw eight innings of one-run ball, but closer Kenley Jansen was unable to record the final out and Kershaw got a no-decision for the second straight game.
"I hope we're panicking," Kershaw said. "I think panic's a good thing to a certain extent. It's obvious we've got five weeks or whatever it is, too. So, I hope there's a sense of urgency."
Marwin Gonzalez hit an RBI single with two outs in the bottom of the ninth scoring Carlos Correa, and tying the game at 2-2. It was just Jansen's second blown save of the season as the Dodgers' right-hander had converted 17 straight save opportunities beore today.
"That's the kind of baseball we're going to need to play moving forward," Castro said. "I always say it doesn't matter who you're playing, on any day, anybody can beat anybody. So it does make it a little bit nicer to play good baseball and sweep a series against a first place team."
The Dodgers may not be in first place for long as the NL West leaders have seen their stranglehold over the division slip to just one game, with the Giants set to play later tonight on ESPN's Sunday Night Baseball.
Meanwhile, the Astros are on a tear, increasing their lead in the AL West to four games over the Texas Rangers.
Despite scoring two runs, the offense was stagnant again. The Dodgers took advantage of three wild pitches by Lance McCullers scoring each run thanks to the pitcher's deficiencies.
Newest Dodger, Chase Utley put Los Angeles on the board in the first inning. After a one-out double, Utley advanced to third on a breaking ball in the dirt that got past Castro.
One pitch later, Utley scored on a sacrifice fly to centerfield by third baseman Justin Turner.
The Dodgers scored again after back-to-back wild pitches by McCullers in the fifth scored A.J. Ellis who hit a double earlier in the inning.
McCullers was wild, but effective. The Astros rookie allowed two runs on eight hits with seven strikeouts in seven strong innings competing against Kershaw.
Jose Altuve continued to crush the Dodgers' Cy Young candidates. A day after hitting a triple and a home run off Zack Greinke. Altuve went 3-for-4 with a double and a run scored against Kershaw.
Yasiel Puig was ejected from the game in the top of the ninth inning after he struck out looking and threw his bat in frustration.
© 2023 Latin Times. All rights reserved. Do not reproduce without permission.