R&B singer Jason Derulo reportedly went berserk at a Las Vegas hotel after two men referred to him as fellow singer Usher in the early hours of Tuesday morning.
According to video footage recorded by passersby, the 32-year-old performer lunged at a group of men after one of them allegedly yelled, "Hey, Usher! F*** you, b***h!" in his general direction, according to the Daily Mail.
Police were then called to the ARIA hotel shortly after the scuffle broke out. Authorities said that Derulo Jason was heading up an escalator with a bodyguard and another member of his entourage moments before the unpleasant incident.
Eyewitnesses said the "Savage Love" singer, wearing a red flannel shirt, had passed by one of the men involved on the way. When Jason made his way back down the escalator, one of the unidentified men seemed to mistake him for Usher.
Sources said that Derulo was angered by the misnomer, prompting him to punch one of the men "right in the face." Other people at the hotel at the time went on to allege that the star would slap the second guy moments later.
The video also shows the moment Derulo was on the floor attacking one of the men while a security guard attempted to break up the tussle. Members of the Las Vegas Police Department would soon arrive and handcuff the 32-year-old, who has since been released from police custody.
TMZ noted that the two men involved did not want to press charges against the "Jalebi Baby" hitmaker. The men only appeared to sustain facial wounds that did not require hospitalization.
However, ARIA slapped Jason with a trespassing notice and removed him from the property. Derulo does not usually get involved in scuffles since he focused on fatherhood following the birth of son Jason King, who is now seven-month-old.
Derulo and Instagram model Jena Frumes welcomed their first son in May and have since parted ways citing their need to grow individually. The couple called it quits in September after 18 months of dating but remained under the same roof, CapitalFM reported.
Days leading up to Christmas, they opted to share holiday snaps on their respective social media accounts as a family, sparking rumors they might have rekindled their romance.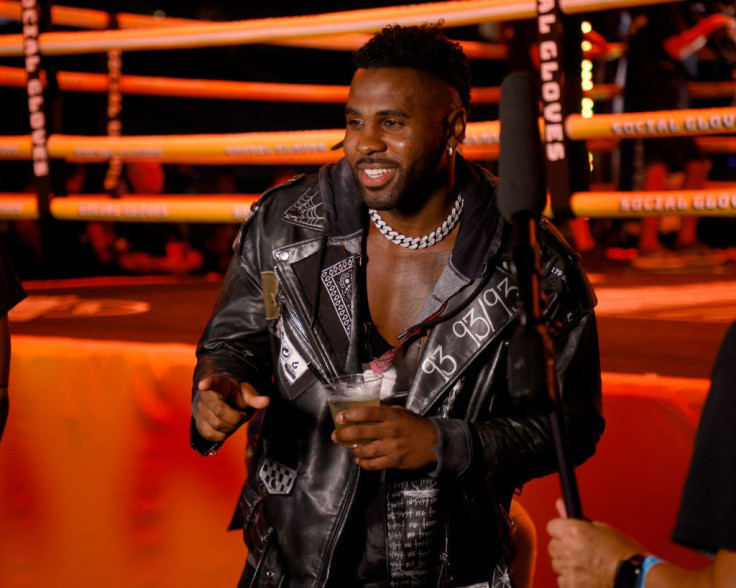 © 2023 Latin Times. All rights reserved. Do not reproduce without permission.