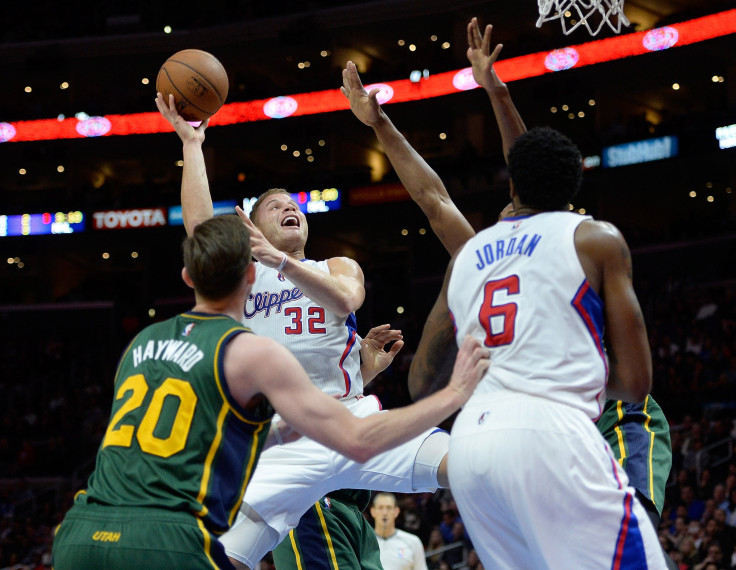 LOS ANGELES – The Los Angeles Clippers rebounded from their loss to the Toronto Raptors on Saturday to narrowly edge the Utah Jazz 101-97 on Monday night at Staples Center.
The Clippers broke their franchise record for consecutive victories against one team as they have now defeated the Jazz twelve consecutive times. The Clippers eight-game home winning streak was snapped on Saturday by the Raptors, but with the win tonight, and their next six games at Staples Center, Los Angeles will have an opportunity to run off another steak.
Chris Paul bounced back after a lackluster performance against Toronto as he finished with 20 points, eight assists and four steals against the Jazz.
"Saturday was…ugly. Tonight I struggled too," said the Clippers point guard after the game. "I missed a lot of shots in the 4th quarter, but we got the win."
Blake Griffin led the Clips with 24 points, six rebounds, seven assists, two steals and three blocks.. J.J. Redick had another great game with 17 points, but only went 1-6 from the three-point line.
"I was struggling early. Doc (Rivers) always says if your shot is not falling early, do something else," said Griffin about his early first half scoring struggles. "Do other things to contribute to the game. Guys were hitting shots so I tried to be more of a distributor."
Jamal Crawford continued to state his case for 6th man of the year with another uplifting performance off the bench. Crawford who sat courtside for Sunday night's Lakers game against the Phoenix Suns had 17 points and two three-pointers.
The Utah Jazz gave the Clippers everything they had for 48 minutes as they never trailed by more than five points during the entire fourth quarter, but it was not enough to pull off the victory down the stretch. The Jazz (10-21) were led by Gordon Hayward who had 22 points and a game-high four three pointers.
"It was a tough game for us," said a disappointed Hayward. "I thought we played pretty well for most of the game. This is a really good team, and for us to fight on the road like this is really positive. But we just have to close out games a little bit better. We have to find ways to get good looks."
Jazz rookies Rudy Gobert and Dante Exum impressed on the court as they finished with 11 and 7 points respectively. Gobert added 13 rebounds as well, but was outdone by DeAndre Jordon who had a game high 19 off the glass.
"I like this young team," said Clippers coach Doc Rivers about the Jazz rookies. "They are going to be a really good team. They have two very good big men, and they have a point guard. They are a young and athletic team."
Jordan tipped in a missed Paul jumper with less than two minutes to play in the game, which fueled the Clips down the stretch as they held on for the win. It was Jordan's sixth offensive rebound of the game and the Clippers needed every one of them to beat the Jazz.
Game Notes:
Spencer Hawes returned to the Los Angeles Clippers after missing the past nine games with an injury. The Clippers previous record of 11 consecutive wins against one team was against the Dallas Mavericks. Jazz guard Alec Burks missed his second straight game with "chronic soreness."
© 2023 Latin Times. All rights reserved. Do not reproduce without permission.