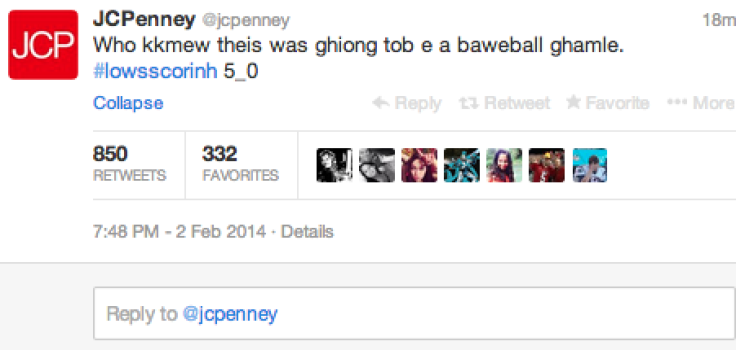 UPDATE: JC Penney has since apologized for the wierd tweets. "Oops...Sorry for the typos. We were #TweetingWithMittens. Wasn't it supposed to be colder? Enjoy the game! #GoTeamUSA" Sounds like a cover up to us. What do you think?
JC Penney has become a hot topic on social media after the retailer posted a tweet that made absolutely no sense and seemed to be written by someone typing under the influence. "Who kkmew theis was ghiong tob e a baweball ghamle. #lowsscorinh 5_0" read the tweet posted on Sunday evening. Presumably the post was in connection to the Super Bowl, however, whoever wrote it clearly had no idea what they were tweeting about. There has been no comment from the store's account.
JC Penney's 'drunk tweet' has provoked some hilarious comments on the twittesphere. "Umm,@jcpenney, the intern you have doing your tweets is drunk," Tweeted one user. "If you need proof of how underperforming this brand is...RT @jcpenney," tweeted another. "Hacked by Macy's RT @jcpenney" suggested someone else. "Uhh..go home @jcpenney. Your social media person is drunk," tweeted one user. "Maybe @jcpenney's super creative Super Bowl ad strategy is alcohol."
The controversy comes just two days after TIME reported that JCPenney was raising its prices in order to slash them again for Valentines Day. s. "They had us up all night changing the prices on everything," one J.C. Penney jewelry salesperson told the magazine. The outdated retailer has been accused of the tactic known as "price anchoring" for years. "Toughdown Seadawks!! Is sSeattle going toa runaway wit h this??" they just tweeted, with no explanation of the previous comment.
© 2023 Latin Times. All rights reserved. Do not reproduce without permission.