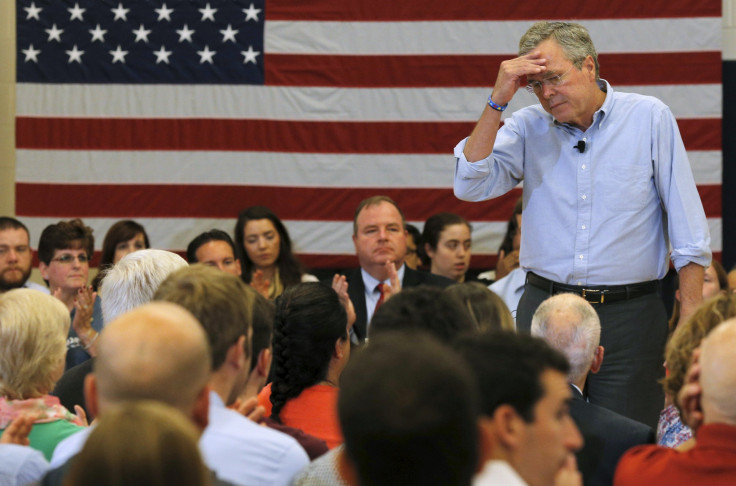 Jeb Bush has had enough with Donald Trump's attacks to, well, everyone. The former Florida Governor gave an interview in Spanish to reporters in Miami last week, where he stated that Trump "attacks him all the time." According to Texas native, the Republican front-runner personalizes everything: "If you don't agree with him you are an idiot, or stupid, or don't have nergy, blah blah blah," Bush said in the interview published by El Nuevo Herald.
Well, he is not far away from the truth at all. The former "The Apprentice" star has gained popularity because of his continuous attacks to Latinos in the U.S., and public personalities. Mr. Trump has managed to insult a lot of people in the past few months and he's gotten away with it because his followers believe it is good that someone is finally being "blunt" enough to talk about the reality we live in.
Hold your horses Donald Trump supporters, we are not saying that illegal immigration is OK and we are not denying that there is some truth to what he is saying but we will say that he is sometimes, most of the times, out of line.
During an interview with CNN, Jack Tapper asked Bush's point of view on Trump's recent comments about Carly Fiorina's face, he replied: "Look, I don't get it. I don't see how over the long haul that you can insult your way to the nomination, certainly not the presidency and not the nomination, either."
Another subject discussed during the interview was Bobby Jindal's speech at The National Press Club, in which he calls the real estate tycoon "a non-serious carnival act." Tapper played a fragment of the discourse for the former Governor and asked if he agreed with the statements given by the Louisiana Governor only to find out Bush was already nodding and added: "I agree."
Watch some of the interview in the video below.
© 2023 Latin Times. All rights reserved. Do not reproduce without permission.