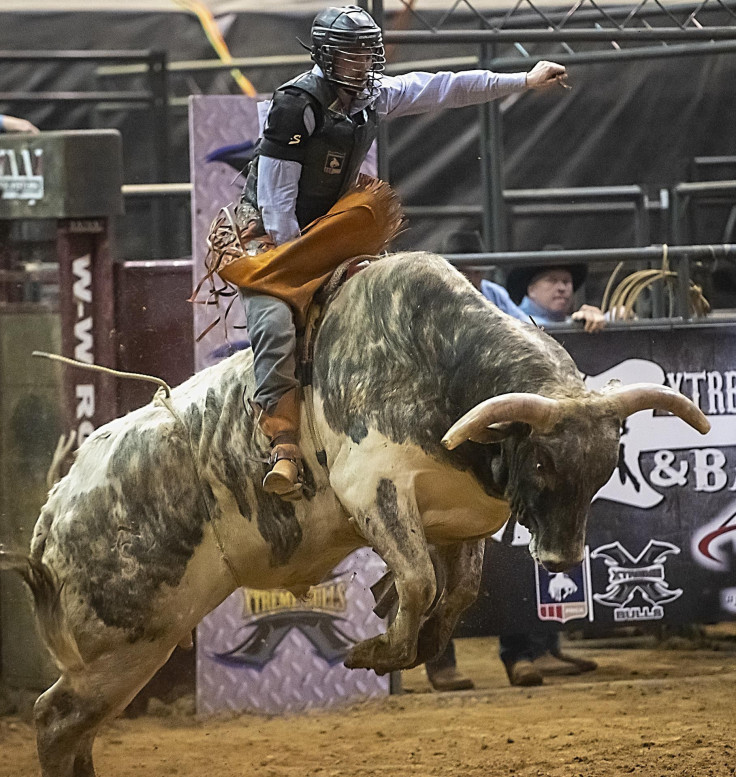 A boy reportedly died after a bull stomped on him during a North Carolina rodeo on Saturday, Jan. 28.
Denim Bradshaw, 14, was killed as he competed at a rodeo at the Rafter K. Rodeo Winter Series event at American Legion Post 290 on South Main Street in King., North Carolina, located about 15 miles northwest of Winston-Salem, on Saturday, Jan. 28. Bradshaw was dropped down into the chute and got into place on the bull before the doors opened. The bull bucked twice, and the boy fell off. The bull then stomped on his chest, Fox News reported.
Stokes County EMS was called to the rodeo just before 8:30 p.m. in response to a cardiac arrest at the Rafter K. Rodeo Winter Series event.
After the accident, Rodeo EMTs began performing life-saving measures on the boy before Stokes Emergency Services arrived. The boy then went into cardiac arrest and was rushed to the hospital, where he died.
Bradshaw's mother, Shannon Bowman, remembered her son in a heartbreaking tribute shared on her Facebook page on Sunday, People reported.
"Last night was the longest night of my life!! My beautiful handsome 14-year-old son had gone to be with the lord! I awoke in a nightmare for the rest of my life!" Bowman wrote on her Facebook page.
"I hate myself for this call but he was loving every second of it I've never seen him so happy as I had seen him last night before his departure," Bowman said. "Denim baby you did it!! You did that!! I'm so proud of your bravery and your courage! My lil cowboy I will love and miss you so much, and I know God will take care of you. For the sake of your bull riding friends there really should be an emt on site in this sport! That ride was a little too long."
Following the boy's death, Rafter K Rodeo Company, LLC wrote on its Facebook page offering condolences to the boy's family.
"Everyone here at Rafter K Rodeo Company, LLC would like to give our sincere condolences to the family and friends of a bull rider, Denim Bradshaw," Rafter K Rodeo Company, LLC wrote on its Facebook page Sunday. "Our sport is truly a family and we are so thankful for everyone that was there to help. We are thankful for our on-site EMTs, paramedics, and law enforcement that work so hard to care for the cowboys. This is a tragic event and words cannot describe the pain felt by this loss. We ask everyone to come together and pray for his family for comfort and healing in this difficult time."
© 2023 Latin Times. All rights reserved. Do not reproduce without permission.