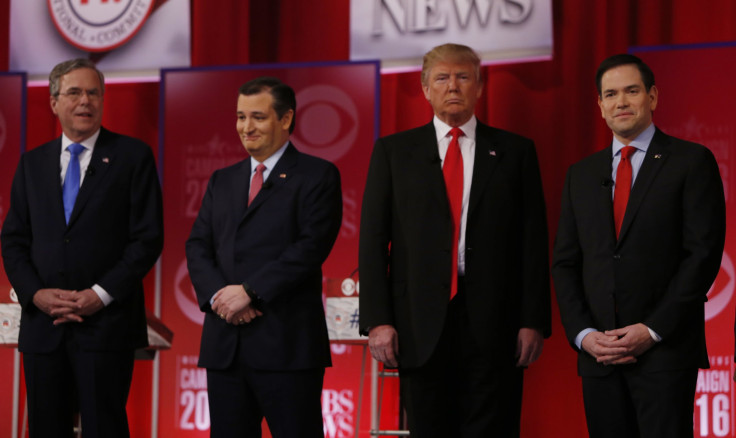 Former Florida Gov. Jeb Bush removed the silver spoon he'd been gagging on for the past few months long enough on Wednesday to cough up a presidential endorsement for Texas Senator Ted Cruz. The announcement clears the way for Bush loyalists who pumped $130 million into Bush's own failed campaign to start throwing money at Cruz, in the increasingly desperate attempt to save the Republican establishment from presidential nominee frontrunner Donald Trump. For Bush, endorsing Cruz was like vomiting to get past food poisoning.
For Bush, Cruz represents the lesser of two evils in on both policy and appearance. Like fellow immigration moderate Sen. Lindsey Graham (R-S.C), Bush supports a pathway to citizenship as part of a plan for comprehensive immigration reform. Cruz has embraced the opposite end of the Republican immigration spectrum: no bringing immigrants out of the shadow, just deportation. (He's had to reverse a number of his past positions to compete with Trump for the anti-immigration vote, including advocacy for tech visas.)
Cruz is not so different from Trump on immigration. Bush and Graham's endorsements represent a concession among the GOP establishment: no Republican candidate will lead comprehensive immigration reform efforts. If immigration is a wash, what are Bush and Graham looking for in Cruz that Trump doesn't have? A better chance of beating Hillary Clinton and a reduced frequency and intensity of crazy ideas. Sure, Cruz just called for targeting Muslim neighborhoods with increased police patrols, but at least he's not calling for an outright ban on Muslims from the U.S. or the murder of terrorist's families and the torture of terror suspects.
Basically, the most disliked man in the senate is getting a boost because he's running against the most disliked man in the 2016 presidential race. But for Bush, the endorsement also serves as a reminder that he never lined up behind his former protege Sen. Marco Rubio (R-Florida), who dropped out after he lost the Florida primary. Rubio and Bush both Speak Spanish and live in immigrant households, and a share slightly more pro-immigrant policy view, but Bush reportedly saw Rubio as a kid who couldn't handle being Commander in Chief. Bush's statement omits any mention of immigration, or really any policy considerations at all.
"For the sake of our party and country, we must overcome the divisiveness and vulgarity Donald Trump has brought into the political arena or we will certainly lose our chance to defeat the Democratic nominee, most likely Hillary Clinton, this fall."
Cruz embraced the endorsement, noting the ideological diversity lining up behind his ultra-conservative campaign. His comments come off of a major win in Utah, where 2012 Republican presidential nominee Mitt Romney voted for him as part of a strategy to stop Trump.
"What we're seeing all across the country is the momentum is with us," Cruz told CNN, according to Reuters. "You want to talk about a broad coalition, ideologically diverse - that covers the entire spectrum of the Republican Party."
© 2023 Latin Times. All rights reserved. Do not reproduce without permission.