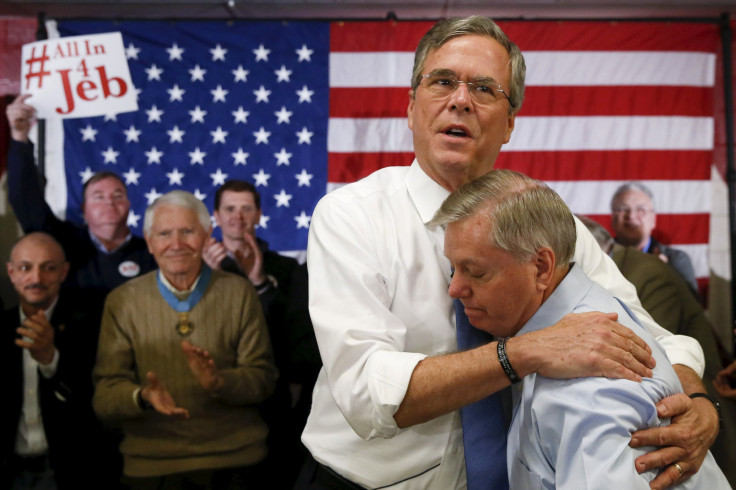 Jeb Bush has really had it with pundits and journalists pointing out that he's tanked in the Republican polls, not competitive in the primaries, third on a narrowing list of viable establishment GOP candidates and only able to continue his floundering campaign thanks to the unwavering loyalty of his donors. Exasperated at a campaign stop in South Carolina on Wednesday, the former Florida Gov. joked that he should call it quits. Many of his rival GOP candidates have suspended their campaigns in the past few weeks, including Chris Christie, Carly Fiorina, and others.
"It's all been decided, apparently," Bush said according to politico. "The pundits have already figured it out," Bush said mockingly. "We don't have to go vote. I should stop campaigning maybe. That's not how democracy works, right?"
Bush's frustration follows the endorsement of rival candidate and fellow Floridian Marco Rubio by South Carolina Gov. Nikki Haley. Bush had campaigned with Haley in 2014. He told reporters that he was disappointed. After downplaying his family connections for months, Jeb has tapped his brother, former president George W. Bush to campaign for him on Feb. 16. He showered the crowd with folksy charm.
"I know that Americans are angry and frustrated," George W said, "but we do not need someone in the oval office who mirrors and who inflames our anger and frustration," in an apparent slight to Donald Trump.
Trump embraced the label of "angry" after a speech directed against him by Haley.
© 2023 Latin Times. All rights reserved. Do not reproduce without permission.