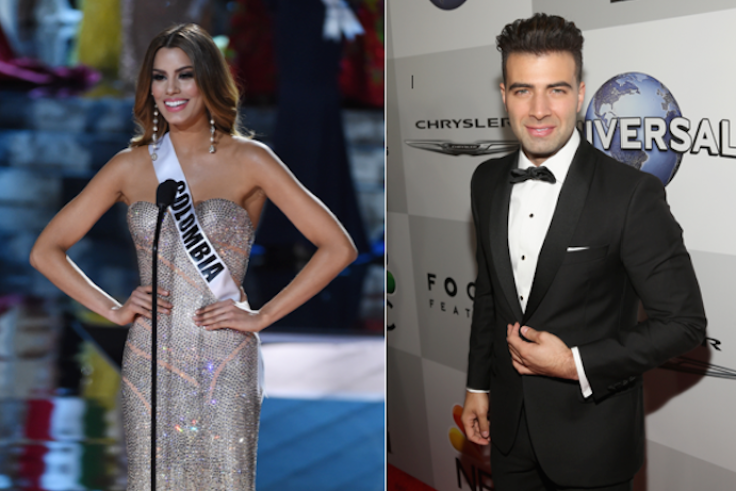 Ariadna Gutiérrez and Jencarlos Canela having dinner on a regular basis and cuddling with puppies? Apparently so! Telemundo's "Suelta La Sopa" reported that Miss Colombia and the "Telenovela" star were seen having a cute rendezvous in Miami a few days ago.
"They were alone, being very romantic. I saw the photos. Not the ones taken by the fans. I saw photos of them two, alone, playing with puppies," said one of the show's hosts. "Honestly, I think that [the romance] is moving forward because they have been spotted at the same restaurant more than one time in a romantic scenario."
Even though the images were not shown to the audience, the hosts assured that the proof was there and was más clara que el agua. "You already know…restaurant, alone, cuddling with puppies? There's going to be a wedding soon!" Jorge Bernal joked at the end of the segment.
However, Jencarlos assured his fans that he is still a single man during a recent interview and even shared some pointers for those who are willing to steal his heart.
"I like them [women] with a brain. Physical attraction must be there, but when you grow up in the industry you get to meet so many beautiful women and, unfortunately, it is not in every case that external beauty matches what's inside," the actor told TVyNovelas.
The "Bajito" performer also revealed that he is a "lost case" because he "falls in love a lot," and that he knows how to appreciate women in all shapes and forms, so everyone has a chance as long as there's chemistry.
Gutiérrez has yet to address the rumors publicly.
Earlier this week, the 22-year-old actress was romantically linked to former soccer star Gerardo Bedoya, with whom she allegedly had a relationship prior to entering the pageant world but decided to end it because her career was more important at the moment. She has failed to provide commentary on that chisme as well.
© 2023 Latin Times. All rights reserved. Do not reproduce without permission.