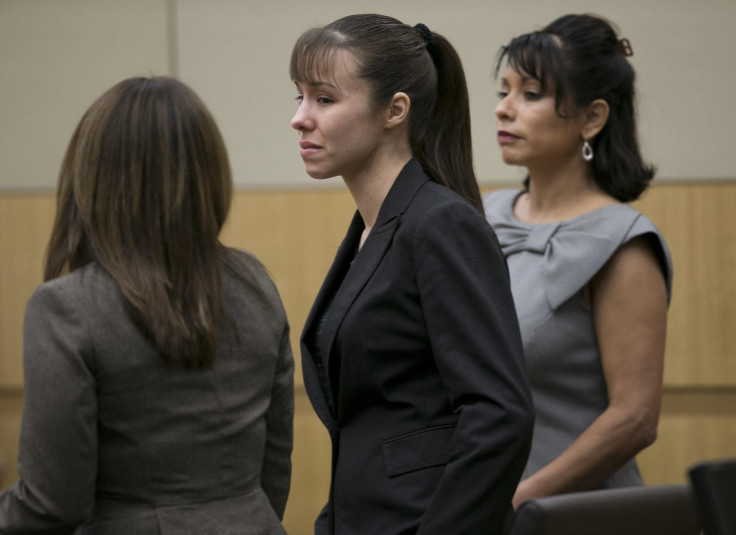 After days of grappling with testimony and Jodi Arias begging for her life, the judge in the murder case has declared a mistrial.
The jury was dismissed Thursday after a second-consecutive failure in trying to choose between a life or death sentence in the trial. The jury's first deadlocked on a decision Tuesday, the Associated Press reported.
A new jury must be selected to hear the abridged version of the case, set to begin July 18.
RELATED: Who Is Jodi Arias? The Latina Lady Convicted Of Brutally Murdering Her Boyfriend Has Captured The Attention of The Nation [EXPERT INTERVIEW]
"This was not your typical trial. You were asked to perform some very difficult duties," Judge Sherry Stephens said to the jury upon declaring the mistrial.
Arias herself had conflicting opinions about her punishment, first telling reporters she would rather die than spend the rest of her life in jail. Shortly after, she begged the jury to spare her life, stating she could do good in prison by teaching inmates to read, starting recycling programs, and donating to victims of domestic violence and cancer patients.
The same jury found Arias guilty of first-degree murder in the death of ex-boyfriend Travis Alexander, who was found in his home in Mesa, Az. stabbed nearly 30 times, his throat slashed and a gunshot wound through his head back in 2008.
RELATED: Jodi Arias Jailhouse Interview: Watch Arias Beg For Life, As Jury Decides Her Fate [VIDEO]
Arias changed her story multiple times, first stating an intruder had killed him, then saying she killed him in self-defense after he became violent following a day of sex when she dropped his new camera, which the two were using to take photos of their sexual encounter.
Maricopa County Attorney Bill Montgomery thanked the jury and said he will push for a retrial of the punishment phase of the case at a hearing scheduled for June 20.
"We appreciate the jury's work in the guilt and aggravation phases of the trial, and now we will assess, based upon available information, what the next steps will be," he said.
Under Arizona law, a new jury must be selected in the event of a hung jury. If the second panel cannot decide on a punishment, a judge may weigh a number of life sentencing options. The judge may not sentence the accused to death.
The defense previously asked the judge to declare a mistrial due to the media attention the case was receiving and the popularity prosecutor Juan Martinez was gaining. The court denied the request.
The notoriety of the trial had some accusing Arias of looking to seek attention for herself in light of the events, citing her numerous on-camera interviews from jail.
"The prosecutor has accused me of wanting to be famous, which is not true," she told the Associated Press.
© 2023 Latin Times. All rights reserved. Do not reproduce without permission.