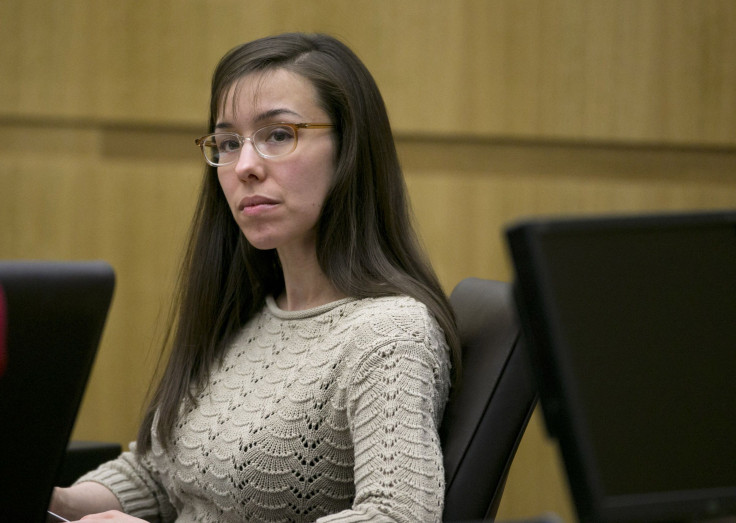 The multiple trials of Jodi Arias have turned out to be a true media circus, and even with the camera blackout, the news of Arias current and final resentencing trial is still making it way out. On Tuesday, an update was received that the sentencing retrials had just finished with the presentation and summary of the gruesome facts of the murder of Travis Alexander. However this stage of the retrial was met with multiple objections as jurors viewed and listened to a large amount of X-rated material and sensitive evidence for five full days in a row.
Following the summary of the evidence, the jury was allowed a day off, with the retrial to resume today. Arias' defense team have begin their argument of the retrial, her attorneys have started by presenting "mitigating evidence" with the intentions of persuading the jury into granting the convicted murderer life in prison, as opposed to death for Arias, who is 34-years-old. The defenses team will reportedly have a difficult time in winning back the jury, mainly due to the strong argument and presentation conducted by Prosecutor Juan Martinez on Monday. The prosecutor controlled the court room during the summary of evidence, the prosecutor showed text messages, emails and played voice mails that Arias had sent to the victim, after his death. She is being accused of attempting to deflect suspicion away from herself, showing a complete and total lack of remorse for the vicious and tragic crime. During this part of the trial, Martinez called Mesa Police Detective Esteban Flores, who served as the lead detective in the Jodi Arias murder case, to the stand. Though the detective said very little, what he did say must have been impactful on the jury. "Obsessed is the word I heard," Flores told Arias during one videotaped interrogation that was shown to the jury. "Fatal attraction: I don't know how many times I heard that."
In direct response to the evidence, the defense used the evidence to tell a different story. Defense attorney, Kirk Nurmi, who notably attempted to quit Arias defense team, showed the jury a series of pornographic images of Arias' privates that Alexander purportedly took of her. Following the natural shock value, Nurmi asked if the intimate images suggested that Alexander was in any way afraid of Arias. In addition to the nude photos, Nurmi also had the jury listen to a 40-minute long explicit phone sex conversation between Arias and Alexander recorder by her only a month before the murder. Despite the second penalty phase trail having a new jury, the sensationalism, and outrageous evidence of the original Jodi Arias murder trail remains.
© 2023 Latin Times. All rights reserved. Do not reproduce without permission.