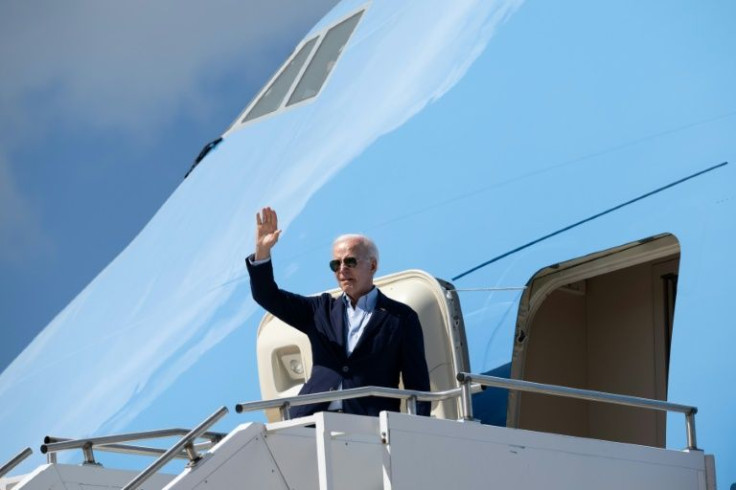 Ahead of a NATO summit in Lithuania later this week, U.S. President Joe Biden landed in London, UK late on Sunday.
According to Reuters, he will hold meetings with UK Prime Minister Rishi Sunak and King Charles on Monday.
The trip was planned "to further strengthen the close relationship between our nations," said the White House.
Biden's trip comes after many allies questioned his decision to send cluster bombs to Ukraine. The UK and Canada are some of the nations that have voiced concern about supplying the bombs. They are banned in many places due to the danger they pose to civilians, as per BBC.
But the U.S. said that they are needed as Ukraine's weapon stocks are getting over.
During the Monday meeting, Biden and Sunak are expected to discuss issues like the ongoing war in Ukraine.
Following Friday's cluster bomb announcement, Sunak has not directly criticized Biden. But on Saturday he said that the UK was one of 123 nations that signed up to the Convention on Cluster Munitions. It is an international treaty that doesn't allow the use or even production of weapons.
Cluster bombs, which typically release lots of smaller bomblets, can kill many people over a wide area. There can be unexploded bomblets that can linger on the ground for years before they get detonated.
The munitions could cause "huge damage to innocent people," Nato partner nation New Zealand said on Sunday.
Ukrainian soldiers will not use the weapons in Russia or in urban areas, the U.S. said according to written reassurances from Kyiv it has received.
On Tuesday and Wednesday, the members of NATO, which is a military alliance of 31 Western countries, will then meet.
Ukraine wishes to join NATO, but Biden said that this could not happen until the war was over.
If not the NATO membership, the U.S. did decide to fulfill a Ukrainian request for cluster bombs. It came on Friday, and officials said this was part of a military aid package that is worth $800 million.
Biden told CNN that it had been a "very difficult decision." But he had eventually acted because "the Ukrainians are running out of ammunition."
Spain's Defense Minister Margarita Robles said no to cluster bombs and yes to the "legitimate defense of Ukraine, which we understand should not be carried out with cluster bombs,"
But Germany, a NATO member, said that it would not give such weapons to Ukraine, but it understood the U.S. position.
© 2023 Latin Times. All rights reserved. Do not reproduce without permission.