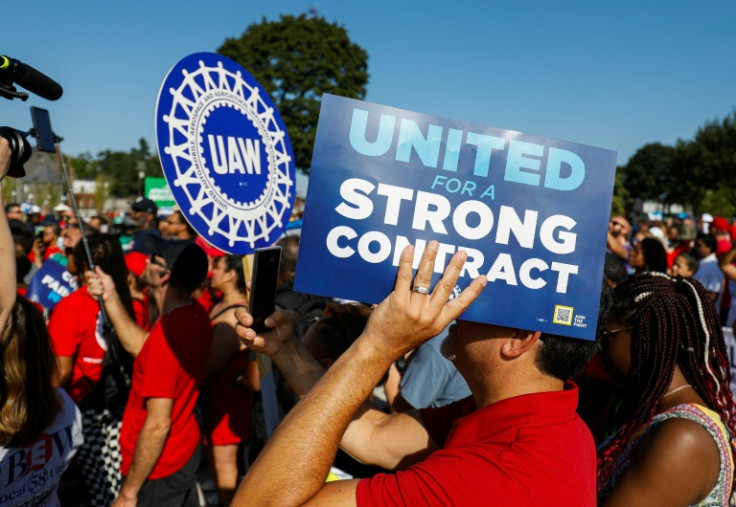 On Tuesday, President Joe Biden will join the picket line with the United Auto Workers (UAW) as they strike against automakers General Motors, Stellantis and Ford in Detroit, Michigan.
"I'll go to Michigan to join the picket line and stand in solidarity with the men and women of UAW as they fight for a fair share of the value they helped create," Biden said on X, formally known as Twitter. "It's time for a win-win agreement that keeps American auto manufacturing thriving with well-paid UAW jobs."
The UAW strike began on Sept. 14 as 14,000 workers walked out of three auto assembly plants after the automakers refused their contract demands of increased pay, pensions and other benefits.
Since winning the presidency, Joe Biden has been vocal about his support for unions and fair labor practices. In a speech honoring labor unions, the president publicly stated that he intends to be the "most pro-union President leading the most pro-union administration in American history."
His visit to the nation's car manufacturing capital and the decision to join the strike will mark a historic day for the office of the U.S. President, as the event will make Biden the first sitting president to appear on a picket line. To further aid the union, Biden dispatched labor secretary Julie Su and other officials to aid with negotiations and settle an agreement between the union and the car manufacturers.
The visit is also expected to gather support for the president for the upcoming election. Michigan has been a hotly contested state and in 2016, Donald Trump won the state by securing the support of Union members but later lost the state to Biden in the 2020 election.
United Farm Workers (UFW), the labor union founded by Latino labor trailblazers César Chávez and Dolores Huerta, has also recognized his support for labor movements and on Tuesday, the union announced its endorsement of Biden for the upcoming presidential election.
"Throughout his life, President Biden has been an authentic champion for workers and their families, regardless of their race or national origin," said UFW President Teresa Romero. "The United Farm Workers has seen firsthand the positive impact that President Biden has made in the economic standing, labor rights, and daily lives of farm workers across America. That is why we are proud to again endorse Joe Biden for President and Kamala Harris as Vice President of the United States.
© 2023 Latin Times. All rights reserved. Do not reproduce without permission.