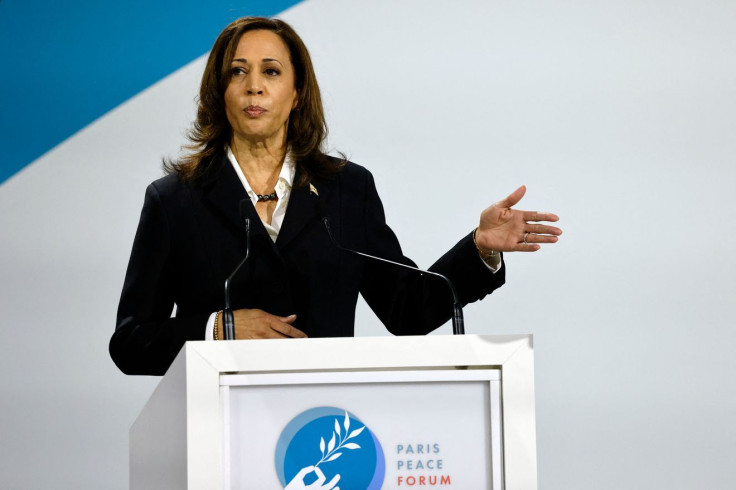 Vice President Kamala Harris said Tuesday that she doesn't that the recent Chinese spy balloon episode would harm any diplomatic relations between the U.S. and China.
On Feb. 4, the surveillance device was shot down by a US Air Force fighter jet off South Carolina.
When asked if it would change the U.S.' relationship with China, she told POLITICO, "I don't think so, no."
She noted that the White House wants "competition, but not conflict or confrontation" with the Asian superpower.
She added that when she spoke to Xi Jinping at the Asia Pacific Economic Cooperation meeting in Thailand in November, she used the same words with the Chinese President.
According to the State Department, the spy balloon was equipped with antennas that are capable of gathering communications signals.
Before being taken down over the Atlantic, it had spent almost a week traveling across US airspace. It hovered over sensitive military sites along the way, reported New York Post.
At this weekend's Munich Security Conference in Germany, Harris will lead the US delegation. But she does not have any plans to meet with Chinese Foreign Minister Wang Yi, who will also be attending the conference.
This will be her second time attending the conference of global leaders and allies on behalf of the administration. This will be her fourth trip to Europe since Russia invaded Ukraine in 2022. Her first visit in 2022 came just days before the war between the two neighbors began. During her meeting with Ukrainian President Volodymyr Zelenskyy, she promised full support from America and encouraged him to prepare for a full-scale invasion.
Her comment on the spy balloon come after President Joe Biden said Feb. 9 that the device's flight over the U.S. airspace "was not a major breach."
Seeming to imply the balloon was part of routine spying, he told Telemundo that the "total amount of intelligence gathering that's going on by every country around the world is overwhelming."
He also said that he wanted the device to be "shot down as soon as possible and (the intelligence community and Defense Department) were worried about the damage that can be done even in a big state like Montana."
He shared that the balloon was gigantic, and he wondered what would have happened "if it came down and hit a school in a rural area."
© 2023 Latin Times. All rights reserved. Do not reproduce without permission.