Kamala Harris faced criticism for the way she recently greeted South Korean President Moon Jae-in at the White House.
A viral video shows Harris immediately wiping her right hand on her jacket after shaking hands with Jae-in.
This did not go down well with many Twitter users.
One wrote, "Apologies to President Moon Jae-In and the people of the Republic of Korea for the insult by Kamala Harris.. and the lack of manners of this administration. America and the world deserve better."
Another tweeted, "@VP you should be ashamed of yourself—if anyone should have wiped their hand, it should've been President Moon Jae-in…you're an embarrassment to the office, and to our Country. Please save face and consider resigning."
Another wrote, "Dear @KamalaHarris, Why did you publicly show your disgust for Asian people like this — especially at a time when Democrats are spreading Asian hate in the US?"
Harris and Moon discussed North Korea, global health and the "root causes" of migration to the US from the Northern Triangle.
"United States government official Today, I met with Republic of Korea President Moon. We discussed North Korea, global health, and how we can address the root causes of migration from the Northern Triangle. We look forward to working with President Moon to address the challenges we face," Harris tweeted on Friday.
Meanwhile, Jill Biden was seen getting friendly with Harris days after a book revealed Biden said Harris should "go f**k" herself for attacking her husband Joe Biden during the Democratic primaries.
The two hugged each other without a mask prior to a ceremony at which Army Col Ralph Puckett, a 94-year-old Korean War veteran, was presented the Medal of Honor, according to New York Post.
According to Edward-Isaac Dovere's book "Battle for the Soul: Inside the Democrats' Campaigns to Defeat Trump," the first lady slammed Harris during a conference call with supporters.
According to an excerpt, Jill said, "With what he cares about, what he fights for, what he's committed to, you get up there and call him a racist without basis? Go f**k yourself."
Jill did not deny making that remark as she told a reporter on Thursday, "That was two years ago. We've moved on from that."
In the same book, it was revealed that during a commercial break following the debate between Biden and Harris, the then-former vice president told fellow candidate Pete Buttigieg, "Well, that was some f**king bulls**t."
In 2019, Harris engaged in a heated argument with Joe Biden during a Democratic debate. "I do not believe you are racist," Harris told the former vice president, reported New York Post.
"But I also believe, and it is personal...it was hurtful to hear you talk about the reputations of two United States senators who built their reputations and careers on the segregation of race in this country," she said.
"It is not only that, but you also worked with them to oppose busing," she added and revealed that she was part of the second class to integrate her public school in California while growing up and was bused to school.
She was referring to Biden's statements when he recalled how he worked with Democratic Senators James Eastland and Herman Talmadge, who were known segregationists, in the 1970s.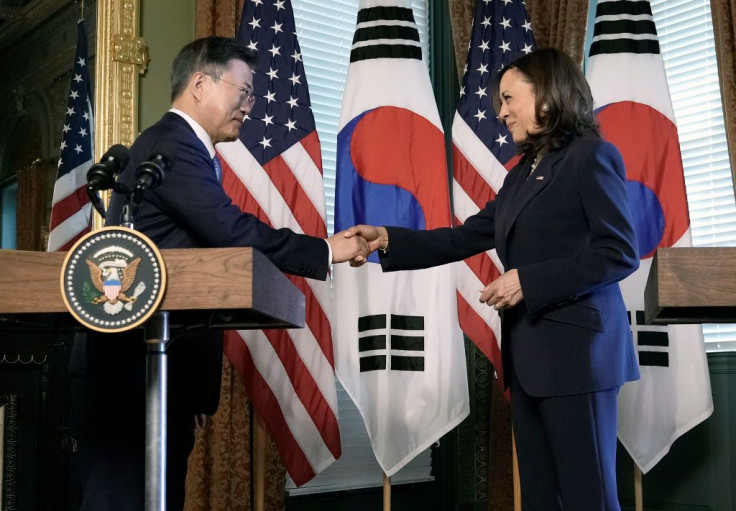 © 2023 Latin Times. All rights reserved. Do not reproduce without permission.