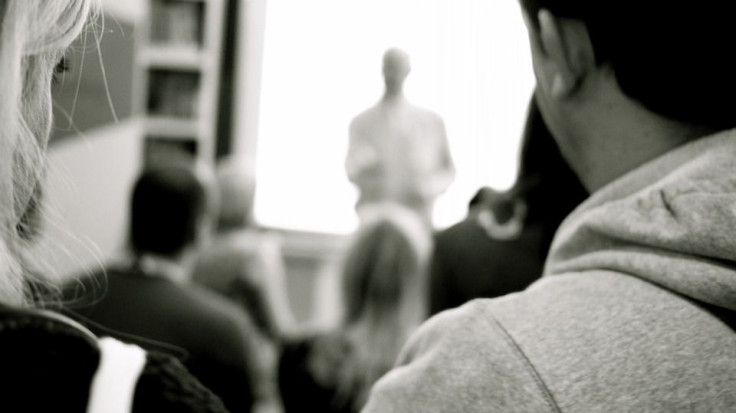 A Kansas lawmaker is accused of kicking a highschool student in the testicles. The incident took place on April 28 during an art class at the Wellsville High School. Rep. Mark Samsel faces three misdemeanor criminal charges of battery and surrendered his state substitute teacher's license Tuesday.
According to ABC News, Samsel admitted to having what he termed as an isolated episode of mania with psychotic features caused by extreme stress at a time when it was worst for him as lawmakers had to wrap up their undertakings for the year.
On the day of the incident, the legislator was recorded on video by his students as he lectured on suicide, sex, the wrath of God and the devil as noisy students could be heard in the background. The video showed Samsel pushed a student to a wall and yelled, "I'm going to unleash the wrath of God on you."
Court documents stated that Samsel admitted he lost his temper because one of the teenager's was being unruly, not following directions and disrupting the class. He became frustrated as the student kept ignoring him even as he was told to go to the principal's office. Samsel said the boy kept being unruly and admitted he told the victim several times that he would "kick him in the b***s" if he didn't behave.
In an affidavit filed by the sheriff's deputy, the boy claimed he was manhandled and kicked by Samsel. However the 36-year-old attorney said he merely "demonstrated a kick" for the boy, but did not actually kick him. He said the student embellished the entire incident.
The teenage boy told investigators that Samsel kicked him in his groin, which caused him pain for about 15 minutes. Officers also took photos of what appeared to be road rash and a scratch on the student's shoulders.
A local prosecutor described Samsel's episode as "rude, insulting or angry" during his interactions with his students.
In his Facebook post, Samsel bared that he has been consulting with mental health professionals over the past three months after a judge earlier ordered him to undergo a mental health evaluation. The resulting report remains confidential. On the other hand, Samsel acknowledged that he is studying ways to better handle stress to prevent any likelihood of another episode.
During an interview, Samsel said it just felt like the right time to share what he is going through and expressed how there is much need for people to be kinder to one another. "I just hope this brings light to the mental health battles, that a lot of us are struggling."
Meanwhile, Kansas House Speaker Ron Ryckman Jr. said Samsel's situation clearly shows the importance and easy access to mental health services. "I'm pleased to see those services are being used and hope they will continue to be used by any Kansan feeling the weight that often comes with stress and anxiety."
Samsel, who has served in the House since 2019, pleaded not guilty to the charges and is scheduled for a court hearing on Aug. 16. If found guilty, Samsel could face six months in jail for each of his offenses.