Tattoo artist and makeup mogul Kat Von D found herself in a possible home invasion situation when an intruder in her mansion had made himself known on late Saturday, Feb. 5, forcing her to take her child and flee the residence in a panic.
Kat Von D, who had put her Los Angeles mansion up for sale recently, was reportedly disturbed by a beam of light while she attempted to sleep. Concluding that the lights were turned on by a home invader, in a panic, she took her 3-year-old son and left the house while calling the police, who came to her house quickly, according to The Daily Beast.
The authorities subsequently found a middle-aged man at the residence. He was allegedly wandering around the house looking for a bathroom. The man, whose name has yet to be made public, claims that he was thinking about buying the house, which was put up for sale for $15 million recently.
It is not clear what charges were filed against the man once he was arrested.
The home of Kat Von D, which appeared in the 2003 movie "Cheaper by the Dozen," is a gothic Victorian-era home with three floors and 10 bedrooms. It also has a large ballroom area that is reportedly called The French Ballroom among other luxuries, TMZ reported.
Kat Von D, who originally became famous due to her popular television series L.A. Ink, is a tattoo artist who pivoted towards the makeup industry with the KVD Beauty brand that has a surprisingly robust online following behind her, according to Insider.
The famed tattoo artist, who once broke the world record for most people tattooed in one go, is reportedly planning on moving to Indiana with her family after she sells her house to put down roots in the state. It is not known if the intruder who came into her home will affect her future plans in regards to settling down in the state.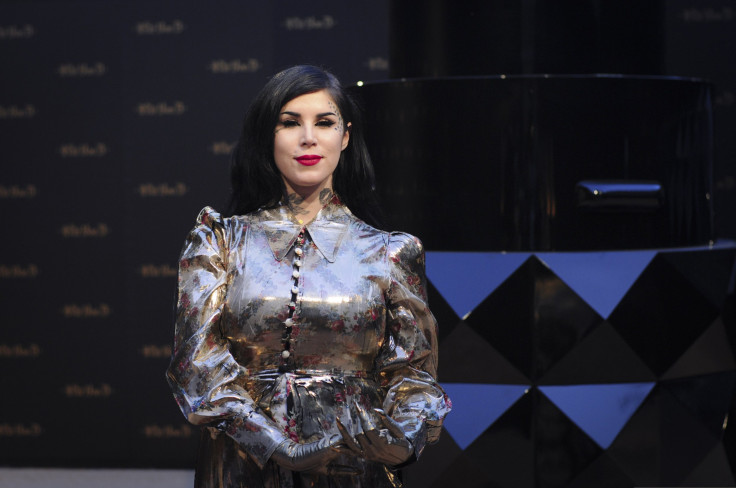 © 2023 Latin Times. All rights reserved. Do not reproduce without permission.