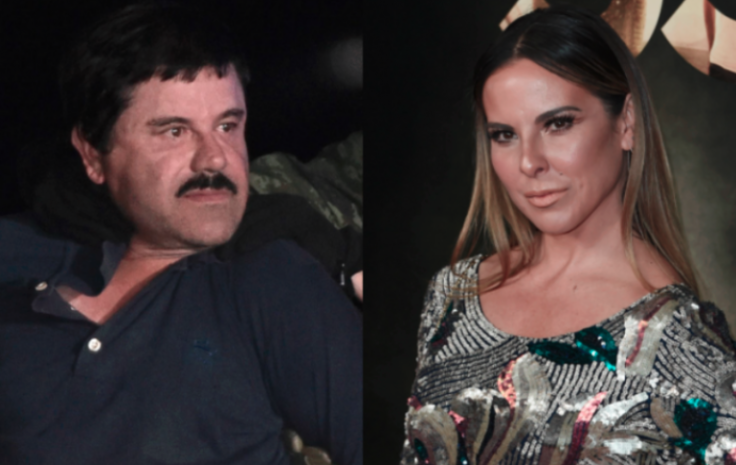 It's been two months since all hell broke loose for Mexican actress Kate Del Castillo. They day after Mexican authorities recaptured Joaquín "El Chapo" Guzmán in Los Mochis, Sinaloa, Rolling Stone magazine published an article citing the 43-year-old telenovela star as the main connection between the Sinaloa Cartel leader and Hollywood actor Sean Penn.
On Friday, The New Yorker, the only publication who has managed to have direct contact with the actress, revealed the conversation they had with Del Castillo at her home in Los Angeles. "Today I want to express what I think, and if it suits anybody else, great," Robert Draper mentions she wrote in an app that allowed her to write longer Tweets. "I don't believe in marriage, I believe in love…I don't believe in either punishment or sin…I don't believe in the Pope and the Vatican and all their wealth…I am alive and for that I thank God every day, for who I am, for good or bad."
A few years back, the "La Reina del Sur" star made the headlines for praising "El Chapo" on social media and publicly announced she believed more in his well-mending than in the government's. During her interview with The New Yorker she added, "Fuck. I was so upset," she said of the reaction to her comments back then. "You know, why are they crushing me? I'm not saying all of this is true. This is just what I believe!"
Del Castillo shared that she received an email from one of "El Chapo's" associates in the late summer of 2014. "I am Señor Joaquín Guzmán Loera's Lawyer," he wrote on his first email. He proceeded to tell her that the infamous Drug Lord was interested in making a movie about his life and asked if she would be willing to go to Mexico City to discuss the project. Kate, who specified she deleted those emails from her computer, admits she didn't even think twice before agreeing to meet with them.
On September 29, Del Castillo got on a private plane and headed to the first meeting she ever had with Guzmán's lawyers, Andrés Granados Flores and Oscar Manuel Gómez Núñez, who had instructions to take her out to a nice dinner. During their meeting, the attorneys told Kate "El Chapo" wanted to give her the rights to his life story.
"I was, like, 'you are kidding me! O.K.,hold on. First of all, is he interested in a movie, a book, a documentary, a series?' she told Draper. They said, 'anything you want. He's giving you the rights.'" Rumors about the biopic have been out since the beginning of the scandal but haven't been confirmed until now. When Kate asked them why he chose her, they said the drug lord admire her strength and the fact that she has no pelos en la lengua, and of course, he was a fan of "La Reina del Sur."
Besides Sean Penn, no other names have been mentioned to be involved in the movie project. During this interview, Kate reveals Argentine producer Fernando Sulichin was interested in participating. "I read your tweet. Please, please – if you ever have contact with the guy, let me know." In the series of texts that were released by the Mexican government a month ago, Kate and the lawyers constantly refer to him as "The Argentine." On January 9, 2015, Guzmán signed over his story rights to Kate del Castillo.
Kate, who is still unsure of why Guzmán chose her to take over, wondered, "maybe he thought I could understand his world in a way," she said referring to el capo's comments about "La Reina del Sur," and how much he loved the show and her role in it.
Del Castillo claimed she had no idea "El Chapo" was planning on breaking out from prison. In fact, she confessed she was a little disappointed at first, but later realized that things might just have gotten "juicier."
When does Sean Penn come into the story? Turns out Sulichin, the producer, is a good friend of his and had been talking with him about the project. Both, del Castillo and Sulichin, agreed that adding Penn to the equation would open more doors for the biopic in Hollywood.
Kate told The New Yorker it was Penn who pushed the meeting with the fugitive in Mexico. "Do you think we can go and see him?" the actor asked her during a lunch date. "That sounds really dangerous. The guy's on the run, you know. But I can try," she said.
On the day of the meeting, which was of course made famous in the Rolling Stone article written by Penn, "El Chapo" greeted everyone and treated them with food and drinks. It was then when Kate first found out Sean was there as a journalist and had the intention of writing a piece for the American publication. Is "total and complete bullshit," said Kate about Penn's claim that he told her about the article. "This was not how I expected the night to be," she told The New Yorker. "But at the moment I thought, maybe we can base the movie on this article."
After the article was approved, Del Castillo and Sulichin still hoped Penn joined them in the movie project but it was clear by then that he had no interest. It was then when she decided to seek legal help. Especially after reading the final draft, in which according to Kate, Penn lied, and lied, and lied some more. The 55-year-old political activist still claims everything he wrote is true.
At the moment, Kate Del Castillo is still under investigation conducted by the Mexican Federal government. However, nothing has been set in stone or even proved to have a strong fundament. Many friends and family members of the actress have pointed out that they have nothing on her.
"See, I just do things, and I never see the consequences," she told Draper. "I should be in Mexico. I love Mexico and I've been an actress since I was nine. It's been a heartbreak to me to leave my country to have to find something else because my country didn't provide me with those opportunities."
The authorities are investigating no one else involved in this ordeal. Kate Del Castillo will remain in Los Angeles on the advice of her attorneys.
© 2023 Latin Times. All rights reserved. Do not reproduce without permission.