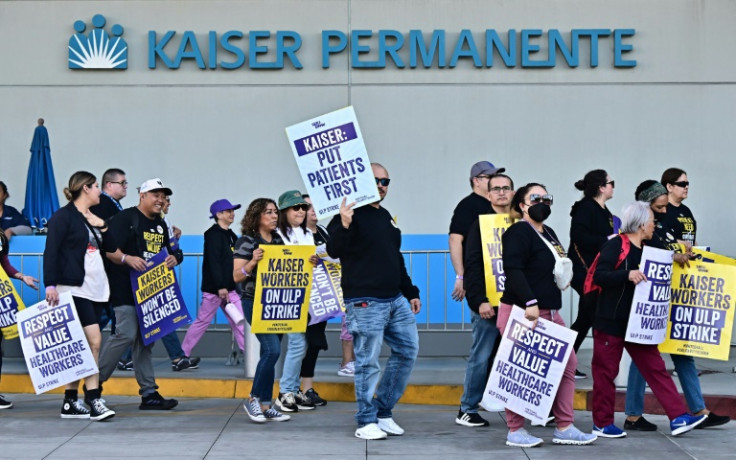 Over 85,000 Kaiser Permanente union members will work under new conditions after reaching a tentative agreement with their employer. The deal still has to be ratified next week, but union representatives have called it a "landmark." The tentative agreement includes increasing yearly wages, higher minimum wage, increased job security and new training programs to increase in-house career growth.
The workers highlighted the role of acting Labor Secretary Julie Su in reaching the agreement. Speaking to press this Friday, Su emphasized the importance of Hispanic workers and other people of color who work in the healthcare industry.
"This workforce has a lot of women, especially women of color, and women have powered this company's economic recovery over the last few years, and it meant a lot to get to thank them for that over the course of these negotiations," Su said.
Details of the tentative agreement
According to the press release. details of the tentative agreement include higher wages, increasing by 21% over four years. It also establishes a new healthcare worker minimum wage of $25 an hour in California and $23 in other states where Kaiser Permanente operates. Employees will have more job security through protective terms around subcontracting and outsourcing, which keeps experienced healthcare workers in their jobs and provides continuity of care for patients.
Another part of the agreement is a variety of initiatives to invest in the workforce and a commitment to upskill existing workers and invest in the training of future healthcare workers.
"We've reached important agreements, which allow both incumbent employees to upgrade their skills and advance in their own careers, to get into positions that are higher paying and [with] more responsibility," said President of SEIU-United Healthcare Workers West Dave Reagan. "There's also an unprecedented commitment to create new health care workers who are not currently in the industry but allowing people to gain skills through an innovative and, I think, important endeavor to grow the workforce and provide what really is vocational and technical training through non-traditional paths."
Reagan said specifically they want to add 25,000 new jobs a year and, to achieve that, the partnership needs to be rebuilt between Kaiser Permanente and the coalition of unions.
Caroline Lucas, executive director of the Coalition of Kaiser Permanente Unions, said because the economic hardship doesn't change depending on where employees are in the country, she is pleased that the yearly wage increase is not different depending per state and that 21% wage increase over four years is the same for Kaiser workers throughout the U.S.
Will healthcare rates increase at Kaiser Permanente?
During the media conference, CalMatters asked whether the new contract would affect premiums. Senior Vice President of Labor Relations in the Office of the Labor Management Partnership, Steve Shields, said the contract does not intend to increase rates because they must provide affordable healthcare to their members. Part of keeping rates affordable is managing expenses within the company.
© 2023 Latin Times. All rights reserved. Do not reproduce without permission.